With changes in weather, we can notice changes in our skin.
Use herbal remedies to care for your skin
In skin care terms, an herbal "poultice" is an herbal mask, made with healing herbs
Create this blend for skin that needs warmth, moisture, and a boost of circulation
---
Autumn is settling in – and with the changes in weather, we might notice changes in our skin and body too. Which, can be frustrating when those changes are unwanted and uncomfortable!
Some really common changes that you might notice in your "Autumn Skin" are:
dryness, dehydration, and flaking
loss of complexion, dullness
And herbs, are such amazing support systems – that you can pick and choose from to specifically help rebalance what you need.
In this article, we'll make a dry herbal POULTICE (think herbal mask) that smells like Autumn, and will deeply hydrate and soften any dryness – with warming herbs that will bring radiance, flow, and circulation to your skin!
First, what's a POULTICE?
In skin care terms, a poultice is essentially a mask treatment.
In herbal terms, a poultice is damp herbal material applied onto the body…
Personally, I don't love the word "poultice" or let's be honest, the look of a poultice… 👀 But I try to use herbal definitions for skin care because it speaks more directly to the intention and philosophy of skincare that I resonate with.
The way that a poultice works, is that the herbs are gathered fresh or dry and then moistened and mashed. This breaks open the plant's cellular walls and release the healing constituents to interact on the skin.
A poultice can effectively treat anything from inflammation to rashes, burns, eczema, acne, and even deeper within like muscle aches, joint pain, and cramps… Traditionally they're used for "first-aid situations, but you can make a poultice for any skincare need…"
And it doesn't have to look like a mushy salad!
Here's a fun video of what this poultice will look like – it's almost bouncy – it has the most amazing consistency!
You can make a healing poultice that is creamy, aromatic, and incredibly enjoyable…
You can make a poultice for your face, scalp, and hair, or anywhere on the body…
And you can pick and choose herbs and ingredients to suit your skin and its needs.
Next, let me show you how I chose this blend of herbs, and how I prepare it into a wearable mask treatment.
A Poultice for Autumn Skin + Creating an Herbal Blend
First, let's take care of the discomfort and dryness caused by the dry, cold air.
There's a class of herbs called EMOLLLIENTS, which have the effect of softening and moistening dry tissues. Emollients are useful when your skin wants protection and soothing. It gives your skin the moisture it needs, and at the same time, soothes the discomfort caused by the dry, cold air.
Some great emollient herbs are aloe, comfrey, chickweed, linden, oats, and marshmallow root…
I'm going with Marshmallow root. It's full of mucilage (another "fun" herbal word) which coats the skin, calms inflammation, and delivers tons of moisture. It's also a very nourishing herb, it's full of nutrients that will help to strengthen the skin barrier.
Then, we can restore vitality and glow to the skin
If ever you're feeling dull or lackluster – exfoliation makes a big difference. It's also helpful for dry skin conditions. Exfoliating helps to remove dead skin cells, stimulate blood circulation, and brighten your skin's appearance.
There are herbs (and fruits) rich in plant acids, which act as a chemical exfoliator.

Hibiscus stands out for me – because it's made up of about 20% plant acids! In a very gentle, but effective way, hibiscus exfoliates and restores vitality back to sallow skin.
To balance the blend, I'm choosing to add warming herbs
Both marshmallow root and hibiscus are cooling herbs. And that's important to know because we don't want to add more coolness to a cold condition.
So I want to balance out the marshmallow-hibiscus blend with a warming herb.

Calendula always jumps to mind! It's THE herb for the skin. For any situation where you want to boost and support healing of the tissues (eczema, acne, inflammation, cracked dry skin…) – calendula is a great choice. And it has a warm constitution, which is just what cold skin craves!
I'm also adding in cardamom, for its aromatherapy and physiological benefits. It gives the most gorgeous, cozy aroma – which in aromatherapy is used to clear stagnation and fatigue. And it enhances the intention of the blend – cardamom is warming, it stimulates blood flow to the skin and promotes skin elasticity.
With the therapeutic blend complete, I want to think about consistency.
I find that adding a creamy factor gives any herbal blend a really nice consistency. My favorite ingredients to add are: colloidal oats/oat flour, clay or milk powder
To complement the intention of this blend, oats would be good for their soothing and softening qualities. And milk powders would be good for their moisturizing and exfoliating properties.

I'm choosing to add colloidal oats because there's already some exfoliation going on with the hibiscus…
Step by step – making an herbal poultice
First, create your herbal blend and pour it into a small blender. Grind into a fine powder.
Then, pour the herbal powder through a sieve. This removes any large pieces, and helps to create a very smooth texture.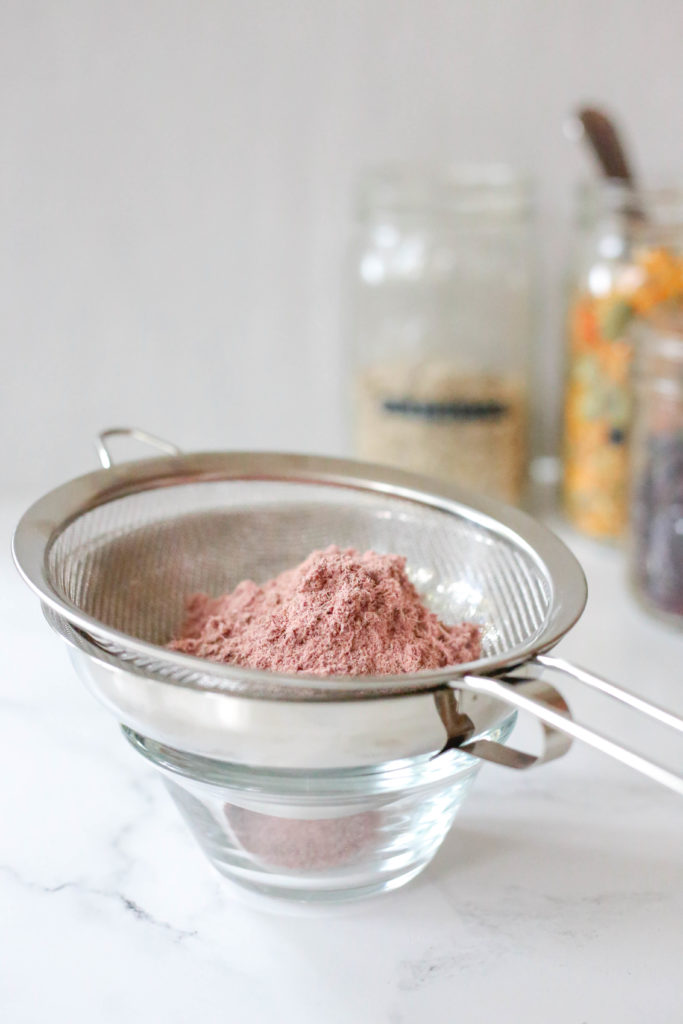 You can see what's removed when you use a sieve! All of this plant fiber that didn't blend finely…
When it comes to skincare, having attention to detail makes a big difference in the feel of the product you're making and elevates the experience.
Combine the herbal powder, with an equal amount of colloidal oats (or oat flour) to give it a body and creamy texture. Mix well.
Then store the herbs in a jar and label it.
To use, scoop out about 1 tbsp of the herbal powder blend. Moisten it with warm water, and a few drops of plant oil (like jojoba or serum you're using), and then apply it directly onto the skin.
You can use this mask daily, I recommend that you apply it before your shower, and then rinse it off just before you get out of the shower – for an easy, no-mess experience.

Happy Autumn! I hope this mask helps you feel more comfortable in your skin as you enjoy the cooler outdoors!

Autumn Skin Poultice Recipe
This dry herbal powder is non-perishable. You can keep it for 3-6 months. Keep it away from water, and only moisten it when you're going to make a mask treatment.
Ingredients:
3 tbsp Marshmallow Root, powdered
2 tbsp Hibiscus, powdered
1 tbsp Calendula, powdered
3 cardamom pods, powdered
4-6 tbsp colloidal oats (or oat flour)
Process:
Grind the dry herbs to a powder
Pour through a sieve
Combine with equal amounts of colloidal oats
Store in a container, and label it
To use: scoop out 1 tbsp of the herbal powder blend. Moisten with water and a few drops of oil until it forms a rich, creamy consistency. Apply onto clean skin. Leave it on for 15 minutes and then wash it off (in the shower it's less messy!)
Finish with a few drops of oil on your skin to lock in all the moisture.