We started off the season with four halloween pumpkins… now we only have two! One was turned into a Creamy Cashew Pumpkin Soup – and the other one just got roasted in the oven!
I had originally planned on making just a roasted pumpkin soup when I happened upon this recipe for Maple Pumpkin Popcorn. I thought, why not get the most out of my pumpkin? So, I took out a big scoop from my roast and used it to make this sweet & crunchy treat! It's so good – tastes just like caramel popcorn, but packing in so much nutrition and goodness from the pumpkin. I highly suggest that you walk right over to your halloween pumpkin and whack it open immediately! Don't worry, the kids won't be mad with you after they try this!
I changed the recipe a bit because I had roasted the pumpkin – and it was already full of flavor, so I left out the seasonings… I suggest that you take the extra step to roast your pumpkin, it makes it that much more sweet and amazing! Anyway, you'll get a soup out of it too!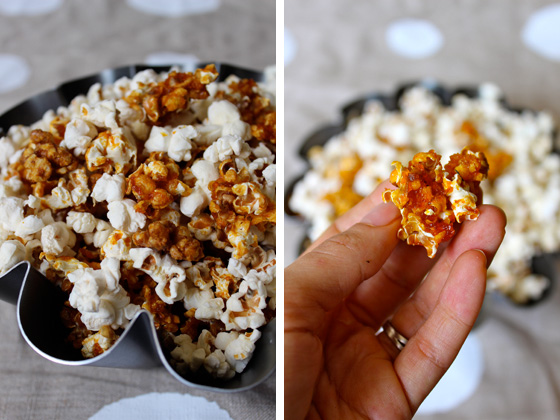 This is a perfect snack – sneakily healthy – and makes a great "just because" gift for a friend!
"Eat Your Pumpkin" Popcorn
ingredients:
1 cup of popcorn
1/4 + 2 tablespoons of roasted pumpkin puree
1/2 cup pure maple syrup (make sure that it's pure and not made of high fructose corn syrup!)
olive oil or coconut oil
walnuts
sea salt to season
directions:
First, roast your pumpkin:
wash your pumpkin to prepare it for roasting
scrape out the seeds and strings, cleaning it out well.
pour in plenty of olive oil, salt and sprinkle fresh thyme
roast in the oven at 170 degrees for about 30 minutes or until you can easily drive your fork through it
Scoop out 1/4 + 2 tablespoons of the roasted pumpkin for the popcorn ( the rest of the pumpkin can be used for soup or a million other recipes!) Smash it or puree it in the blender
Then, make your popcorn:
Pop your popcorn in olive oil or coconut oil
Set your oven to 120 degrees.
Over a medium fire, cook the maple syrup and pumpkin puree together until bubbling for about 3-5 minutes
Once your popcorn has popped, take half out, and pour it into a roasting pan. Salt the other half well and keep it aside.
Pour over the maple pumpkin mixture onto the popcorn in the roasting pan and mix it around to fully coat it (it will get soggy but that's ok – it gets crunchy in the oven!)
Bake it for about 1 hour or until it's crunchy
Let it cool fully before you break it up so that it forms big chunks!
I also candied some walnuts with a little maple syrup and some of the pumpkin puree and tossed them in the oven with the popcorn for the last 15 minutes!
When it's out of the oven, mix it with the reserved popcorn and chow down!
[ribbon title="Singapore Shopping Guide"]
1. You can find pure maple syrup in Cold Storage or your healthier food shops – check out my directory for places near you
2. The glass jar is from Ikea