You know how sometimes you see a recipe and think… oh yeah, that sounds nice… but then never actually make it. Please don't do that with this one.
This homemade whipped body butter is pure gold – and honestly – I think you're going to love what it does for your skin!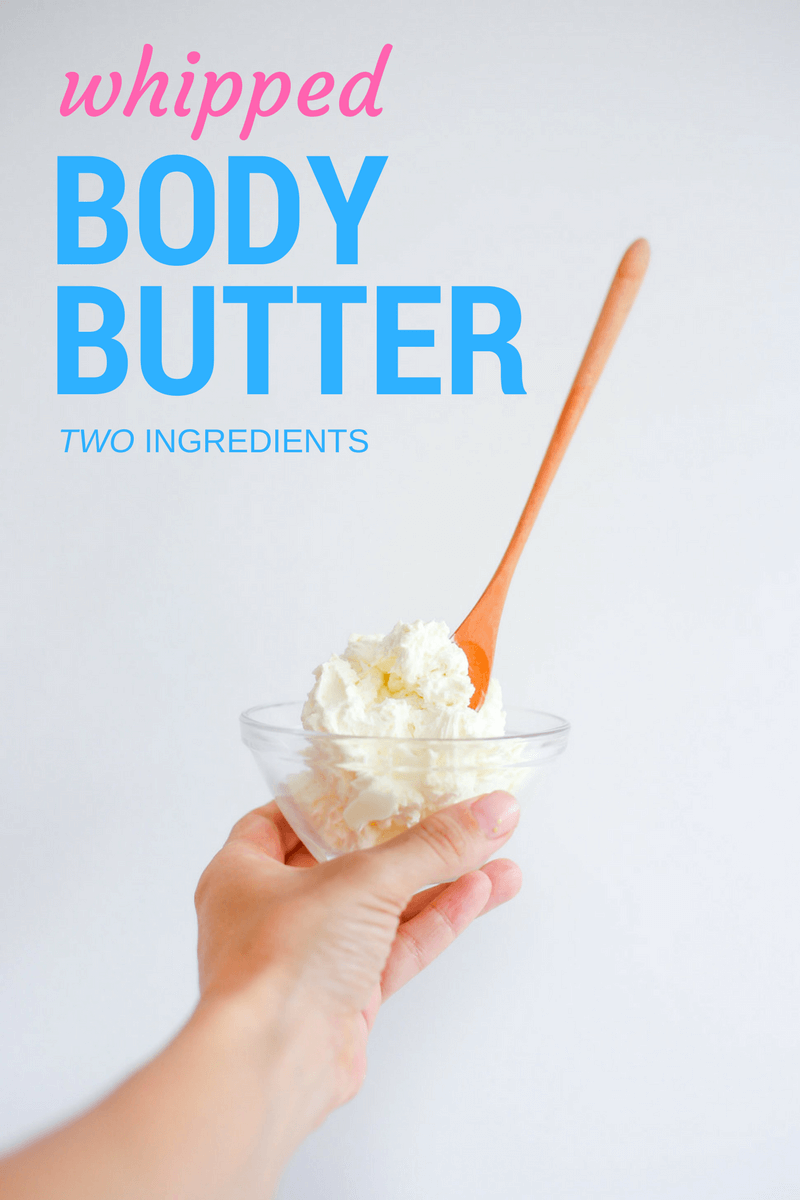 A body butter is made by combining oils (liquid) with butters (solid). Example:
oils (liquid): coconut oil, almond oil, safflower oil, avocado oil ( read my top 6 favorite oils)
butters (solid) : shea butter, mango butter, cocoa butter
I chose to work with coconut oil (as my liquid part) and cocoa butter (as my solid part)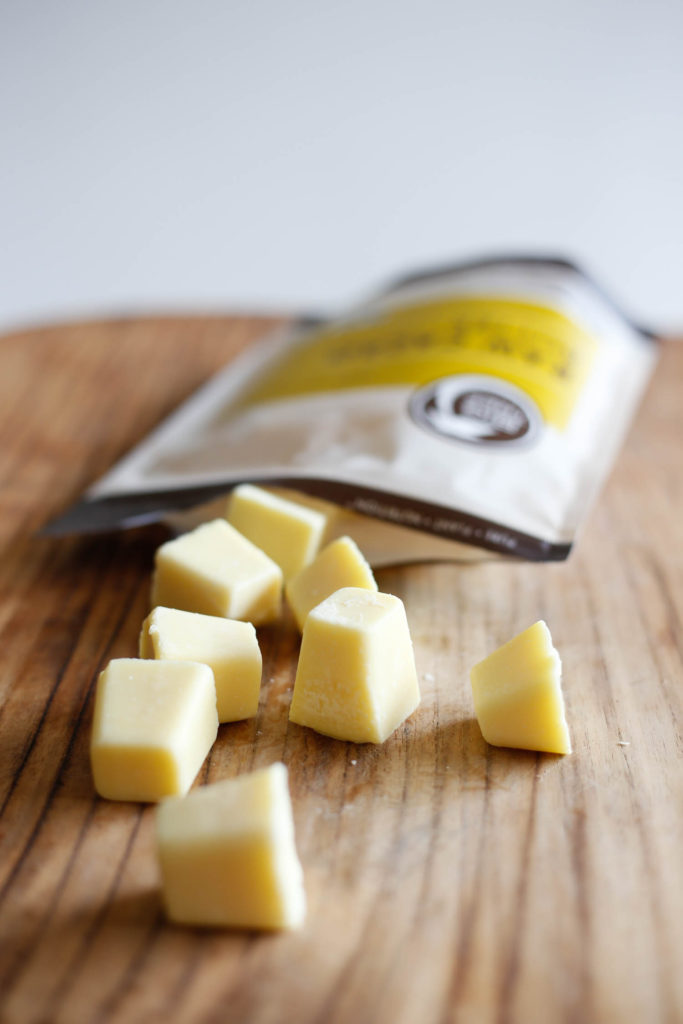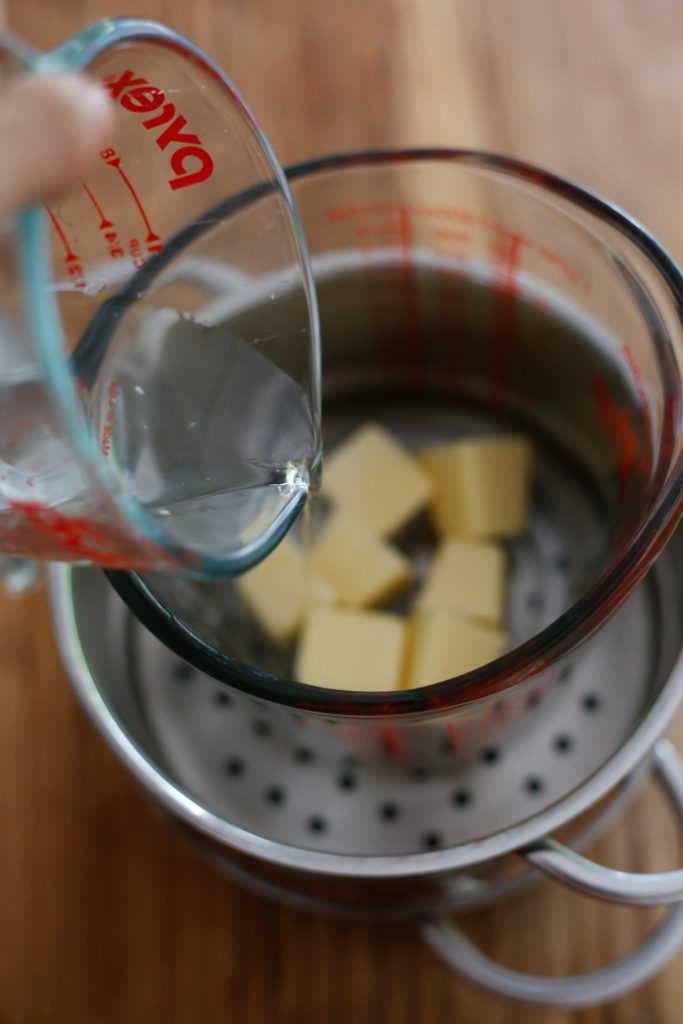 Coconut Oil  is a top favorite of mine. Always use a virgin cold-pressed oil, organic is best, to make sure that all the nutrients and beneficial properties are intact.
Coconut oil's antioxidant properties protect the skin from free radical damage and because it's so full of essential fatty acids, it also helps to build and strengthen skin-cell structures. This keeps the skin's connective tissues strong and supple, which helps to prevent sagging and wrinkles. My skin loves it and I love that it's easily absorbed.
Cocoa Butter comes from the cocoa bean. It has a distinct nutty, chocolate scent – so yes, you will smell… delicious! When I use it on my skin, my 5-year-old notices right away!  Cocoa butter is a rich emollient, it leaves your skin buttery soft. It contains fatty acids which help to retain moisture and build elasticity and also has properties which can help ease dermatitis or rashes. And did I mention it smells like chocolate!
Just like your oils, you want to choose a raw, cold-pressed butter – free of chemicals that are used in bleaching and refining.
Let's start making our Homemade Whipped Body Butter!
Cocoa Butter is solid, so you'll need to melt it down in a bain-marie, a hot water bath. You want it to melt over steam, rather than direct heat.
Depending on where you live, and if it's cold, your coconut oil may be hard…. melt them gently together until completely liquid.
Once the butter is melted, you'll need to  harden it in the freezer for about 20 minutes. TIP: make sure to cover the container in the freezer (with a lid or towel) so that no condensation drips into your butter!
Freeze it until it's semi-solid – not too soft, not too hard. You should be able to press your finger in easily and make a dent. If it's not whipping up, put it back in the freezer to harden a little more.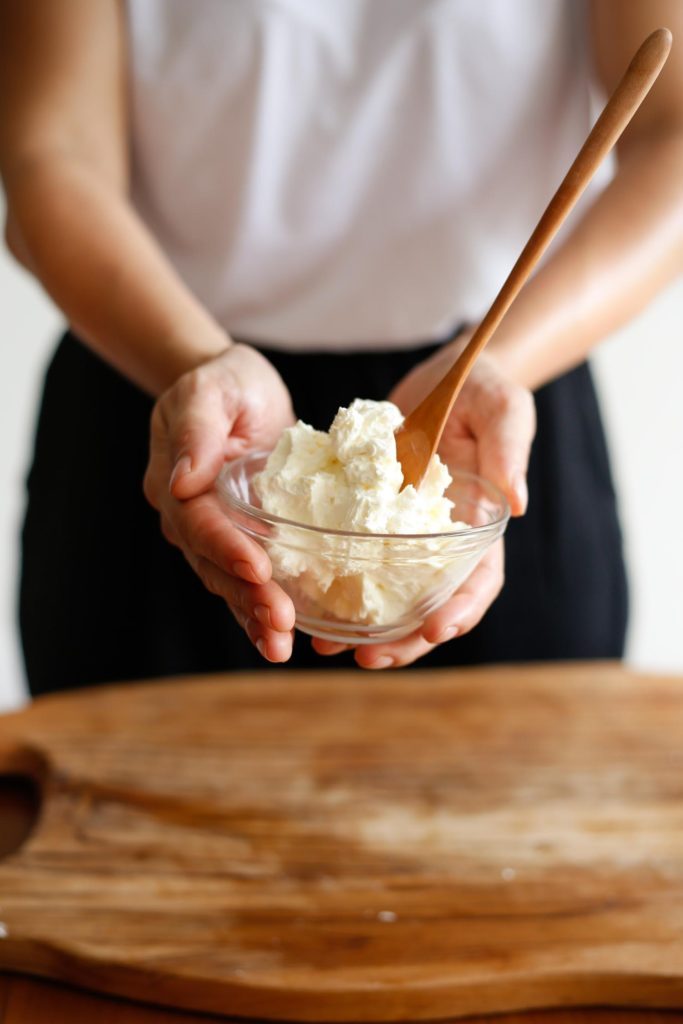 Now, I want to tell you something up front so that you're not weirded out when you use it. This body butter is unusual in that it melts onto your skin the instant you apply it – like butter on a hot pan. Honestly, I found it to be a bit strange. The recipes that I had read don't tell you this, so when I first used it, I thought it was greasy and that I wouldn't like it.
But then, something magical happened – my skin soaked it all in – and instead of feeling greasy, it felt velvety soft! My skin is seriously thanking me and has promised to glow, if I use this everyday.
I've happily accepted.
Homemade Whipped Body Butter Recipe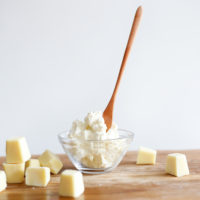 This homemade whipped body butter is pure gold – and honestly – I think you're going to love what it does for your skin.
And with just two ingredients, it couldn't be simpler!
3/4 cup cocoa butter
1/4 cup coconut oil
In a bain-marie, melt down your hard butters and oils until fully liquid
Set in the freezer to harden, about 20 minutes.
Once the mixture is solid again, but not too hard, whip it up using an electric whisk, a food processor with a whisk attachment, or your KitchenAid (lucky you!)If you need to, you can use a hand held whisk, and a lot of elbow grease! 🙂
Whip about 5 minutes, or until you have created fluffy white clouds. Spoon it into a clean jar or container. It will keep for 3 months.
Slather it on!
Cold climates, adjust recipe to 60% cocoa butter, 40% oil so that it's not as hard. 
Store in a clean glass jar and keep in a cool, dark place.
Your body butter will keep for up to 3 months.
I know you're going to love making this body butter. When you do, please share a photo with me on Instagram.