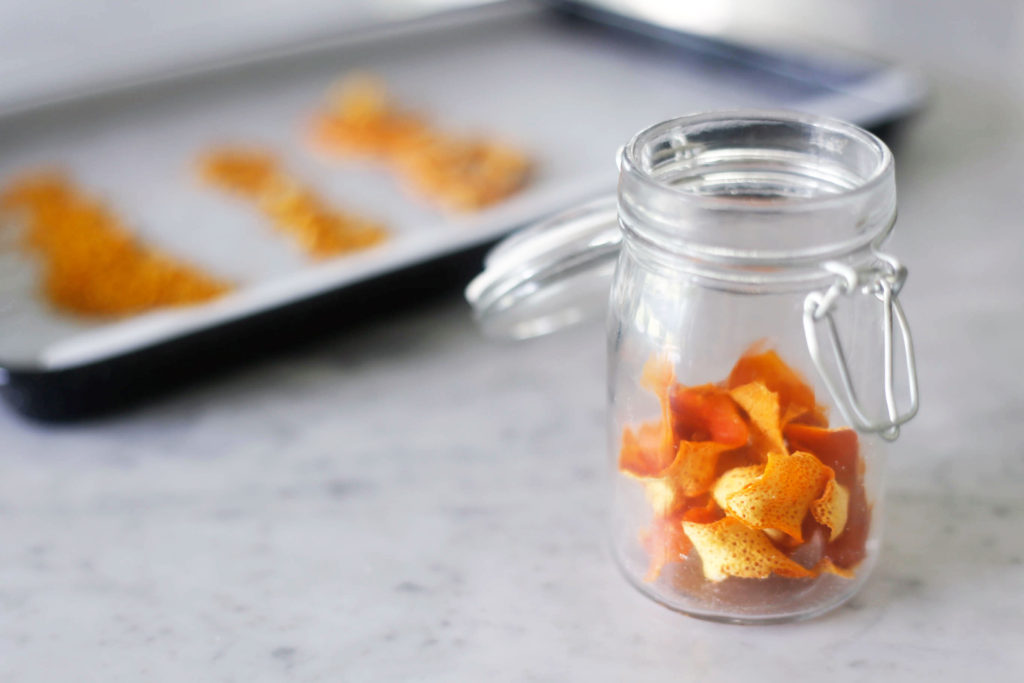 I normally don't remember to do this anytime I eat an orange – but recently I've been playing around with so many recipes that use orange – that I decided, why not make a big batch of it to have it on hand.

And good thing I did! 
Maybe it's the season, maybe it's all the citrus essential oils in the air…
but this project made me feel really happy and the final results are going to bring you many more moments to enjoy!
Go ahead and get yourself 3-5 oranges. You can eat the fruit in a big leafy green salad, on it's own or cut it up and freeze it to make green smoothies in the mornings… or have sangria with dinner.
But for now, we've got plans for all that peel!
I'm going to share five ways to use dried orange peel, but first here's how you make it…
How to make dried orange peel
Scrub the orange clean and then peel the outer skin trying not to pick up the white part inside…
nothing too precise, you can easily carve away any of the bitter, white pith that comes up…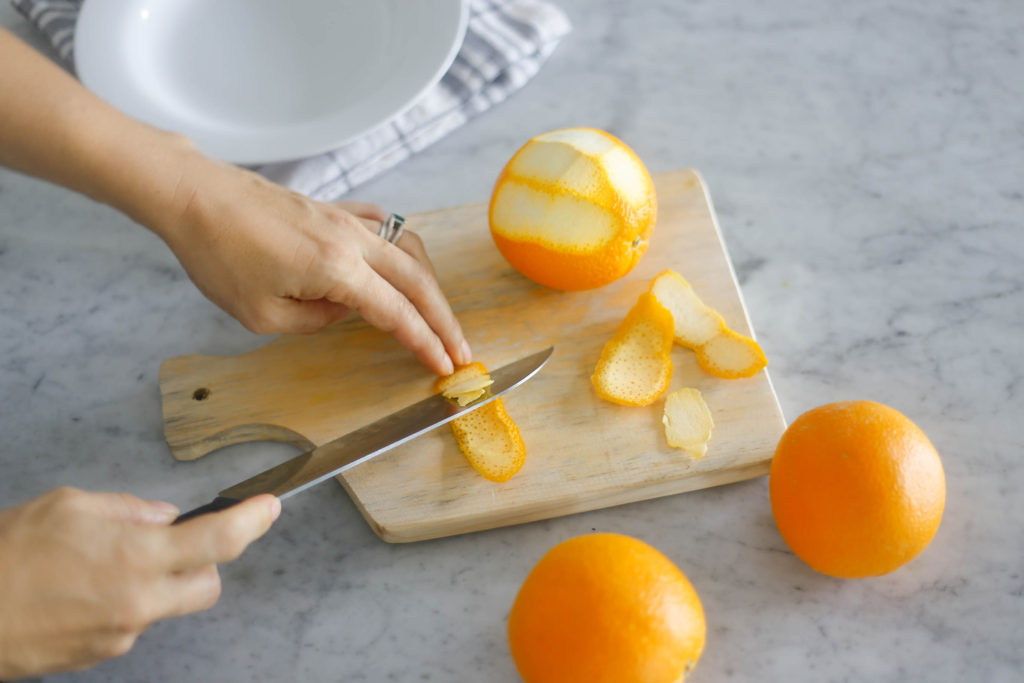 just like that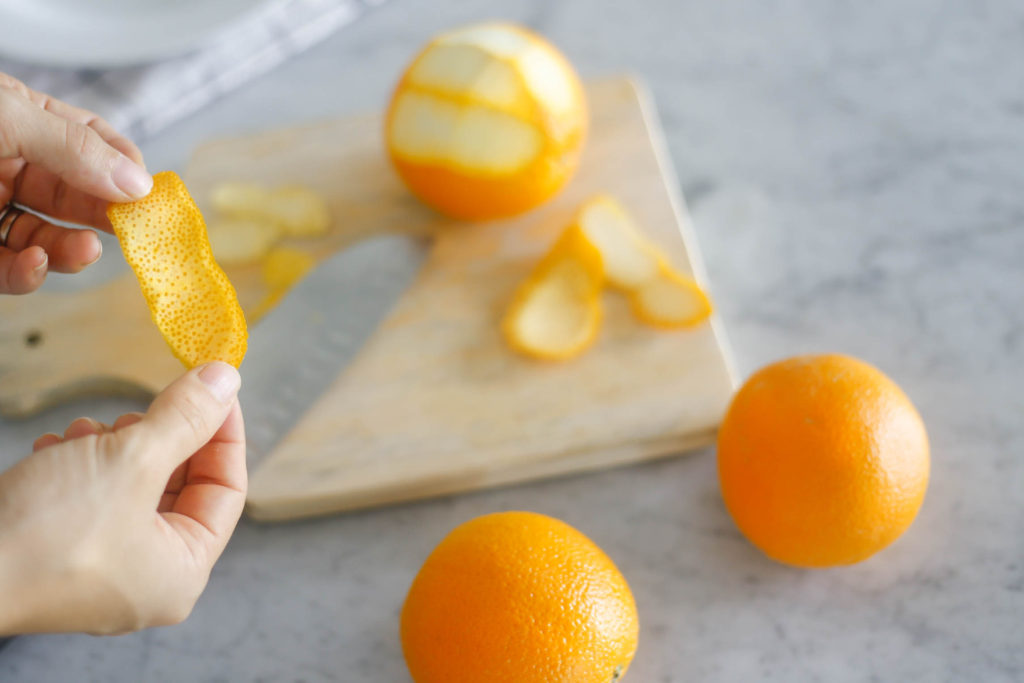 Keep peeling and de-pithing the whole orange…
I love when you get a long piece in one single slice – it's so gratifying!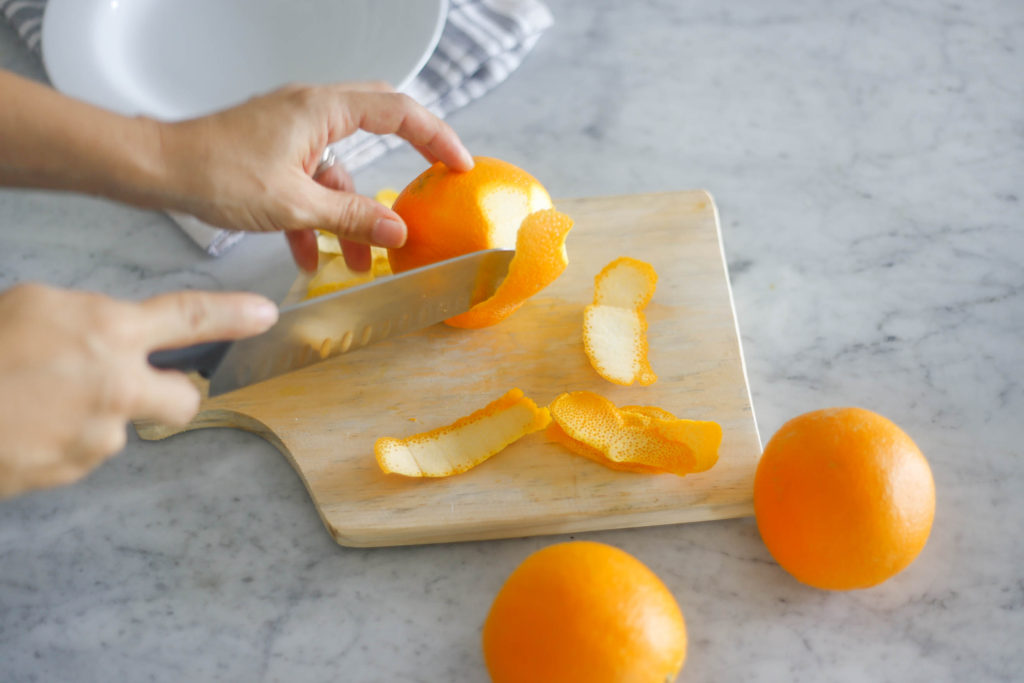 Once you've peeled the whole orange – stack up a few slices together, and then cut them into strips.
Or you can leave them in large pieces if you wanted – I guess it depends on what you're doing with your orange peel!
I'll give you some ideas for that at the end…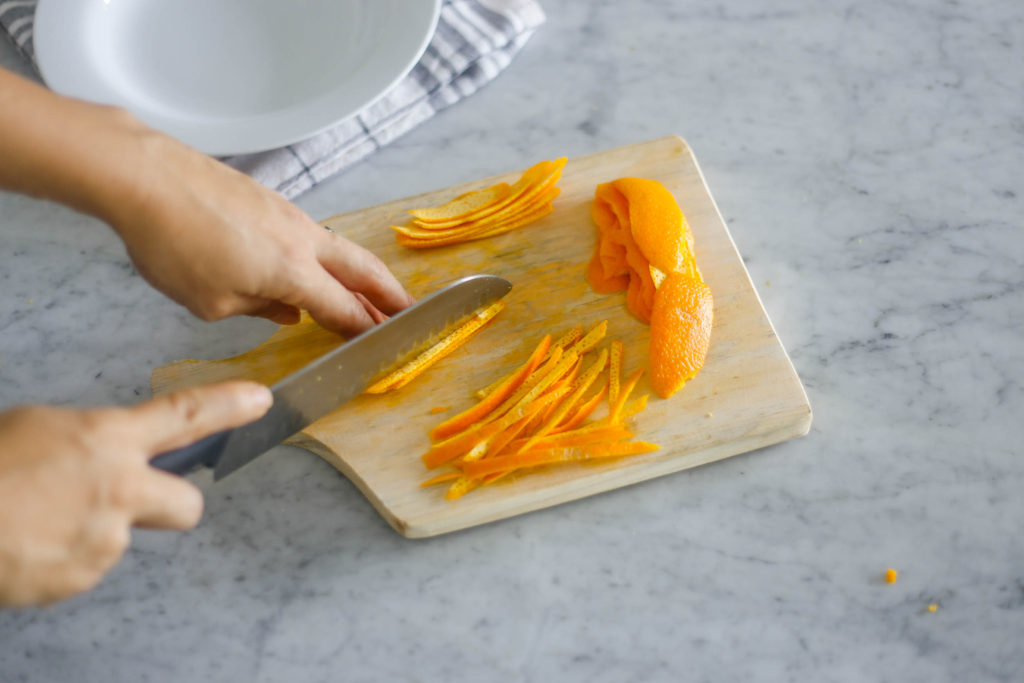 I did strips and pieces to show you how they both turn out…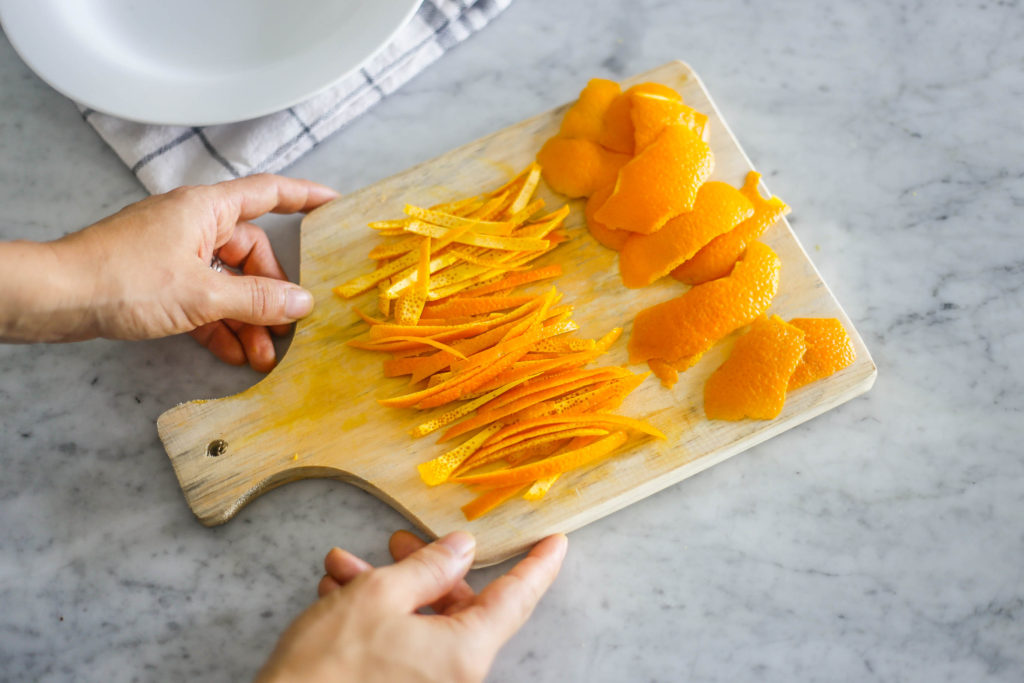 Set your oven to the lowest temperature setting and then lay down baking paper on an oven tray or cookie sheet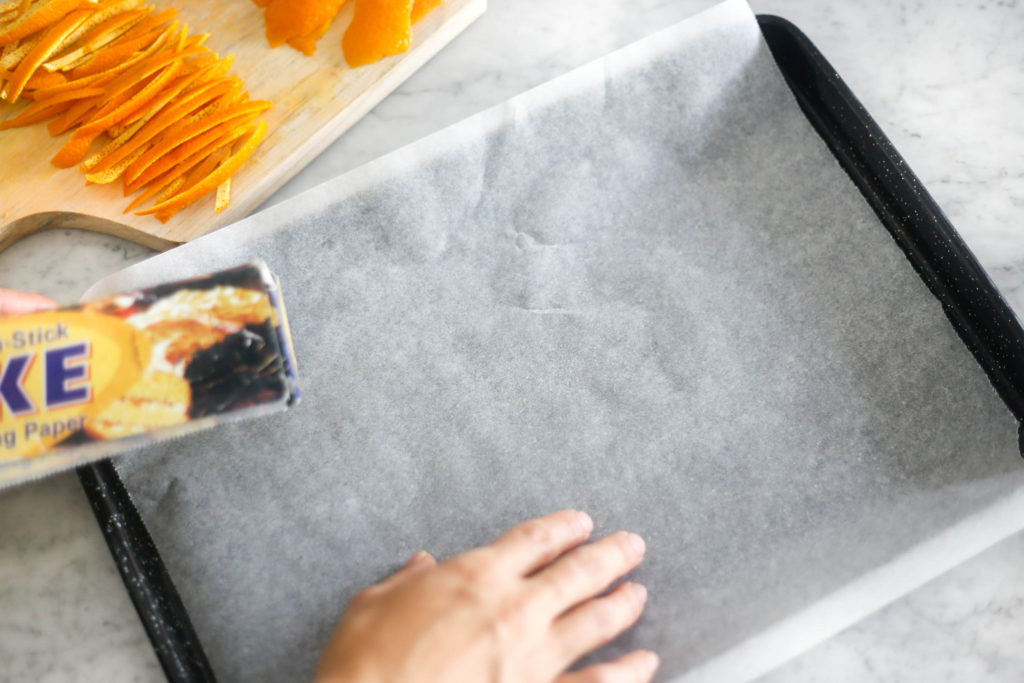 and arrange your orange peels…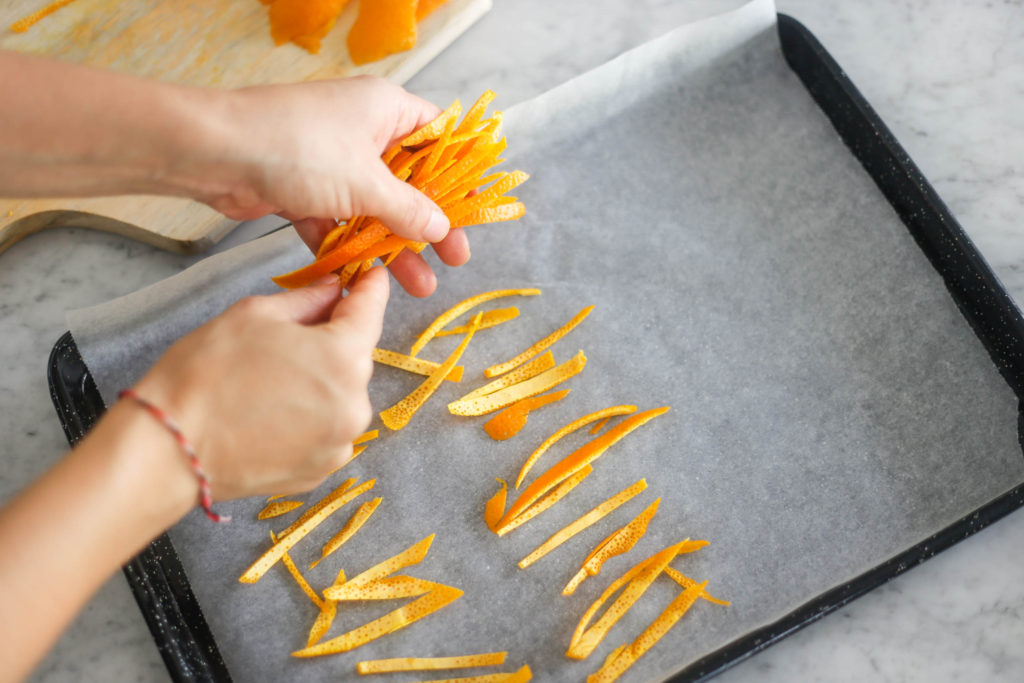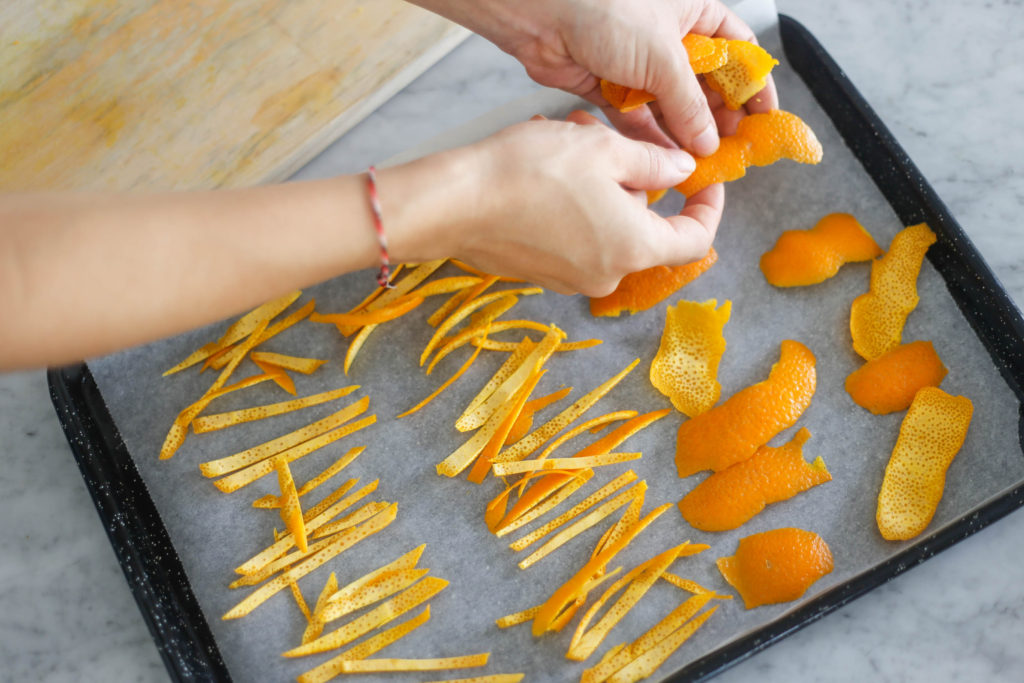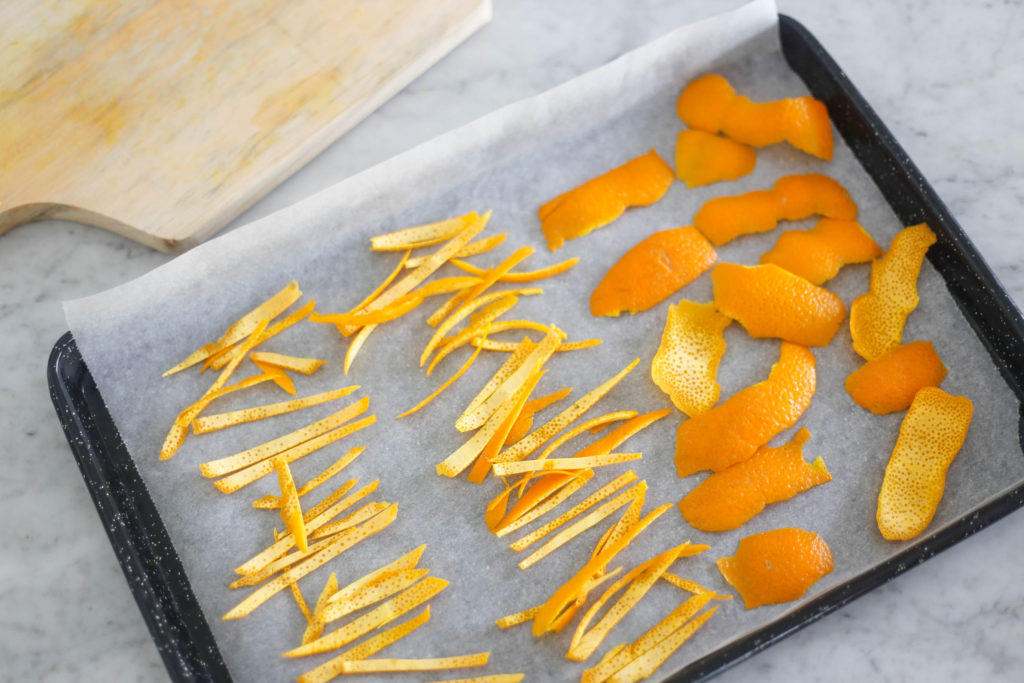 Isn't that pretty! Proudly walk your beautiful tray over to the oven…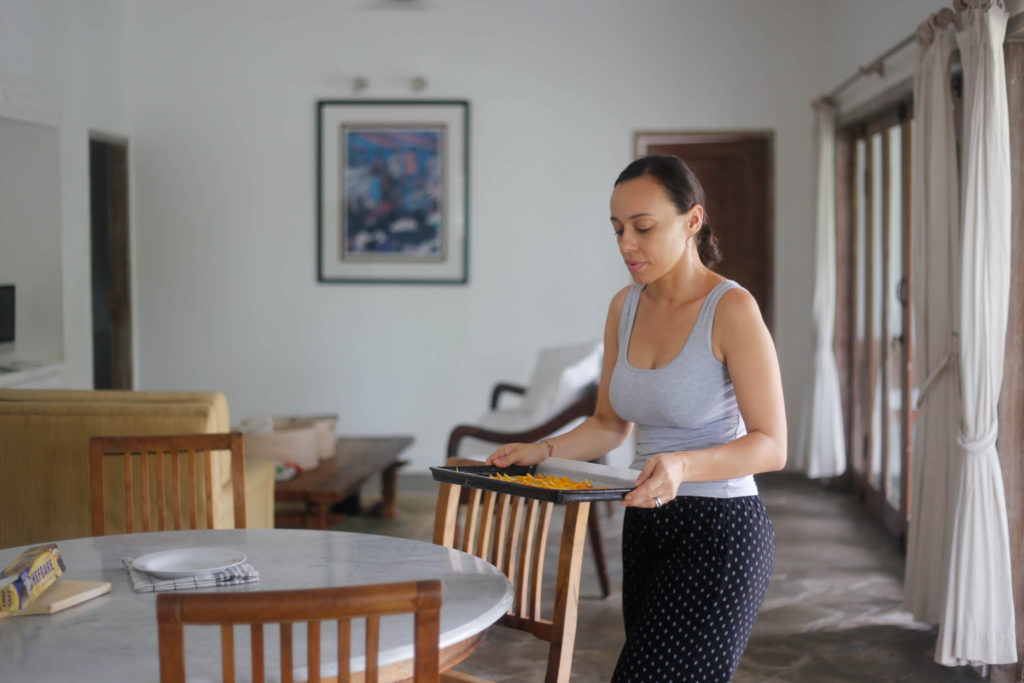 …and place them in. It should be just warm – not hot!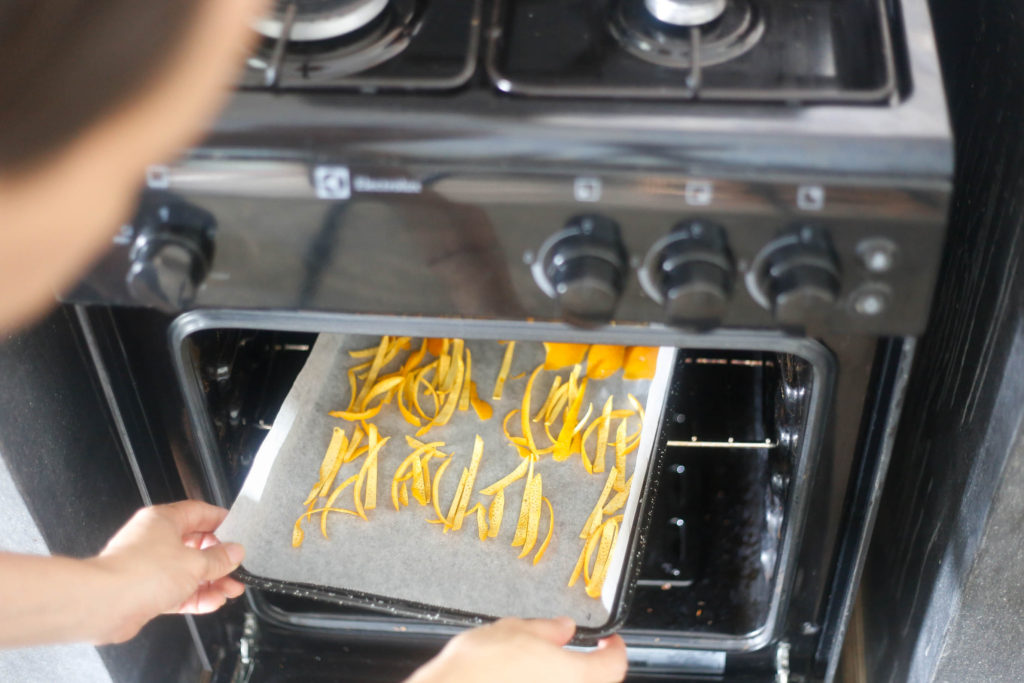 They need about 20-30 minutes. I've learned to leave the oven door cracked open just a bit, because they can go from starting to dry – to burnt in just a second! Even this batch was almost on the verge… so keep your eye on them!
Once they start to curl and harden, they're done.
And then you have all this concentrated flavour and aroma to use in so many great ways!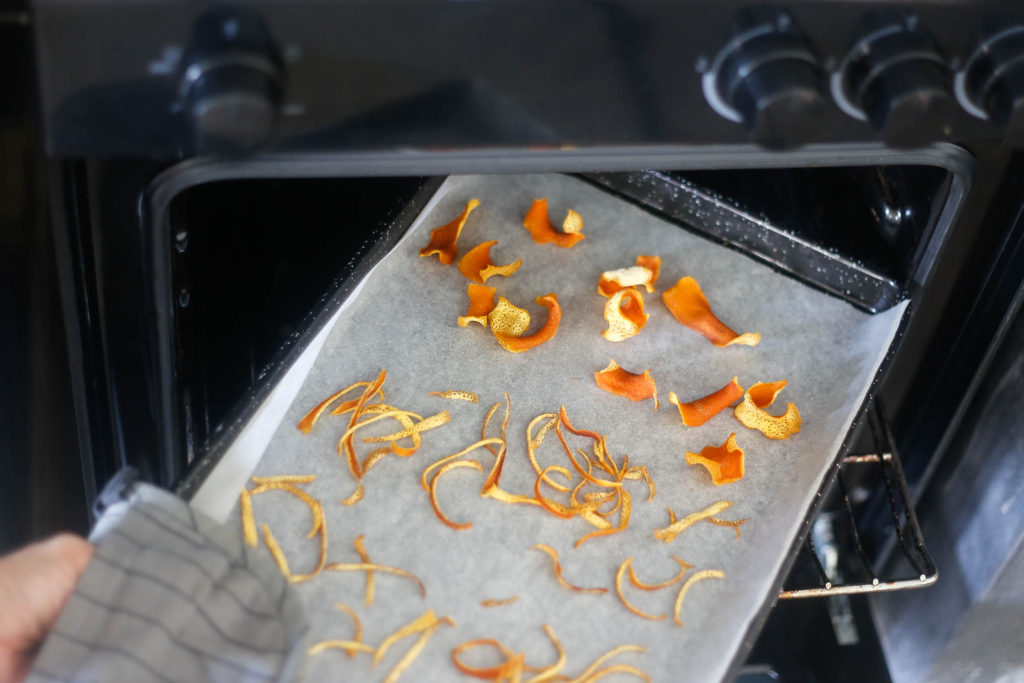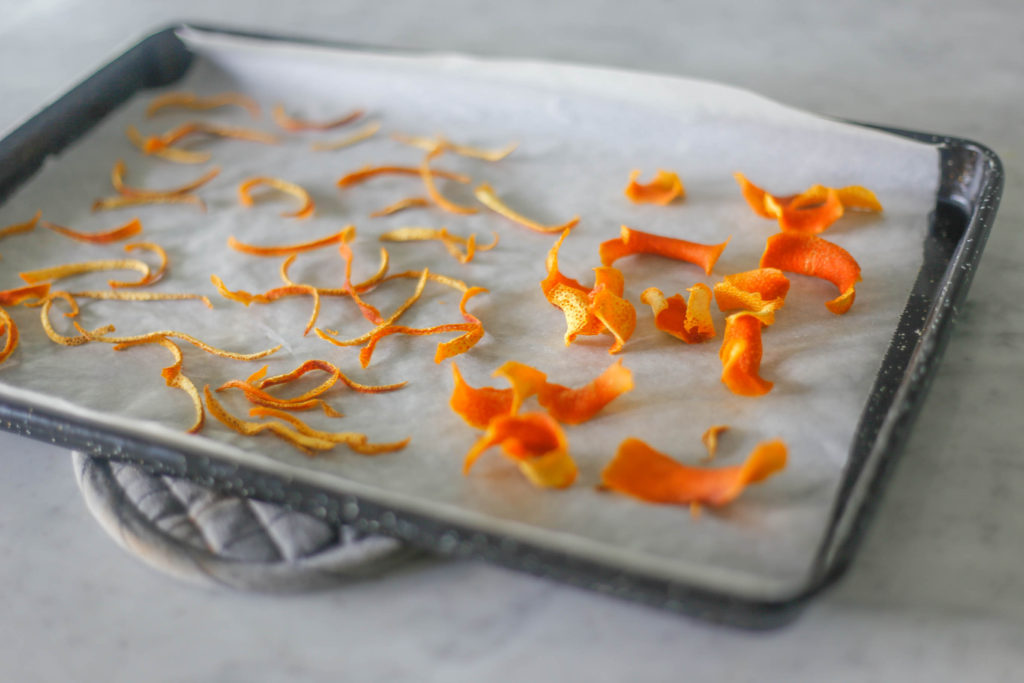 You can also chop the orange pieces into smaller bits or grind it down fine.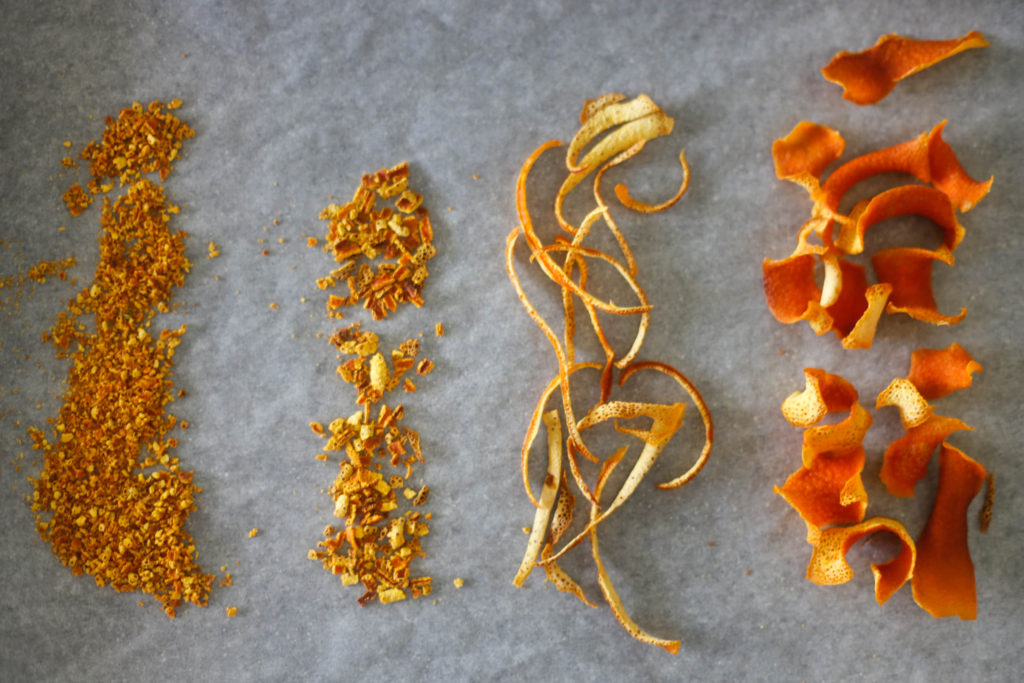 And then just keep it in an airtight container….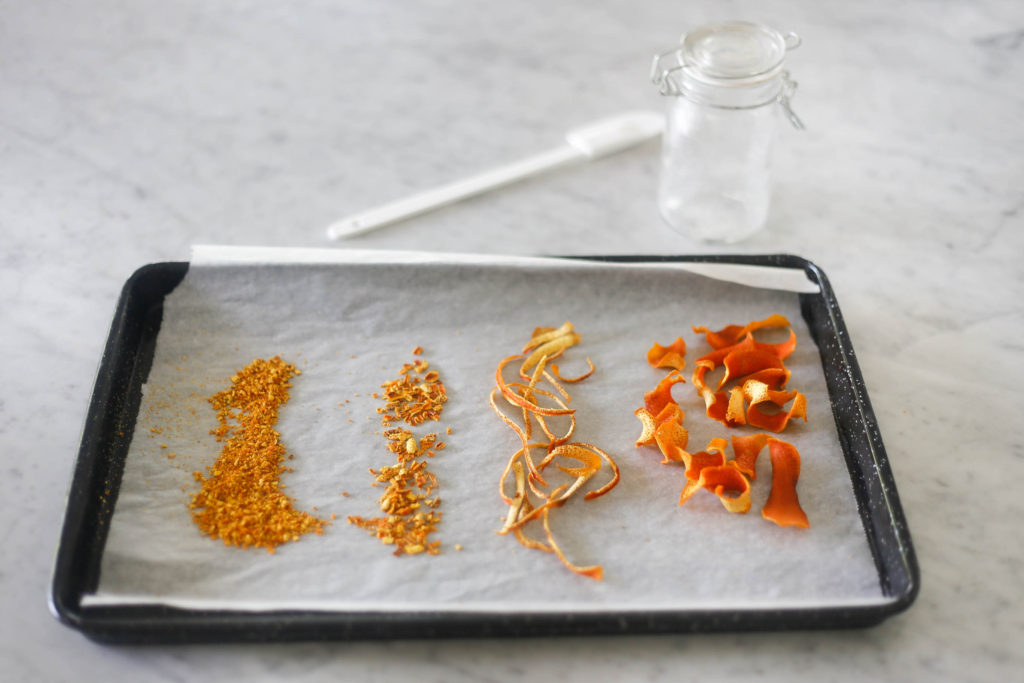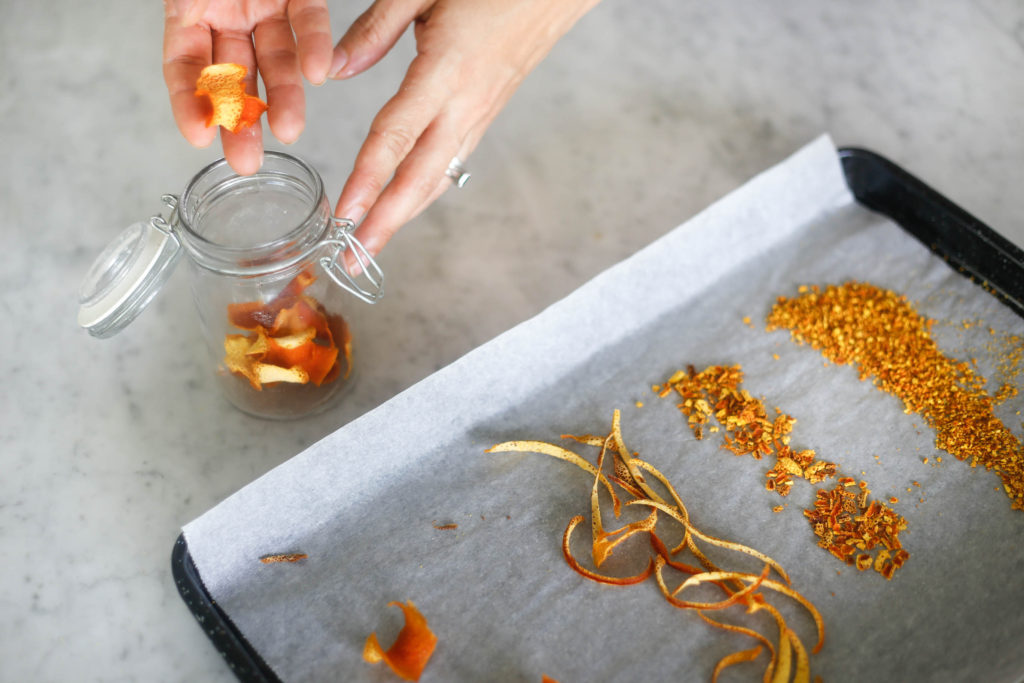 ---
Five ways to use dried orange peel
---
1. Marinades
Make a really delicious marinade for chicken or fish with olive oil, ground orange peel, thyme for chicken or dill for fish. Basil for both. You can add in salt, pepper, some garlic and you'll have tons of flavour very easily.
Grind up the dried orange peel to fine grains for your marinade
2. Infusions
In an air-tight jar, add in strips of dried orange peel to 1/4 cup of olive oil. In just a week, the flavour will start coming through and you'll have an orange olive oil that's great for salad dressings and cooking. The longer it infuses, the more flavourful it becomes.
You can also infuse oil for your body! My Autumn Body Glow Oil has dried cinnamon sticks, cloves and dried hibiscus – but you can add orange peel as well and it will smell absolutely amazing! Get the recipe in the free Autumn Starter Pack!
Strips of dried orange peel would be good here
---
 did you know: orange zest has more vitamin c than the fruit inside!
---
3. Flavoured Salt
Grind the orange peel and mix it with dried herbs like thyme or rosemary and your favorite salt. It makes a good and simple gift to give – or keep it in your kitchen for adding extra flavour very easily to your food.
Finely ground orange peel would be good here.
4. Tea
If you love flavored tea, a piece of dried orange peel to your green or black tea will add a nice twist of flavour.
You can also make a bath tea! Add a few pieces of orange peel to a warm bath. Get a small cotton muslin bag, and fill it with orange peel, a cinnamon stick and epsom salts – and you'll be in heaven!
Strips or pieces of dried orange peel would work great.
5. Potpourri
Orange peel looks beautiful and makes a simple natural decor. You can mix it with other Autumn spices like cinnamon sticks and cloves. Add a few drops of orange essential oil to boost the fragrance as it needs.
I think strips or pieces of dried orange peel would be perfect here!