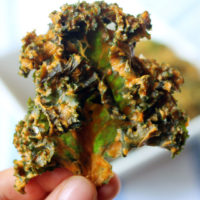 Print Recipe
Go Nuts "Cheese" Sauce
NOTE: the seasonings below are to taste - use these to start, then keep playing with it until it tastes good to you. To be honest, I've never really measured it out!

1

cup

cashew nuts

1

cup

red bell pepper

1/3

cup

nutritional yeast

4

tablespoons

olive oil

squeeze

lemon juice

1

tablespoon

fresh thyme

if you have it on hand – adds a nice flavour, but not necessary

1/4 to 1/2

cup

water to get the right consistency

- thick but creamy
Seasonings
2

tsp

salt

2

tsp

onion powder

1

tsp

garlic powder

1

tsp

cayenne pepper
Toss all the ingredients into a blender and blend until smooth and creamy.

Add water until you get the consistency of a cheese sauce.

If you want to use this for kale chips, amp up the seasonings to really flavour the kale, more so than if you were to eat it on its own. Does that make sense? The flavour will get diluted over the kale, so don't be scared to get generous with the seasoning.