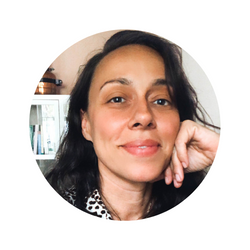 Hi, I'm Militza,
Skincare Herbalist & educator
Skincare herbalist is a term I use to describe my work. I teach an herbal perspective on skincare, and a holistic view of the skin. 
It took 10 years of journeying to piece it together this way.
And so, here's the longer explanation:
When I first started making skincare in my kitchen, I studied the beauty world for ideas. 
I used to try and re-create simple things like body scrubs and face masks that I saw in stores. And even when I started sharing my recipes – I used the same  "beauty language"
But, something was very different.
The skin care that I made at home – felt nourishing in my body, and in my mind – in a way that no product had ever made me feel.
I honestly didn't understand why, but I realized that I used skincare from a place of insecurity.
But making skincare made me feel empowered, more loving towards myself. For the first time, ever, skincare made me feel good in my own skin.
And so, through this long process of learning how to make skincare and teaching other people – I started to  "unlearn" what the beauty industry had taught me. And I started to look elsewhere for a better definition of skincare.
I found herbalism when I moved to Bali. I studied from traditional skincare makers  who made products used in spas and sold in stores. They  taught me  about nourishing the skin with fresh "food-like" ingredients. They taught me about using  herbs, and the importance of having a connection to nature… 
After two years there, I was making the most beautiful skincare recipes. I shared recipes on my website, and would travel back to Singapore often to teach workshops…
I had students that told me these recipes helped to clear eczema, clear acne… but the truth is, I didn't understand the mechanics of how it actually worked. 

When we moved to Florida, I enrolled in The Florida School Of Holistic Living to learn the skin more thoroughly. 
What I realized, surprised me!
In herbal studies, in holisitc medicine, in books about health and wellness – the skin is often left out of the conversation. 
We're taught about the internal systems. How to support digestion and heart health and the brain… the nervous system, stress and anxiety…. 
But the skin is treated as a surface, superficial, almost  disconnected part of our self.
And conversations around skincare are in the context of beauty, aesthetics, or first-aide – relieving bug bites and stings… 
The skin, our largest organ, is a big part of the puzzle that has been missing in wellness. 
And so I've dedicated myself to researching the skin-body-mind connection. 
And creating new frameworks for how to think about and how to use herbs topically for whole well-being.
My passion is to re-introduce the skin back into the whole-self.
To help people learn about their own skin, and its unique qualities.
And teach a form of skincare that is based on individual needs, nourishment, connection to self, and connection to nature. 
In 2012, I hosted my first natural skincare-making class. My heart was pounding, my voice was trembling – but something inside me clicked. I found my life's path. 
Over the last decade, I've been so fortunate to teach hundreds of people at my workshop table.
Having that first-hand classroom experience developed my skills and cemented my path. I'm dedicated and wildly driven to continue teaching and cultivating a passion for herbal skincare.
Wether you're new to herbal skincare, or you've been travelling this path – I'm so glad you're here! You're in the right place.