Virtual classes hosted by Militza, Skincare Herbalist
Learn about your skin, how to use herbs topically, and how to create skin care that feels like the best kind of self care.
Grow your Passion for Herbal Skincare
Skincare herbalsit is a term I use to describe my work. I teach an herbal perspective on skincare, and a holistic view of the skin. 
It took 10 years of journeying to piece it together this way.
And so, here's the longer explanation:

When I first started making skincare in my kitchen, I was coming from the "beauty" world. I  used to try and re-create the products that I saw in stores. And even when I first started teaching these recipes, I used the same beauty language.

But, something was different.

What I was making – felt nourishing – in my body, and in my mind – in a way that no product had ever made me feel.

And so, through this long process of learning how to make skincare and teaching other people – I started to  "unlearn" what I was taught by the beauty industry. 

And I started to look elsewhere for a better explanation. 
I found herbalism when I moved to Bali. I studied from traditional skincare makers  – who made products used in spas and sold in stores. They  taught me  about using the herbs that grow around you, and the importance of having a connection to nature… 

After two years there, I was making the most beautiful skincare recipes. I shared recipes on my website, and would travel back to Singapore often to teach workshops…

I had students that told me these recipes helped to clear eczema, clear acne… but the truth is, I didn't understand the mechanics of how it actually worked. 

I remember I once asked my mentor, why do you use hibiscus in this recipe? She said "because we always have." Although I learned a real appreciation and regard for  herbal lore, I was curious and ready to learn more.  

When we moved to Florida, I enrolled in The Florida School Of Holistic Living to learn the skin more thoroughly. 

What I realized, surprised me!

In herbal studies, in holisitc medicine, in books about health and wellness – the skin is often left out of the conversation. 
We're taught about the internal systems. How to support digestion and heart health and the brain… the nervous system, stress and anxiety…. 

But the skin is treated as a surface, superficial, almost  disconnected part of our self.
And conversations around skincare are in the context of beauty, aesthetics, or first-aide – relieving bug bites and stings… 
The skin, our largest organ, is a big part of the puzzle that has been missing in wellness. 

And so I've dedicated myself to researching the skin-body-mind connection. 

And creating new frameworks for how to think about and how to use herbs topically for whole well-being.
My passion is to re-introduce the skin back into the whole-self.  To help people learn about their own skin, and it's unique qualities.

And teach a form of skincare that is based on individual needs, nourishment, connection to self, and connection to nature. 
It's not easy finding a common time that works for everyone. But I still want you to feel part of the classroom experience. 
If you get the class pass – but can't attend LIVE  – you can watch the class recording anytime.
PLUS, you can interact with me in the Herb House membership area – and ask questions, share, comment and receive guidance as you make the recipe of the month! 
Each month will focus on a different herb for the skin. We'll discuss the herb, its benefits and skin care uses. 
Month by month, you'll build up a materia medica of herbs for the skin.
Each herb inspires a different conversation! So, one month we might talk about skin anatomy. The next month we might talk about growing your own herbs, infusing oils, or tips for creating a daily routine… skincare herbalism is very different from "conventional beauty" conversations. 
Class Pass Members also receive a Recipe of the Month.  I'll be available to answer any questions that come up over the month as you make your recipe, offer advice, resources and tips!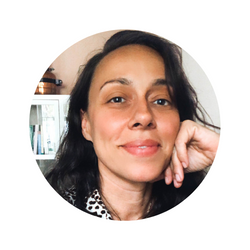 Hi! my name is Militza,
I created this space to share a deep passion for making herbal skincare.
I'm an herbalist, specializing in skin health, I've been teaching skincare classes for over 10 years, and I wrote a best-selling skincare recipe book called Natural Homemade Skincare. Thanks for being here! I'm excited to connect 🙂