Welcome to the
Herb House
Virtual workshop classes hosted by Militza, Skincare Herbalist
Want to learn more about herbal skincare?
The Herb House is an invitation to begin.
Enjoy monthly herbal skin care classes. Feel your passion grow, as you learn about the skin, the herbs, and the healing practice of herbal skincare.
Become a member of the Herb House for free! You'll be able to watch class recordings, which are not shared anywhere else.
Consider getting a Class Pass. At only $7.99 per month you can join the LIVE monthly classes, receive a brand new skincare recipe each month, and have Q&A teacher support anytime you need it! 
Library Card
Get access to the class recordings
Class Pass
Get access to the LIVE monthly classes
Each month, we'll meet via Zoom for a live class. It's fun and interactive, you can engage and ask questions. 
Classes are held on Thursdays  – 1pm Eastern Standard Time
12:00pm CT / 11:00am MT / 10:00am PT
It's not easy finding a common time that works for everyone. But I still want you to feel part of the classroom experience. 
If you get the class pass – but can't attend LIVE  – you can watch the class recording anytime.
PLUS, you can interact with me in the Herb House membership area – and ask questions, share, comment and receive guidance as you make the recipe of the month! 
Each month will focus on a different herb for the skin. We'll discuss the herb, its benefits and skin care uses. 
Month by month, you'll build up a materia medica of herbs for the skin.
Each herb inspires a different conversation! So, one month we might talk about skin anatomy. The next month we might talk about growing your own herbs, infusing oils, or tips for creating a daily routine… skincare herbalism is very different from "conventional beauty" conversations. 
Class Pass Members also receive a Recipe of the Month.  I'll be available to answer any questions that come up over the month as you make your recipe, offer advice, resources and tips! 
Grow your Passion for Herbal Skincare
Skin care is the best. Except when it comes to beauty marketing, in which case, it can be the worst.
Before skincare was rudely taken over by the beauty industry (which, in human history, has only been recently) skin care was simple, and a big part of our wellbeing. Making and using skincare was about nourishment, traditions and enjoyment. A healthy skincare practice helped us to connect to our own body, connect to nature, and… feel good.
The Herb House is designed to bring skincare back in a healthy way, by learning about your skin, how to use herbs topically, and how to create skin care that feels like the best kind of self care.
Choose your Herb House Membership
You can cancel at any time.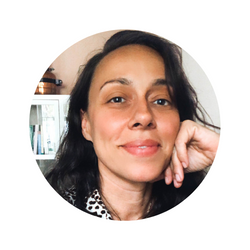 Hi! my name is Militza,
I created this space to share a deep passion for making herbal skincare.
I'm an herbalist, specializing in skin health, I've been teaching skincare classes for over 10 years, and I wrote a best-selling skincare recipe book called Natural Homemade Skincare. Thanks for being here! I'm excited to connect 🙂
Take a peek inside our Wonderworld