The new year is a funny time. On one hand, we want to jump right in and go go go, but at the same time we want so badly to slow down time. There are so many dreams to make happen, so much that we want to do, so much that still needs to get done… but we also need to just pause and catch our breath.
It feels like being at odds with ourselves. And that's when I think about making an Apple Toner.
Apple toner is a balancer.
It keeps your skin from going into extremes, from going too far one way or the other. So make this Apple Toner to bring balance to your skin, and you know, just in case it works on life too!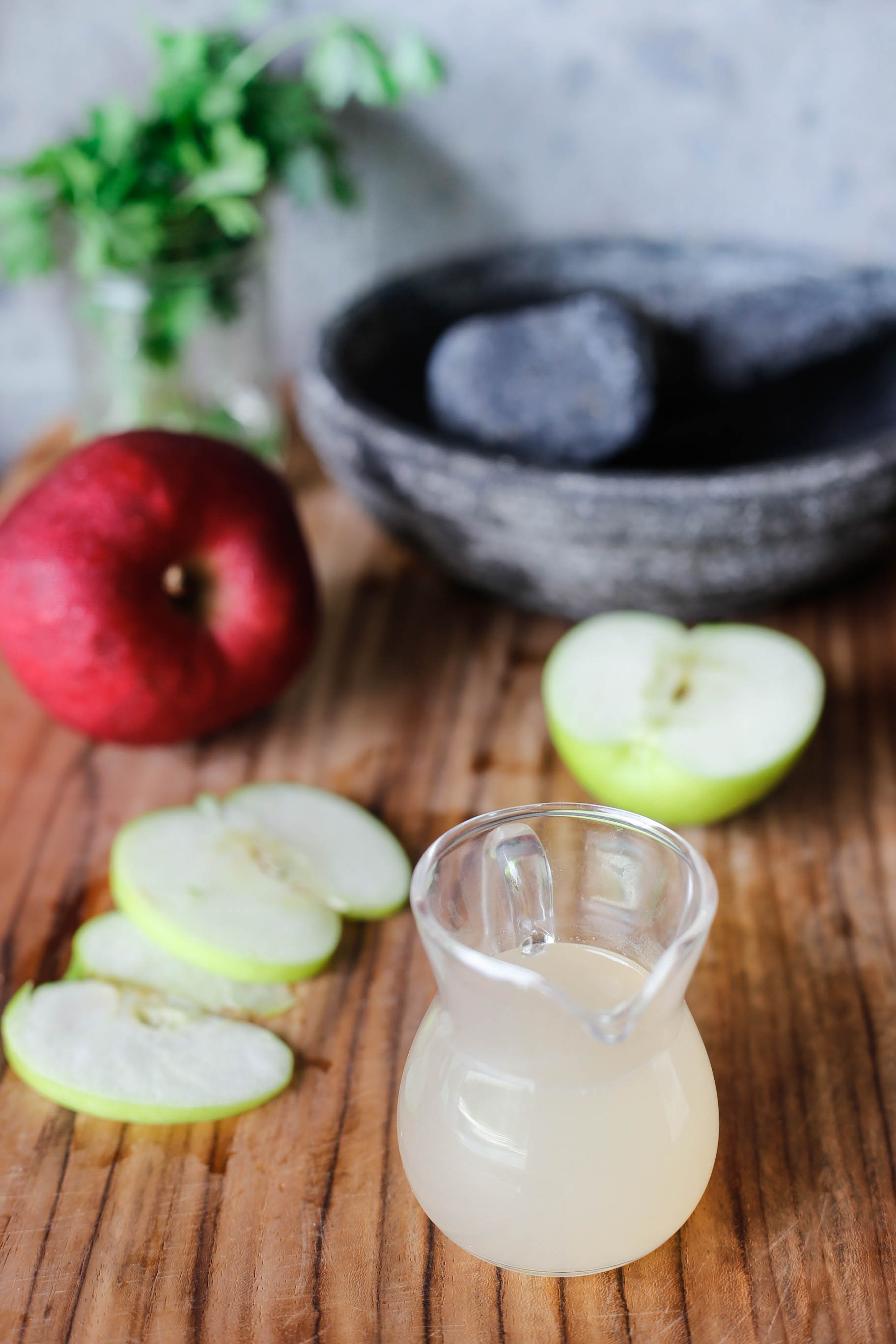 [yellowbox]
This Apple Toner is just one of the all-natural, safe & effective skincare recipes that we're making as part of the 5 Day Fresh Start Challenge. If you want to kick bad skincare to the curb and give you skin a break, come join us. The Fresh Start Challenge is 100% free and begins this Sunday!
[/yellowbox]
We're going to make this toner with Apple Cider Vinegar. It's such an amazing ingredient. It just does everything!
And even though is sounds a little strange/scary to put ACV on your skin – it's actually super gentle and soothing. Did you know that bathing babies in water with a splash of apple cider vinegar is an age-old remedy to heal rashes and soothe irritations…
So it's going to be really gentle on you too!
Easy as A.C.V.
Apple Cider Vinegar has so many benefits. It helps to balance your skin, by bringing your pH back to its happy, normal, slightly acidic state. A lot of times the products that we use can strip our skin and knock off our natural pH. Usually its a harsh soap cleanser, or even run off from our shampoo – and that's when it feels like our skin has gone haywire.
Apple Cider Vinegar comes in and restores things, brings you back into balance. And it doesn't just stop there. The natural acids gently exfoliate your skin,  so that you look and feel brighter and refreshed!
Taking a break from our regular skincare routine is a great way to bring in whole food skincare and help your skin rebalance. If you've been wanting a fresh start, sign up for my free 5 day Fresh Start challenge! It's kicking off this Sunday so don't hesitate – sign up here!
Now, let me show you how to make your own skin balancing Apple Toner!
Skin Balancing Apple Toner Recipe
1/2 cup water
1 1/2 teaspoons apple cider vinegar (with the "mother")
happy thoughts
Fill a small bottle with 1/2 cup of water
Add in 1 1/2 teaspoons of apple cider vinegar, the kind with the "mother" in it.
Mix it together
Close the lid and you're done! Because there's water in it, the best thing to do is to store it in the fridge for 1 week.
If you want to keep your apple toner close to you in the bathroom, cut the recipe in half and use it up within 3 days. It just takes a second to make, so you can always replenish your toner as you need.
How to use your Apple Toner
To use it, saturate a cotton pad with the toner. It's nice to use it, not just on your face, but also down along your neck and chest.
And then you just wipe it onto your skin. Don't rinse it off – let it soak in and do its work.
Give it a try!
Now, what are you doing this weekend? Come join me and hundreds of the Little Green Dot community as we give our skin a Fresh Start.
For 5 straight days, you'll swap your conventional skincare products for a specially designed natural skincare routine, including this Apple Toner recipe.
Each product takes just minutes (seconds?) to make, and is safe and effective for all skin types.
Plus you'll receive:
Your shopping list of simple whole food ingredients
Your Fresh Start guide, packed with tips and inspiration
Fun daily challenges with fresh new recipes to try!
The Fresh Start Challenge is 100% free and kicks off this Sunday. So I hope you'll join in the fun with us!
[notumn_btn size="md" color="gray" align="aligncenter" target="current" url="/freshstart/"]Join the 5 Day Fresh Start Challenge[/notumn_btn]