The other day I came home after a busy morning, feeling both tired and hungry – the worst possible combination! It's in those moments where eating a bowl of cereal for lunch makes perfect sense – but instead I decided to make one of my favorite quick meals and snapped a few pics along the way to show you..
A Busy Day Lunch – Spanish Omelette
This is my usual cooking set-up, with my Mac playing a You-tube video of some variety. That day I was watching an interview with Marie Forleo, a business coach that I follow. I turned on the oven to 180 and quickly chopped up a potato to steam.
As the potato steamed, I chopped up a few veggies and yes, snuck in a raw brownie snack! Just a few minutes in, the potatoes were soft, and ready for the pan.

The potatoes only needed one or two minutes on the pan. I threw in the other veggies, opened up the spice drawer and picked out a few that sounded good – onion, garlic powder, cayenne pepper and dill.

As the veg cooked, I beat a few eggs. I was really hungry so I did 2 eggs, plus one egg white and definitely had to top it all off with a bit of crumbly cheese! The extra yolk I saved for a hair treatment.
As soon as the egg went in, I put everything in the oven. In about 5 minutes, it was ready! Just enough time to prepare a quick salad, crack open a drink and set the table to eat! enjoy.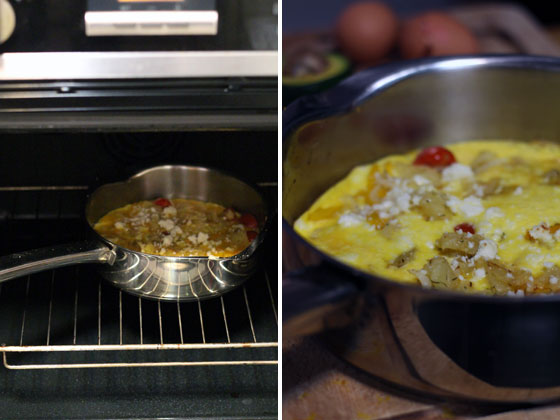 If you don't photograph yourself cooking (which, why would any normal person do that) the whole thing will take 10 minutes to make.
Spanish Omelette
Ingredients:
2 eggs + 1 egg white
1 potato cut in long strips
sliced onion
sliced bell pepper
cherry tomatoes
seasonings
coconut oil
Directions:
1. set oven to 180
2. steam potatoes for 3-5 minutes
3. pan fry potatoes in coconut oil for 1 minute. Add in the rest of the veggies and season to taste
4. beat the eggs and pour them over the vegetables
5. place the whole pan into the oven for 3-5 minutes until the eggs cook