Hi! This month is all about organizing my home. I feel that when I have my kitchen in order, it makes preparing a meal a joy. One of my bottom drawers holds all of my nuts and seeds and I like to keep them in glass jars. I would have to lift each up to see what it holds, so I decided to label the top of the lids…It's about creating a space in your kitchen that inspires you to cook up great meals. For me, I love walking over to my jars of grains, opening up a drawer to pick out beautiful ingredients and just having fun creating…
This project is very easy to make, and when you look down at your jars, you'll feel happy that you did!
Here's what you'll need to make Chalkboard Paint Jar Lids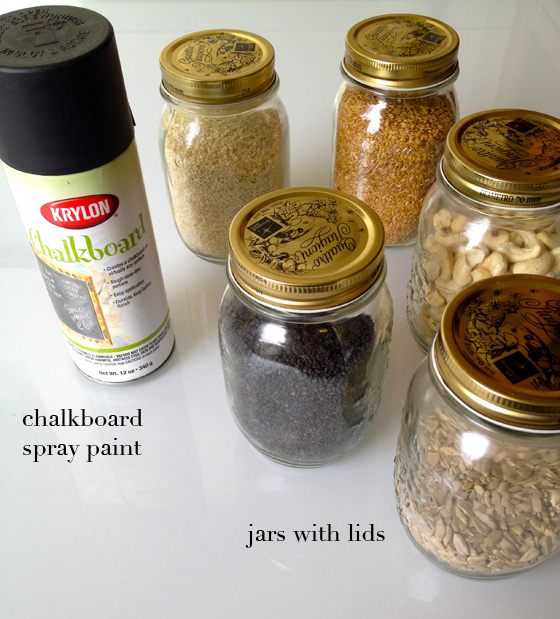 Lay down newspaper and spray the lids with chalkboard spray paint. Spray a good 10 inches away, otherwise it loads on too much paint! After the chalkboard paint dries, cure it by rubbing chalk all over, and letting it sit for a few hours or overnight.
You'll then be ready to label all of your yummy ingredients!
Have fun in the kitchen and make something good for you!
[ribbon title="Singapore Shopping Guide"]
Buy chalkboard spraypaint in Artfriend
You can sometimes find mason jars in Fairprice; pictured above is the brand I use, a range of canning jars called Quattro Stagioni
If not, you can definitely find mason jars in TOTT (Tools of the Trade) in Bukit Timah or Sia Huat on Temple Street