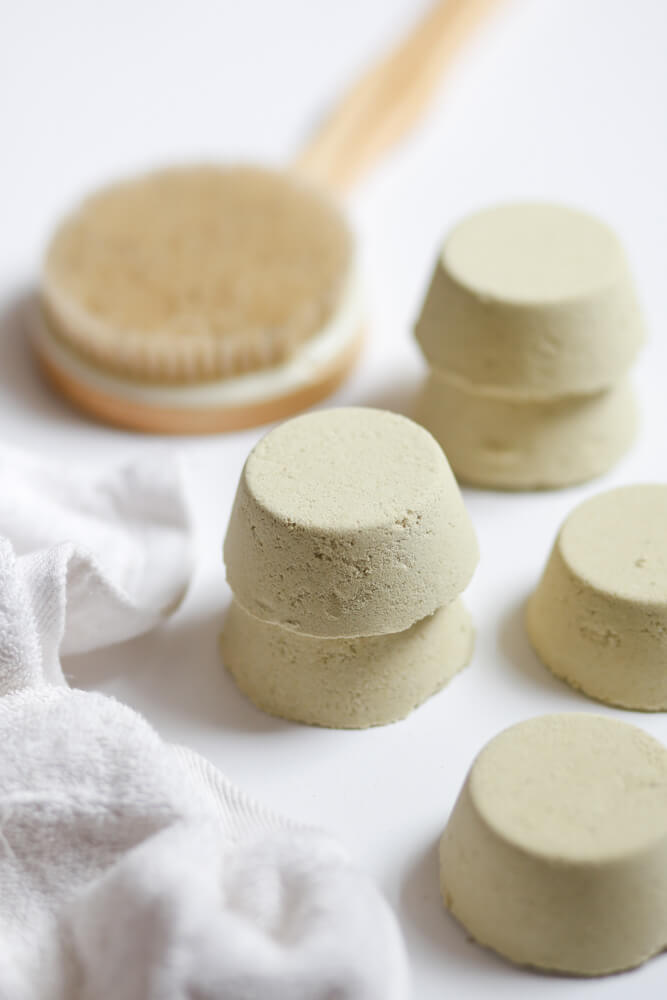 If you're looking for ways to improve your sleep, it's time to rethink your shower. With a little help from these easy-to-make aromatherapy shower tabs, you can create a 5-minute self-care retreat in your shower that will set you up for the restful, deep, slumbering sleep that you need.
When I think about what keeps me up at night – it's a combination of a busy, overstimulated mind or restless, achy body. And for me, what always helps to reset the way I feel, involves the senses: touch, smell, sight and sound…
My favorite thing to do (If I'm not in the bath) is to take an inredible shower. I'll set an aromatherapy tablet on the shower floor, light a candle and turn off the bathrom lights. Have you ever showered in the dark? It's amazing.
That combination of being in warm lighting, hearing and feeling the water and breathing in the aromatherpy – takes me there!
If you've been struggling to sleep well – I really feel that your everyday shower can completely prepare your body and mind for relaxation. It's just about creating that expereince for yourself.
That's why I created this simple recipe for you – anytime you need it. Get ready to fall deeply into sleep…

The effects of Water
When you're looking for ways to de-stress and relax, simply being in water has a positive impact on your whole psyche. Studies show that being in, or near water – can make you feel happier and healthier. Oceans, lakes, fountains, even our daily shower can reduce our stress levels. One research team studying the effects of "blue space" on our wellbeing, found that hospital patients with Altzheimer showed positive effects on heart rate, blood pressure, and mood simply by looking at water. (1)
And to enhance the feel-good benefits of water, I created this Clary Sage Shower aromatherapy blend to help you wash away the stress of the day, relax your nervous system, soothe your body, declutter your thoughts and get your best sleep ever.

Essential Oil Blend
Lavender: The quintessential oil for relaxation, Lavender is one of the most clinically studied essential oils. An investigation looking at the effects of lavender aromatherapy on women with high-risk postpartum anxiety and depression – showed a significant improvement of the Edinburgh Postnatal Depression Scale and the Generalized Anxiety Disorder Scale. (2) The chemical constituent linalool in Lavender puts you in a good headspace for relaxing. Studies show that it helps give adults and infants better quality sleep (3) and if you inhale lavender while you're sleeping, it will increase that restorative, deep slow-wave stage of sleep. (4) Find it here.
Orange: I have suffered from anxiety for years and spoke about how it affected my work. I know how debilitating it can feel, and in looking for ways to overcome an anxiety that made the days feel harder and kept me up at night – I came across orange essential oil. A study conducted on groups of women in hospital found that the aromatherapy of orang e essential oil reduced their levels of anxiety during labor. (5) And that's a hard day 🙂 It was also shown to reduce the levels of cortisol and pulse rate in children feeling anxious at the dentist. (6) Orange essential has a way of softening the harsh edges of anxiety and making a hard day, feel less hard. Find it here.

Clary Sage: This is the oil I was most excited to introduce to you. The very first time I smelled Clary Sage, I felt a similar wave of relaxation that you feel after a glass of wine. It turns out, Clary Sage has a powerful sedative effect, and in fact, I've read from several aromatherapists that you shouldn't use clary sage if drinking as it might enhance the intoxication. Clary Sage is hypotensive, lowering high blood pressure and it is also nervine, soothing away frazzled nerves. Clary sage makes you feel utterly, almost instantaneously relaxed. You'll slump right into sleep. Find it here.
---
If you're inspired to transform your shower experience and give yourself the gift of relaxation – I hope you'll try this sleep-inducing blend. Don't forget: turn off the bathroom lights and light a candle. Shower in the dark, I promise it's life changing!
Clary Sage Shower For the Best Ever
Effervescent Shower Tabs, with aromatherapy that melts the day away… enjoy restful, deep sleep.
ingredients:

1 cup baking soda
1/2 cup citric acid
1/4 cup cornstarch
45 drops lavender essential oil
45 drps orange essential oil
25 drops clary sage essential oil
rubbing alcohol in a spray bottle
*if you don't have all of the oils, I recommend using simply Lavender essential oil. You can also buy a sleep blend all ready to go.
*the citric acid is there to make the tablets effervescent, which is not necessary, it's only for a fun experience. You can replace the citric acid with baking soda.
directions:
In a large bowl, mix all of the dry ingredients
Add the essential oils and mix thoroughly
Spritz with rubbing alcohol just enough to bring the mixture together. Squeeze the powders in your hand, if it holds its shape, it's ready
Pack into a muffin pan. Recipe makes 6 tablets.
Pop them out of the pan (turn upside down and gently knock it out onto a table) and let them air dry.
Store in an airtight container in your bathroom, ready for your next shower