I made this DIY to add a little cheekiness to Easter! It's a fun gift, to bring to a friend's house or Easter gathering. The idea is: you have six eggs – five are stuffed with sweet treats and one, the bad egg, carries a big surprise! Let your friends and family choose an egg, smack it open and hope for the best!
Remember, there are lots ways to make this green, simply by choosing the right materials! That's what I love about making our own things! So let get right into it! I hope you like it!
Cheeky Bunny – Easter Egg Surprise!
step 1 – Gather all your bits.
I drew labels for you, which you can print up and use for this DIY!
(see PDF at the end)
Here are some tips for choosing your materials:
I designed the labels to fit the half dozen Freedom Range Egg carton. It's a free range chicken farm right here in Singapore! You can find it at Cold Storage – $2.90
For the treats, you can choose anything small – I like Hershey's Kisses because they come wrapped (and three fit perfectly in an egg) but, the egg shell will be fully clean and dry, so do feel free to use loose candy!
When it comes to stuffing your bad egg – make it big and messy, but keep it green! Here are some ideas:
Use the scrap paper from you PDF to make your own confetti. Add color with a marker, and punch out the confetti with a hole-puncher.
Eat a few Hershey Kisses and use the foil for stuffing! I started by punching holes into the foil, but ended up just tearing off tiny bits. Much easier!
Use dried beans, flour, small pasta – have a look in your pantry for dried goods!
If the party is outdoors, an egg filled with seeds would be fun too!
so, now let's prepare the eggs for stuffing!
Step 2 – Drain the eggs.
You'll need to make the hole big enough to fit your treat. Remember to make sure that you also have a sticker big enough to cover the hole. A bit of planning there. For me, the easiest way to drain the egg, was to 1. Trace my circle – and – 2. Use a needle to punch holes – I was scared a knife would crack the whole egg. Then you drain the eggs out and make yourself a six egg omlette!
Thoroughly wash out the inside with water. You can soak them in vinegar and water to disinfect. Allow to dry completely before stuffing!
Step 3 – Stuff your eggs!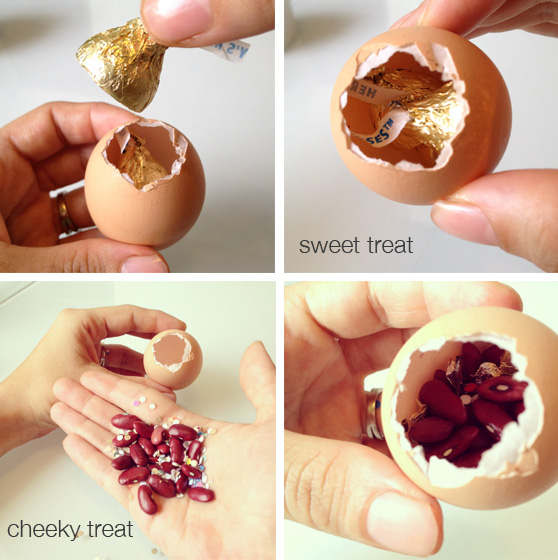 Step 4 – Cover the hole with a sticker and package it up!
Want to see it in action?!
Great fun for any kid, or kid at heart!
Here's your PDF(Easter-Egg-Surprise-DIY). Which label will you choose?
Have fun!