I'm thrilled to share this new wellness series with you – #ResetEatClean! Here you'll find recipes that can become staples for you throughout the week and help you take the guess work out of planning meals.
Here's the thing – sometimes we feel tired and rundown. We feel like we don't have the time to prepare a good meal, or even know what to eat to feel better.
The key is to have recipes in your toolbox that you can rely on – recipes that are easy to make, taste amazing and help you feel your best – light and full of energy.
So to build up our own wellness toolbox – I teamed up with the The Nutrition Clinic – the creators of RESET, a 10 day detox that's really unique. Instead of focusing on deprivation – they help you focus on nourishment, so that you fill your body with nutrient dense meals. In this way you not only eat clean and feel amazing during the program – but you also learn how continue eating well!
You get the recipes! I'm so thrilled – The Nutrition Clinic are sharing a bundle of recipes straight from their RESET program in this new series #ResetEatClean.
I feel so lucky to share them with you and it means that I get to try them along with you! The first recipe of the series is this Salmon Cauliflower Rice. My husband and I loved it – and I think you will too.
---
This dinner takes 20 minutes to put together! There's a bed of cauliflower rice, oven baked salmon topped with a fresh avocado salsa. I'll show you the steps below:
Salmon
Start by turning on your oven, season the salmon and wrap it in a baking paper packet. It cooks quickly and comes out all lovely and tender – but you can pan fry it too!
I like the crispy skin of pan-frying it, but I also like the easy clean-up of the oven packet… depends on what you're in the mood for! Check out that seasoning! So flavourful!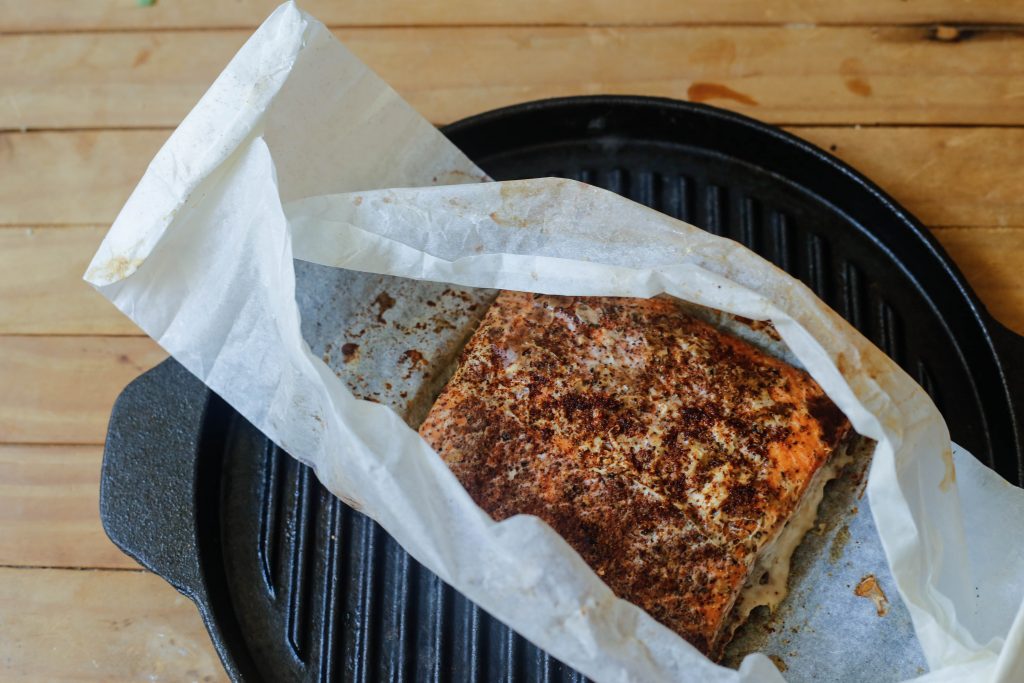 Cauliflower Rice
This idea is brilliant! Have you tried cauliflower rice before? It makes perfect sense – it acts like rice, but you get your veggies in. Just shred it up and then sauté it while your fish is cooking….

Avocado Salsa
So, you have your fish in the oven. Your Cauliflower rice on the pan… Go ahead and dice up some fresh avocado, onion and herbs and you have a complete meal.
Salmon & Cauliflower Rice Recipe
salmon ingredients:
1 piece salmon
1/2 teaspoon cumin
1/2 teaspoon paprika
1/2 teaspoon chili powder
1/2 teaspoon black pepper
cauliflower rice ingredients:
1/4 grated cauliflower
handful coriander or parsley
1/2 clove garlic (minced)
juice from 1/2 lemon
coconut oil
avocado salsa ingredients:
1/2 avocado (chopped)
1 small red onion (chopped)
juice from 1/2 lemon
handful coriander or parsley
Heat oven to 180c/350f (if baking your salmon)
Coat salmon with coconut oil and spices. Bake for 15 minutes or pan fry until no longer translucent
Place the grated cauliflower and minced garlic in a pan with a splash of coconut oil. Gently fry until soft, around 10-15 minutes. Add chopped coriander and squeeze of lemon juice
Mix avocado salsa together and set aside
Top the cauliflower rice with salmon and avocado salsa, season with lemon as required
---
Follow TNC.RESET on Instagram and use #ResetEatClean to share what you get up to in the kitchen!