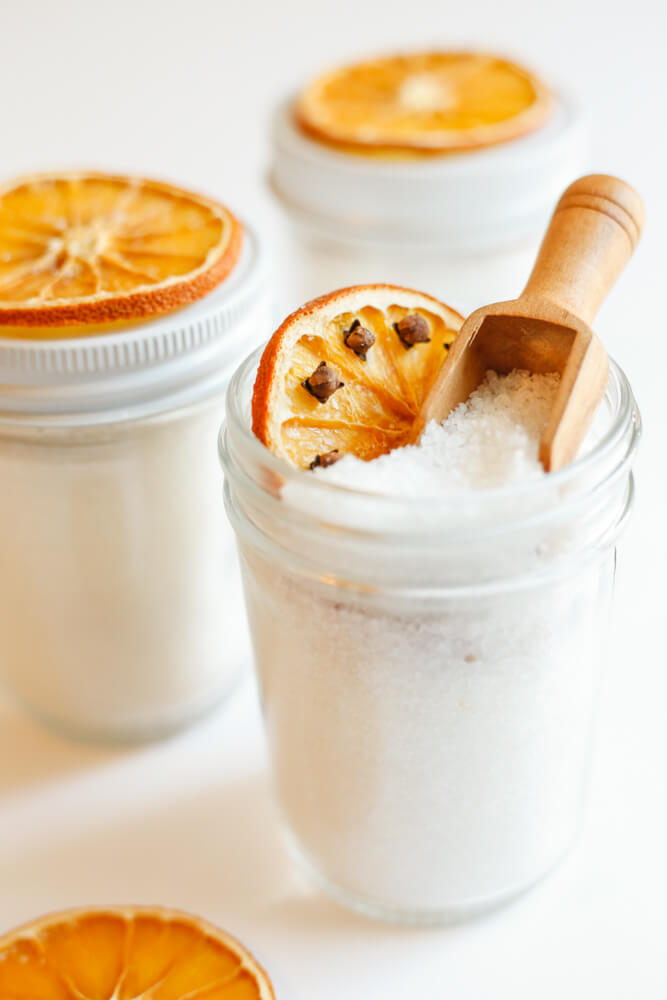 Last-minute gift. Hostess gift. Secret Santa gift. An under $5 gift… I feel like this one recipe has you covered! I don't know anyone who doesn't feel seriously depleted this time of year… So for this bath soak, I created a special aromatherapy blend to make that person on your gift list – feel totally restored.
Grab yourself a bag of Epsom salt on your next supermarket run – that way you have it ready for when you need a quick gift that your someone will love!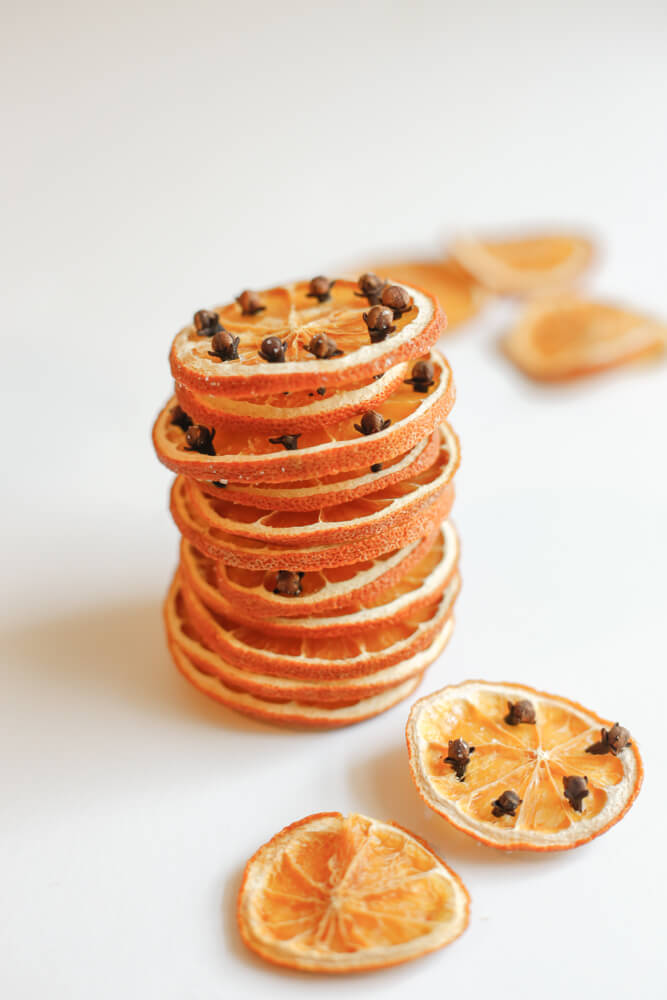 Here's what makes this bath soak so extra special: oven-dried orange slices, tucked in with the salt. Oh my goodness.
The moment they pour the salts into the warm bath water and see fragrant, beautiful slices of orange floating on top, that's it! They are on an endorphin high!
Stress? What stress? Did I still have 20 emails to answer? I don't know. Do I need to buy cereal for the kids' breakfast? Who cares. I'm bathing in punch and life is good…

Let's talk about the ingredients:
Epsom Salt: Inexpensive, instant relaxation. Epsom salts make the water feel better. Silkier, smoother and even…. floatier. The extra buoyancy makes your aching body feel supported, totally relaxed.
Orange Slices: Eye candy, which is a good thing! The beauty of nature has a measurable effect on how we feel – so never discount the benefits of adding beauty into your life. The essential oils are captured in the rinds, adding little extra fragrance to your bath too!
Essential Oils: In my training to become certified for Topical Applications of Essential Oils – I learned that a blend should consider not just the physical therapeutics of essential oils, but also the emotional…
Here's what I came up for "Feeling Restored during the Holidays"

Sweet Orange Essential Oil: has an uplifting effect, often used for stress and depression. It lightens the mood and softens the edges, helping us to tackle whatever we're facing, with a little more ease. I recommend this one.
Palo Santo Essential Oil: has been used since ancient times. Palo Santo is considered a sacred wood, used in ceremonies to dispel negativity. Breathing in the aromatherapy, has a grounding and calming effect. Palo Santo is high in monoterpenes which studies show help the body to manage stress and inflammation, and build resilience. I recommend this one.
Ginger Essential Oil: Ginger is a warming, oil, it promotes circulation in the body. This is so good when the body feels stiff, when its cold outside when you feel like you need to move through stuck energy. You'll sleep so well after a ginger bath, totally relaxed and renewed. I recommend this one.
Important: when adding essential oils to the bath, always dilute it in a carrier oil before adding it to the salt. Otherwise, the oils will separate in the bath water and touch your skin directly, which is not adviced. Read more about essential oil safety in the bath from Robert Tisserand, a renowned educator in the science of essential oils. I always turn to him for his well researched, scientific approach to aromatherapy.
Giftable Holiday Bath Soak for feeling Restored
BATH SOAK
Ingredients:
2 cups Espom Salt
3-5 slices of dried orange
5 drops Sweet Orange Essential Oil
3 drops Palo Santo Essential Oil
2 drops Ginger Essential Oil
1/2 tsp sunflower oil, or any neutral smelling oil

Directions:
Blend the essential oil and oil together
Pour the oil into the epsom salt, mix well
Pour the scented salt into jar, tucking in several orange slices throughout.
OVEN-DRIED ORANGE SLICES
Set your oven to the lowest setting or 150 (my oven is 170)
Sharpen your knife. Slice the oranges as thin as you can, about 1/2cm.
Place the orange slices on a baking rack to allow for air flow. If you don't have that, use a cookie tray with parchment paper so it won't stick.
That said, a dehydrator is much easier!! I love mine.
Leave it drying in the oven for a few hours (depends on the thickness of the slices) every so often flipping them and checking on them. If you use a dehydrator, you don't have to worry about them burning.
Store in an airtight container, or in Epsom salt!
Happy gift-giving!!