This recipe is sponsored by Tropic Isle Living
---
Fall is about to get extra amazing! Because, let's be real – a good hair day is always an amazing thing 🙂
Seriously – Grab your fruit bowl. We're making a fresh food, mandarin + Jamaican black castor oil hair scrub (like a body scrub, but for your head!) that clears away build-up, detoxifies and super-charges your scalp to grow healthier hair!
Your hair will absolutely shine, any dry summer crunch in your hair will become utterly soft – and if you use this hair detox faithfully – you'll have longer locks before Christmas!!
WAIT –  longer hair? YES! It features a very special oil that I'm excited to tell you about, Jamaican black castor oil. For those of us who have stunted hair growth, or even hair loss – you need to know about this oil!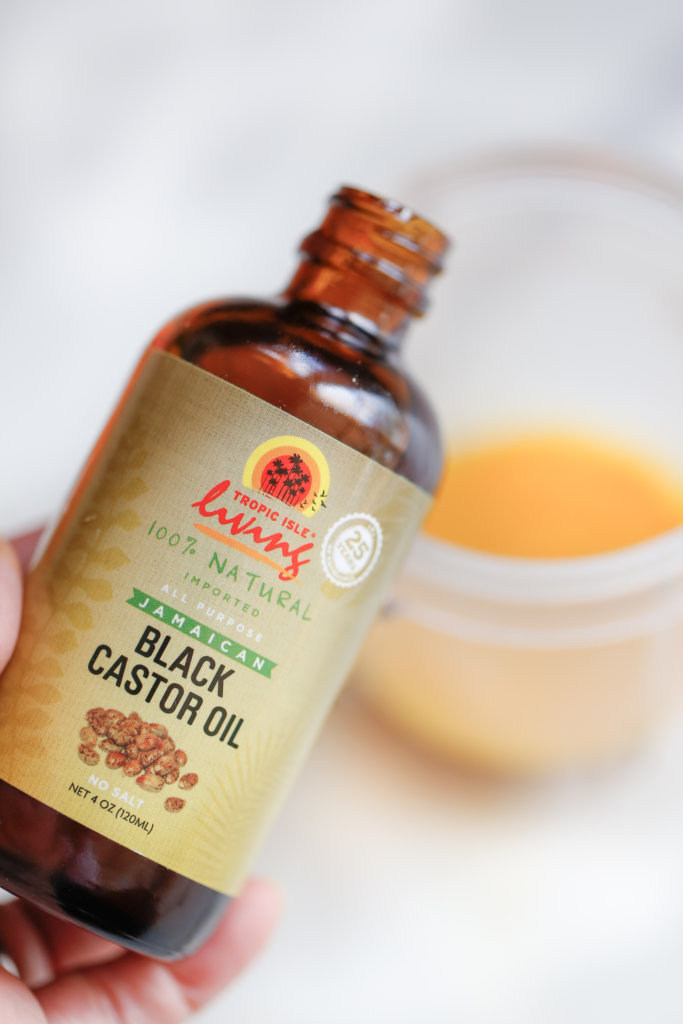 Jamaican Black Castor Oil.
This is the oil that makes your hair G.R.O.W.
Coconut oil is brilliant for deeply moisturising hair, hemp oil is strengthening full of protein. And black castor oil has been long used to stimulate hair growth.
Amazingly castor seeds have been found in Egypt since 4000BC – the seeds roasted to make black castor oil for various health remedies. The recipe was brought to Jamaica over 400 years ago where it's still made in the same traditional way.
It's a very special oil, that has a purging effect on our skin – pulling out impurities. Its even used topically to relieve the body of cramps and aches. It's cleansing, removes toxins and promotes healthy skin and scalp.

When you massage Jamaican black castor oil onto your scalp, it clears out any blockages and promotes healthy follicles –  so that your hair can grow, grow, grow!
Did you know: you can also use Jamaican black castor oil to grow your eyelashes and to restore your eye brows (if you also over-plucked, years before bushy eyebrows became chic, and they never quite grew back the same again ??)
Have a read of testimonials of people using Jamaican black castor oil to grow their hair, reporting changes within weeks!
Mandarin.
There's an incredible, good-hair-day, active ingredient in mandarins, called salicylic acid – and it's going to make you look at your fruit bowl completely differently!
Salicylic acids are a form of BHA (the expensive stuff in jars) – when you massage it onto your scalp, these gentle acids go.to.work – eating away buildup that's on your scalp, even loosening up dandruff and flaky skin – if you've got it. 
Other fruits with salicylic acids are: apricots, avocado, tomato, pineapple, plum, grapes, strawberry, blackberry and blueberry.
But what I love especially about mandarins, are the way they create a beautiful shine!
PS: We're also adding in the peel – which is full of mandarin essential oil – an antiseptic that cleanses your scalp and treats dandruff.
Brown sugar.

This is the scrubby part of this recipe, that gives your scalp a really good cleansing and detox.
As you scrub it onto your scalp, it melts into a creamy syrup that feels rich and lush (not at all sticky!!!) so satisfying!
And oh.my.goodness – the way it smells!! Gorgeous! As you scrub your head, imagine this rich amber, citrus scent dripping onto your skin!! It's pure joy.
BIG TIP: That thick syrup is an amazing body mask too – so leave it on, massage it in – your skin will feel super soft and lovely.
---
How to scrub your scalp (and feel amazing in 5 minutes)
Make your scrub right before you plan to shower.
Real talk: Please don't tell yourself that you don't have time… we tell ourselves that far too often but self care moments are always worth it. No one has ever said  – I wish I hadn't spent that time treating myself well ?
Get in the shower and wet your hair. Water helps the scrub to slip and scrub easily. Turn off the water. And then begin massaging the scrub onto your scalp. Try to part your hair – the goal is to get the mandarin and the black castor oil and the scrub on your scalp.
Imagine that you are scrubbing away blockages. Imagine your hair follicles being deeply cleansed.
Let the scrub sit on your scalp for at least 5 minutes. Listen to this 5 minute podcast while you're waiting.
And then rinse off completely, shampoo and condition as normal.
Like that – you're going to come of that shower and into the day –  feeling shinier and softer – inside and out.  I really hope that you give this recipe a try, and give yourself the time to feel just as amazing as you already are!!
1 tbsp Jamaican black castor oil
1 whole mandarin
1/4 cup packed brown sugar
peel and segment the mandarin. With the back of the spoon, remove the white pith.

In a bullet blender – blend up the mandarin fruit and peel – into a slushy pulp. Make sure there are not big bits, try to get it as smooth as possible.
Now, spoon in the Jamaican black castor oil. Mix well to combine.
And then pour in the brown sugar and mix. Some of the grains will melt, but you should still feel enough of a grit to get a good scrub. Test with your fingers. If not, add in more brown sugar.
To use: Get in the shower and wet your hair. Turn off the water and scrub your scalp. Then let it sit for five minutes, rinse off and shampoo and condition as normal.
If you liked this recipe – share the love – and hit those share buttons below!
Have you ever tried using black castor oil before? I'd love to know your thoughts!! Leave me a comment below and tell us about your experience.