If you're looking for a gift for the man in your life, this homemade Aftershave Gel is perfect! It's so simple to make, smells yummy and will leave his skin soft and looking great! Plus, I've teamed up with Fellow Fellow, an amazing crafter and designer who made this recipe gift friendly – at the bottom, check out the set of free printables which you can use to dress up your bottle!
This is a great DIY gift for him, but honestly – make an extra batch for yourself too! I've been using it on my legs after shaving and it's brilliant!
Our Herbalist and friend, Alina from Abundant Earth, gave us the low-down on which essentials oils will work best (and smell best!) in an Aftershave! So it'll not only be cooling and fresh on your man's face, but the essential oils picked have benefits of their own: Patchouli is fantastic for the skin as it moisturises and regenerates the skin, and Petitgrain has a toning effect, and helps keep oil production in check.
How perfect is that! OK. Let's get started…
Here's what you'll need:
– 1/4 cup Aloe Vera Gell (look for 100% pure!)
– 1/4 cup Witch Hazel
– 1 Tablespoon Glycerin
– Water to thin if needed (2-4 Tbs)
– Petitgrain Essential Oil, and Patchouli Essential Oil
– Small bottle
– Small jug
– Bowl
– Whisk
Step 1.
Combine the Aloe Vera, Witch Hazel, and Glycerine in a bowl and whisk until all combined.
Step 2.
Add 12 drops of Patchouli Essential Oil, and 6 drops of Petitgrain Essential Oil. Whisk again to combine. If it's thicker than you'd like, add some water, a little bit at a time, mixing in as you go until the desired consistency is reached.

Step 3.
Make sure your small jug is completely clean and dry. Transfer the mixture into your jug, and then from the jug into the clean bottle. You can also use a funnel if you have one.
Step 4.
Give it a test! Trust me – your skin will love it!
Now let's make it gift-ready! Fellow Fellow created some lovely black and white labels for you to download and use as you like. Once you've downloaded the file you need (A4 or Letter) you'll noticed that there are two pages – one with the labels the right way around, the other with the labels in reverse.
To download your labels, head over to Fellow Fellow and scroll down for the free PDFs!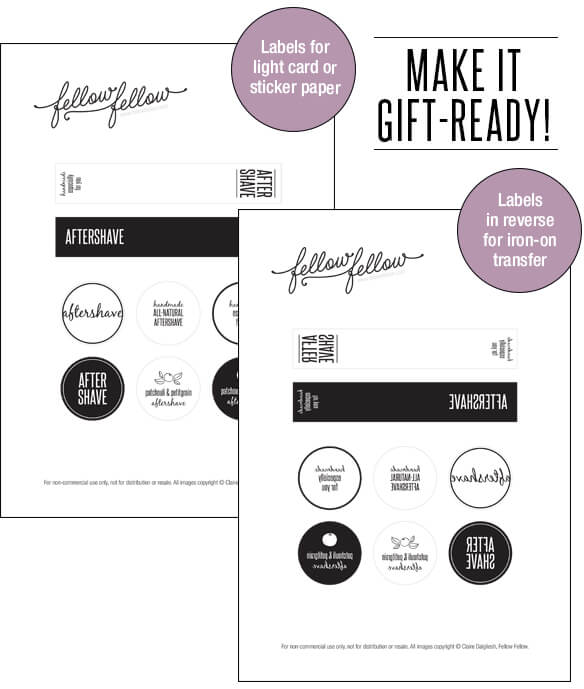 Page one: Labels the right way around – Print on sticker paper.
Page two: Labels in reverse – Below you'll see some cute little gift bags we created to package your Aftershave in, and for this you'll need Iron-On transfer paper, and the reversed labels.
So here's what you'll need to recreate ours exactly. Get creative though, I've included lots of different tags so you can mix and match 🙂
– Finished Aftershave, sealed
– Plain Muslin Bag
– Ribbon
– Tape
– A printed sheet of labels (the right way around) on sticker paper. Cut out the ones you want.
– A printed sheet of the reversed labels on Iron-on Transfer paper. Cut out ones you want to use according to packet instructions.
Step 1.
For the bottle: start by measuring out some ribbon, and securing it on the bottom with tape.
Step 2.
Bring the ribbon up the bottle, over the lid, and down the other side. Peel the backing off the sticker you want to use, and stick it over the ribbon.
Step 3.
For the Gift Bag: Iron your cut out iron-on transfer label onto your bag according to the instructions. Put the bottle inside the gift bag, and give it to some lucky man! 🙂
That's it! Simple, and effective 🙂
I hope you'll enjoy making/using this beautiful, all-natural aftershave! And more importantly – I hope someone you know will love using it! 🙂