2 pm… that's right around the time when I start to crave something to eat. I broke away from work in search of a snack, but got distracted along the way to the kitchen. I spotted my camera and began photographing little corners of my home. It's nice to take time to admire the things around you. I suddenly remembered that I had frozen bananas in the freezer and the spell was broken. Here, are little snippets of that moment and a recipe for the yummiest Mid-Day Chocolate Shake – the good kind, that is!
Mid-Day Chocolate Shake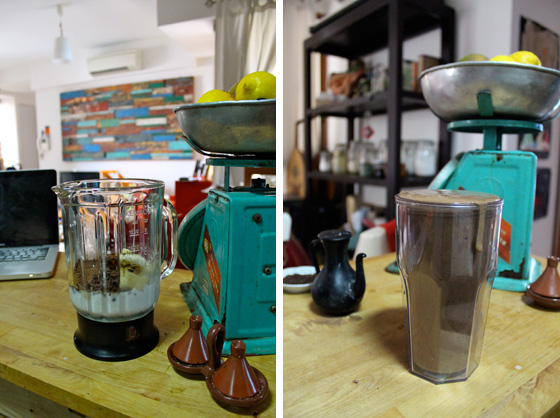 Ingredients:
2 frozen bananas (The frozen banana makes this shake thick and creamy!)
1 cup almond milk (Gives you energy, calcium, and is much lighter on the system than dairy)
2 heaping tablespoons of raw cacao powder or carob powder (carob has no caffeine so it's great for kids too!)
a sprinkle of cacao nibs (full of antioxidant goodness and a dark chocolate flavor)
1 date (my favorite sweetener! You get that brown sugar flavor, but with fiber!) *make sure to remove the pit!
Directions:
1. Throw everything in the blender and whizz it up. Don't over blend, you want it thick and frosty! Enjoy!
That was a good break! Next time you go in search for a snack, give this one a try – it's delicious and makes your body happy!
[ribbon title="Singapore Shopping Guide"]
Cacao Nibs – you can order them on-line from BGO
Raw Cacao Powder – BGO