A good hair oil works in two ways: massaged onto the scalp, it helps to nourish and fortify your hair follicles. Worked onto the hair, it helps to moisturise and seal your strands. I showed my friend Holly a really simple recipe, that uses some of the best oils for our hair. Once you have them on hand, you'll be able to make a beautiful product at home that can be found in any high-end salon!!
Hemp Seed Oil: This oil is rich in essential fatty acids, vitamins and is 25% protein. You're hair will drink it up! It's packed with vitamin E, so a good massage on the scalp will feed in those antioxidants. Remember, healthy hair begins at the scalp. You can eat this oil too! Always eat it raw, unheated, in salad dressings, dips or in smoothies – and you'll get those healthy benefits internally too.
Argan Oil: Prized as a moisturising oil, it's very light weight but also very hydrating! Argan Oil is multi-use, not only will you use it in this recipe, but you can use the oil as a skin moisturiser. It's great for under the eyes, your cuticles and any dry spots of skin.
Rosemary Essential Oil: My friend Alina, of Abundant Earth once told me that she adds rosemary oil to every hair blend she makes! She's an incredibly informed herbalist, so I listen! Rosemary essential oil is antibacterial – massaging it onto the scalp helps to cleanse hair cuticles from bacteria that can cause scalp irritations. It feeds the scalp with antioxidants and helps to stimulate blood flow – all which leads to healthier hair.
These ingredients combined will produce an oil that your hair will absolutely love! Use it once a week – I like to put it on at night, then wash it off in the morning. The trick is to set a routine that works with your schedule. You'll see – your hair will soon feel stronger and healthier with very little fuss!
Hemp & Argan Oil Hair Treatment Recipe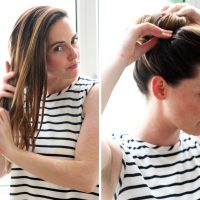 Hemp Seed Oil
Argan Oil
Rosemary Essential Oil
dark glass bottle
use a small, dark bottle to better help preserve the oils.
fill it with your blend: two parts hemp seed oil, one part argan oil
add in a few drops of rosemary essential oil, 5-10 drops for every 1/4 cup of oil blend.
How to use:
on clean hair (not covered in product), begin at the scalp. Give yourself a good massage with the oil – take your time here! We tend to focus on the hair, but healthy hair begins at the scalp!
work the oil down onto the strands
tie your hair up in a bun, or braid. Allow to sit for 20 minutes or overnight
wash as normal
you can use a tiny small amount onto dry hair to help tame frizz
you can also use this blend for your skin! It's multi-use and rosemary is often used in anti-ageing care products for its antioxidants – so you'll get lot's of great use with this! Dab it around your eyes, use it on cuticles or even as an all-over nighttime moisturiser.
Hemp & Argan Oil Hair Treatment Giveaway
This giveaway has now closed. Congratulations to Angela Molinaro in Singapore. Her shopping cart is winging its way to her now! Thanks to everyone who entered – watch out for the next Recipe + Giveaway!
It's a giveaway!! Win a shopping cart filled with everything you need to make the hair treatment, delivered straight to your door! It's that simple! Here's how to enter:
Sign up for the weekly Little Green Dot newsletter and get 1 chance to win
Don't forget to confirm your subscription in your email (because we hate spam!)
The contest will run until the end of July and then we'll pick a winner! Good luck!