If you've been wanted to bring more herbs into your skincare, violets are a great one to try! They're gentle and nourishing, and bring flow and moisture back to the skin, especially nice after the Winter season.
When you plant violets in your garden, they will spread very quickly, a welcomed weed, violets add beauty & wellness to your life!
In this article, let's explore Skincare Herbalism – and learn the benefits that violets offer, what skin conditions and constitutions violets are a good match for and how to use them in your skincare – wether you grow violets or purchase dried violet leaf from an herbal supply store.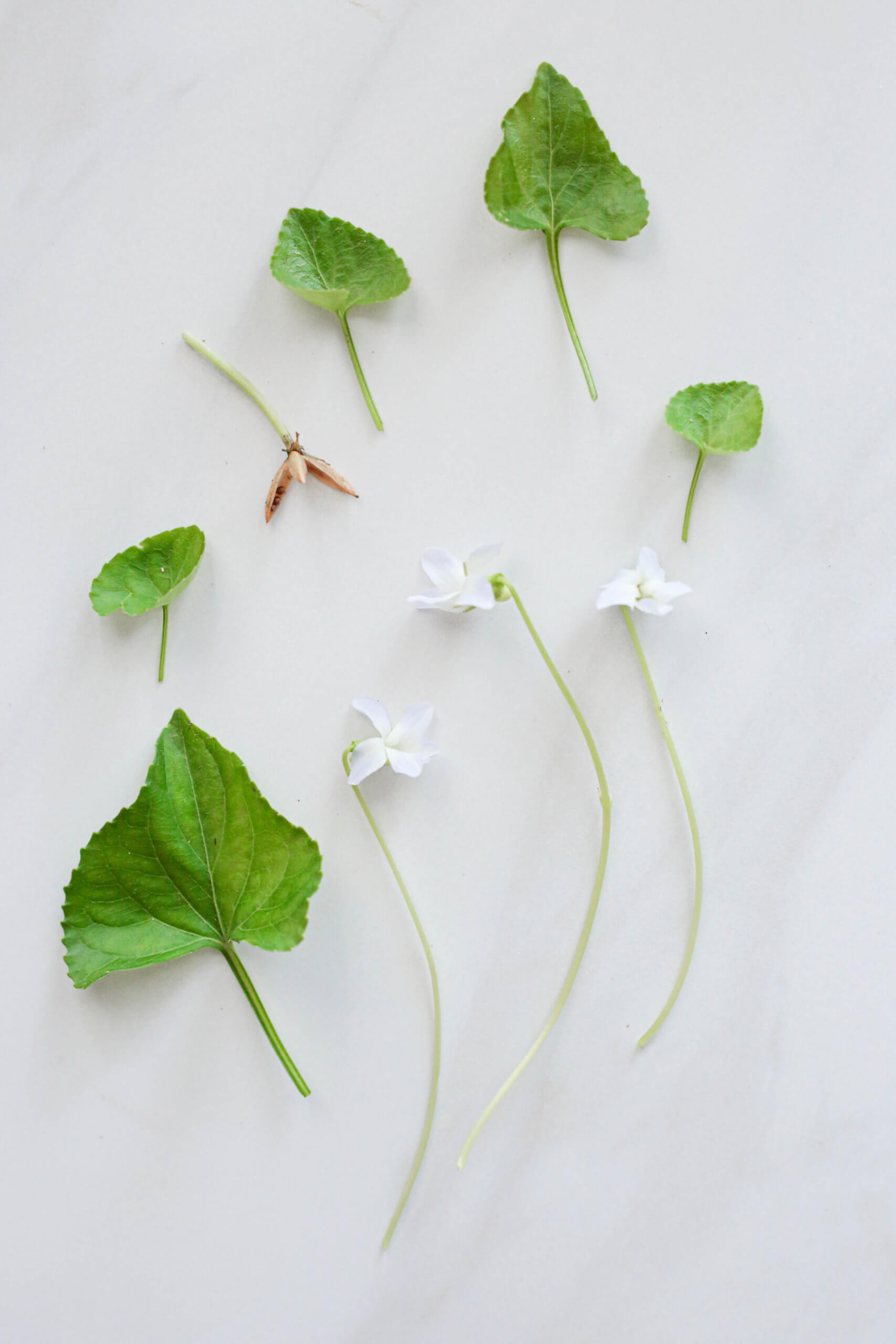 Violet (viola spp.)
Herbal energetics

: Cool, moist

Herbal tastes:

 Pungent (Ayurveda and TCM)
sweet, older leaves are bitter

Herbal actions: 

Anti-inflammatory, antioxidant, nutritive

Constituents: 

Mucilage, flavonoids, saponins 

Parts used:

 Flowers, leaves (even when violets are not actively flowering, you can still access the medicine in the leaves, often throughout the year.)
HERBAL ENERGETICS: Violets have a cool, and moist constitution – which is a good match for people with a hot, dry constitution or condition.
As the sun warms up in the season, heat can aggravate the skin – sunburns, redness, inflammation, dehydration… Violet, with its cool and moist nature, is a great companion during this time to keep the skin calm. 
You can also incorporate violet to bring cooling, moist balance to your herbal blends especially blends with herbs that are hot, dry, detoxifying, and purifying – like clay, rosemary, sage, thyme, ashwagandha, frankincense, reishi…
The "moist" element comes from mucilage in the leaves.

Historically, violet is used to treat dry-lungs, you can make violet infusions to drink when you're feeling dry internally, a dry throat, or dry cough.

Mucilage is best extracted in cold or warm water, not hot. To extract mucilage, make a violet leaf infusion, using cold water and infusing overnight under the moonlight. This is a "moon tea", which is sweeter, more delicate in flavor than a "sun tea"
HERBAL TASTES: The pungent taste comes from aromatic volatile oils. Violet absolute is used in perfumery for its green, powdery, and feminine. The essential oil is used in aromatherapy for its calming effect on the body, mind, and heart.
Volatile oils have a stimulating effect, violet is calming and soothing – in a gentle way it sparks and encourages transformation.
Violet is also a sweet-tasting herb, which indicates it has a nourishing, nutritive quality. It is rich in flavonoids, antioxidants that help prevent unwanted inflammation. The leaves are delicious, especially the young leaves – fresh, green, and slightly sweet. It's nice to pick and eat from your garden, add the leaves to salads.