Have you noticed the way specialty tools and gadgets always seem like a good idea – but just end up cluttering your cabinets. My weakness is kitchen and cleaning gadgets – but over time, I've found that I can simplify by repurposing things that I already have.
Today I'm sharing FIVE ideas for you to kick that gadget addiction to the curb! Let's start simplifying our home!
1. Foil Paper Scrubber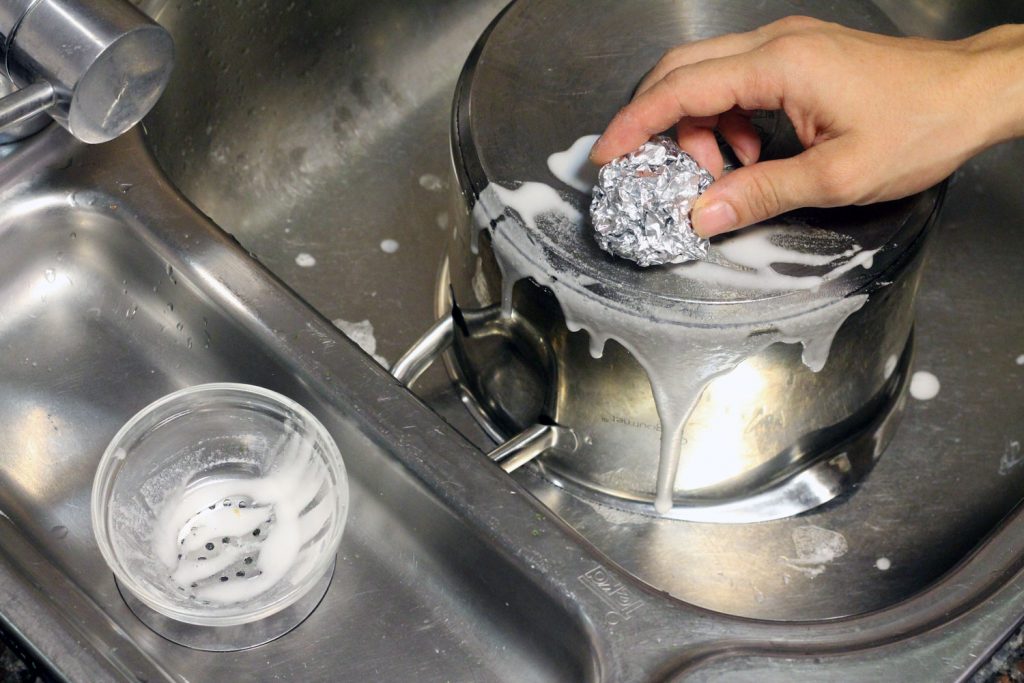 Instead of tossing out used foil paper, ball it up and use it to scrub under your pans. It works really well, especially with a home made scrub. 
2. Nook & Cranny Brush
A used toothbrush has a ton of uses – to clean your stove top burner or around your sink drain. But it's also really good for those hard to reach spots, like in-between grills where dirt likes to accumulate.
3. Pet Hair Remover
If you have pets, you already know that keeping up with shedding is a constant struggle. When you're too tired to pull out the vacuum – use a lint brush for a quick clean up. It's great for pillows, sofa or anywhere your pet likes to sit 🙂
4. Make-Up Brush Cleaner
Don't spend $35 on that Sigma Spa brush cleaning glove! For the cleanest brushes ever – try this. If you have a spice grater like the one above, just run your brushes over it with a bit of soap and water and they'll be like new again.
5. Keyboard Cleaner
I'm guilty of eating lunch over my laptop and I've found that an old paintbrush is great for sweeping crumbs out. If you get a cheap craft paintbrush in a kit, that's horrible for painting with – try it instead for precision cleaning!
---
Less is more! When your home is free of unnecessary clutter – you feel lighter and fresher! The next time you are tempted by a gadget, take the idea instead. See what you can come up with at home!
If you like this article – please share it! Or you can subscribe for more great ideas in your inbox every Saturday.
Tell us in the comments – do you have a gadget weakness? What's the most useless thing you've ever bought? 🙂