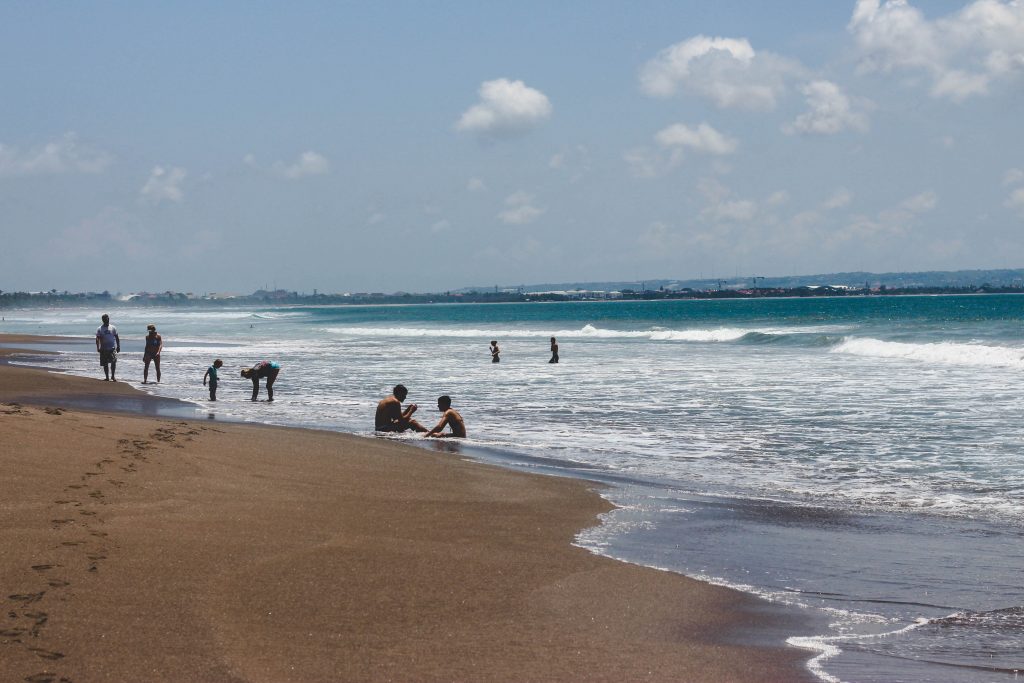 Hello from Bali!
We spent a beautiful full day at the beach, sitting in Ku De Ta, a restaurant that faces the Indian Ocean. The waves were pounding, the surfers were out. The sand actually sparkles under the sun and our kids were running around like little puppies on the sand. Its such a magical spot. We came away with a lot, but I didn't expect to come away with a new tutorial!
On this beach, we learned a new kids craft idea that I thought I'd share with you
The very clever people at the Ku De Ta set up a kiddie activity table to keep our little ones in one place, entertained for a while (giving us some rest time. ha!)  I thought I'd share their Ball Catching craft, which the kids loved and it's something that you can recreate at home or for a birthday party activity.
How the game works
You have a little ball attached to a string, which is then attached to an open container. It's a bit like a bell, with a long string… you swing it around and try to catch the ball.
The kids can decorate their ball catchers and then spend all day playing with their toy. It's a really simple craft, which are always the best kind!
Ball Catching Game Tutorial
materials:
plastic bottle
glue
decorative bits
string (about 50 cm)
balloon
directions:
First, prep the bottles: Cut off the bottom part of the bottle. Ku De Ta painted the bottles in silver, which looked great. You can do that or leave them see-through. If you do want to paint the bottles, do that beforehand and let them fully dry.
Make a little hole in the bottle cap, where you'll attach your string.
Fill a balloon with water to make a small ball. Tie it closed with a string and work the string through the hole in the bottle cap. Now they are ready for the kids to decorate.
Set out the glue, little brushes or toothpicks to pick up the glue and fun decorative bits for the kids to decorate their bottles.
First they decorate – then they play!
I hope this inspired a fun idea for your little ones. This is what I love about travelling – seeing new things and bringing home new ideas! Do give this one a try, and if you have any similar craft ideas, tell me about them in the comments 🙂