I know that a lot of us are travelling this time of year –  and basically running around all year long – so I'm excited to show you this no bake, on-the-go, Granola Bar Recipe!
I've been thinking about granola bars lately (and other important things :) and just how convenient they are. It's this perfect little package of food that you can carry with you, because guaranteed, there will always be an occasion for one:
Because you're too busy in the morning to sit and eat
Because you get hangry in the afternoon
Because if you don't have a snack in your purse, you end up buying an overpriced granola bar.
Right? Me too!

This granola bar recipe is 100% inspired by Pinch of Yum. I love the chewiness and textures in it, rather than crack-your-tooth, hard granola bars.
And there are only three ingredients for the base: peanut butter, honey & oats. Plus of course whatever delicious toppings you sprinkle in.
It takes minutes to make and will keep us: fed, even-tempered and saving money all week. Brilliant!
After playing around with the granola bar recipe, I figured out a few little tweaks and tips that might help you to make the granola bar of your daytime dreams! So, let's get started:
Start with your peanut butter, or almond butter.
Then measure out the honey. I love using maple syrup, but here in Bali, maple syrup costs a million dollars – so I'm sticking with honey. You can use coconut syrup or brown rice syrup too…
Mix it all up until it's nice and creamy.
Taste for salt! Depending on your brand of peanut butter, you might need to add a pinch of salt, or not.
My peanut butter had almost no salt – and I think in a granola bar, that sweet-salty flavour is so nice!
I ended up adding 1/8 teaspoon of salt for a salty-caramel taste.
Now you're ready for the oats…. and your toppings of choice.
I went with a classic trail mix combo…. But, let's talk options here: pretzels, chocolate chips, nuts, dried fruit, coconut flakes, cinnamon spice, vanilla… you are the maker of your mix so do what you love.
I like to check out brands like Clif Bar for flavour combo inspiration… White Chocolate Granola Bar might be next! I'm already thinking – what if we use white chocolate peanut butter!!

Pulse it first! I made this recipe twice and I realised that it's a better bar if the bits and pieces are small, that way the bar holds it shape.
Pulse the mix of oats and toppings to a smaller crumble… and then mix it in with the peanut-butter blend

Pour it all out onto a sheet of parchment paper…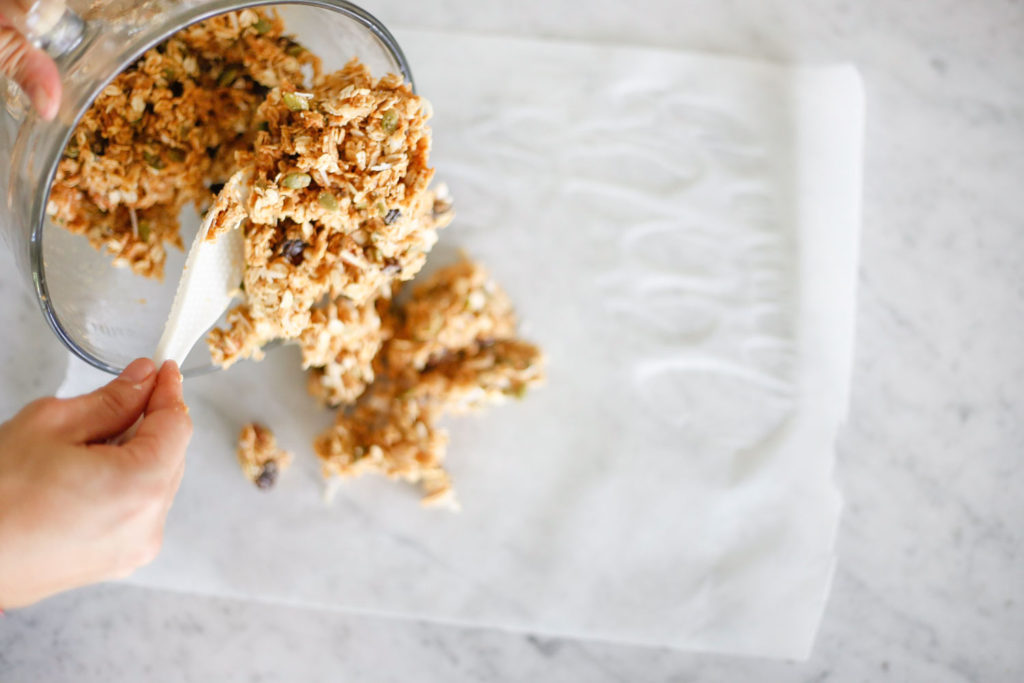 And then flatten it out into a perfectly perfect square shape…
Ha! Mine turned out like a giant piece of toast… it will do
Wrap it up and pop it in the freezer for 15-20 minutes to firm up. That way you can slice it more easily…
And now you've got a week's worth of grab-and-go breakfast and snacks.
See, there's no reason to feel hangry – just make some granola bars!
Chewy Granola Bar Recipe
ingredients:
2 cups rolled oats
2 cups toppings of choice
1 cup peanut butter
1/2 cup honey, or maple syrup or brown rice syrup
directions: 
start with the wet mixture
mix peanut butter, honey and season to taste with salt
mix until creamy
blend together the oats + your favorite toppings
pulse the dry mix to make the pieces smaller.
pour the dry mix into the wet, in batches
stir until it's all combined
pour the granola bar mix onto a sheet of parchment paper
flatten to a square shape, wrap it up and put it in the freezer for 15-20 minutes
cut into pieces
enjoy!
Do you have a favorite granola bar recipe or flavour that you love? Let us know in the comments below! Let's get some more ideas!
PS – if you're more of a granola minus-the-bar kind of person, I happen to think this is the best granola recipe!
Militza Recommends