I've tried a ton of different organization tips – and my current system is the best that I've ever managed. Recently my schedule went on overdrive and I saw myself skimping on my meals – the fresh salads, green shakes and juicing…
Here's what I did: I took an afternoon to organize my fridge to work better for me, to make it easier for me to eat better.
I set up a system that would be easy to maintain, to help me plan my grocery shopping and make home-cooking manageable. That way, even if my brain says just eat cereal, my fridge says how about a green shake first?
It makes all the difference! I want to show you my favorite bits – and, if you think it looks crazy in there – I won't argue with you , but I promise you it works!
1. Make it easy to eat the things you want for yourself
Set up dedicated, ready-to-go food containers. I got this idea from Jamie Oliver and tried it right away! You have to do this – it works so well. It takes 10 minutes to prepare, but then for the rest of the week, getting fresh greens on your plate, juices and green shakes – takes seconds.
Try this tip: Wash and dry your leaves fully. Then, wrap them in a cloth and in separate containers labeled: Salad, Green Shake and/or Juice…. Everyday you just grab your container and you're pretty much set! When your bucket is running low, you know right away that you need to stock up again. Easy!
2. Store cuttings easily
When you use half a tomato or avocado, how do you store away the leftovers? You can buy specific containers, or you can wrap it in plastic wrap – but that's super wasteful… I started using old jam jars and not only is it ridiculously cute, but it actually keeps everything fresher! My cuttings don't dry out, or stink up the fridge of garlic and onion…
Try this tip: Keep a dedicated space in your fridge for your jars. You can have one for your tomato, one for garlic, that half a carrot… Or one day if you're in the mood, you can go ahead and dice up a whole onion and have a supply on-the-ready for a hot pan!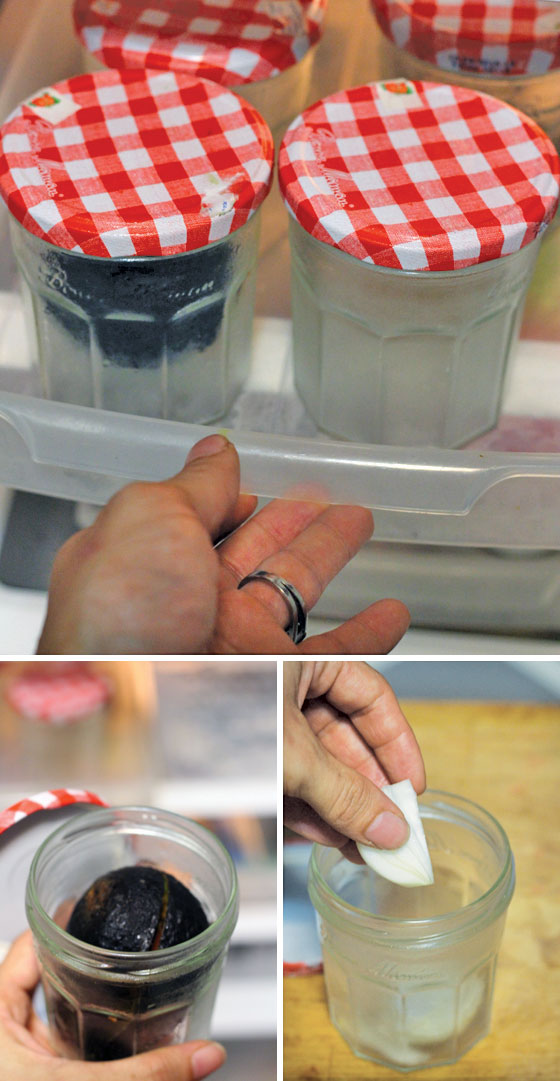 3. Faux Pull Out Drawers
Rather than digging in the back of the fridge searching for something, I put in a few office paper trays to act like a pull out shelf! It's awesome! Plus you naturally group like items together, so it helps to keep you fridge organised and find what you need!
Try this tip: Buy a few office paper trays which will be cheaper than going for a specialised refrigerator tray. Think about how you can group like items together, maybe one tray for snacks, another with fruit to grab and go. Maybe one that has all the making for your kids lunchbox sandwiches. What ever fits your needs!
4. Leftovers
Leftovers are fantastic and a smart thing to have around on a busy schedule – unless of course you forget about them! Get serious about labelling and dating everything. No one will make fun of you (too much) I promise!
Try this tip: keep a roll of tape and a sharpie near your fridge. If you can find erasable label stickers, go ahead and place on on every tupperware container to make it easier for you!
I hope these tips help you! I'd love to know what works for you!