This #RESETEATCLEAN recipe is amazing for an easy lunch – make a big batch of homemade soup, split into jars. So easy to grab and go. It's the most flavourful meal, so gratifying.  It has chicken, chunks of veg – it fills you up, but feels light and healthy – so you don't end up slumped over your desk.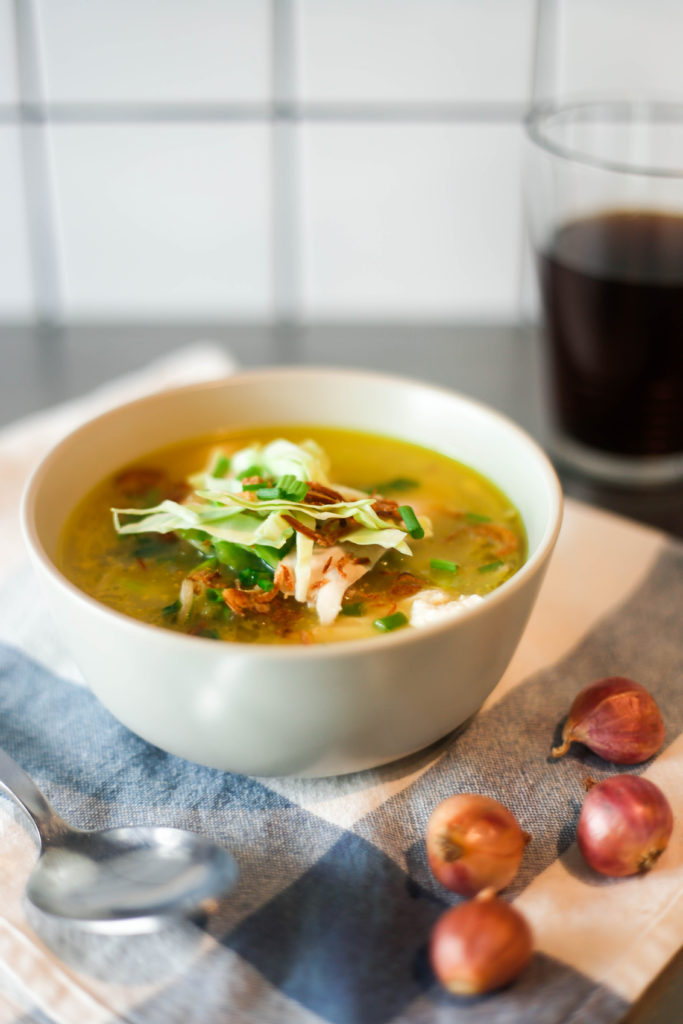 The recipes in this series are all created by the nutritionist at The Nutrition Clinic, to help you eat well. It's the holy trinity of a recipe: easy to make, delicious and good for you! When I heated this chicken soup up at work, people came up to me just to comment on how good it smelled.
Perfect for lunches or dinners. It stores well in the fridge or you can freeze it in small batches. After a long day, just heat yourself up some soup, dice in some raw crunchy greens and you'll have a hearty, healthy bowl of comfort food.
Indonesian Chicken Soup (Soto Ayam)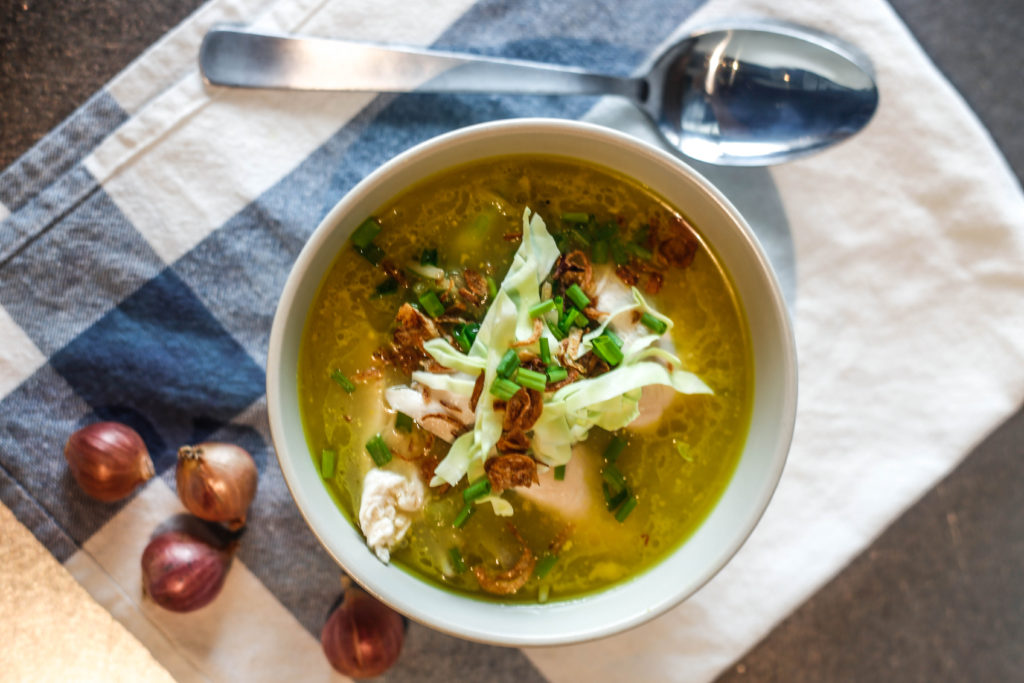 There are 3 parts to this recipe — the broth, the yummy spice paste and, of course, the final soup.
Making the broth
Broth Ingredients:
 1 whole chicken
2 yellow onions
2 carrots
2 stalks of celery
2-3 bay leaves
Broth Directions:
Chop up the vegetables and boil with the chicken in a big pot of water. When the meat is cooked, remove the chicken and take off all the meat. Add back the bones into the pot for as long as you can or for 3-4 hours.
Soto Ayam Spice Paste
Spice Paste Ingredients:
8-10 shallots
4-5 cloves of garlic
1 inch piece of ginger
1 inch piece of turmeric
4-5 pieces of candlenuts (kemiri nuts) — soak for half an hour. Do not eat these raw. You can substitute with cashew nuts
Spice Paste Directions:
Blend all of the above with some water so that it becomes a paste. Fry the paste on low heat for 15-20 minutes, till the paste becomes darker in colour
Putting it all together
Soup ingredients:
1 stalk lemon grass
4-5 lime leaves
1 cup sliced cabbage
2 handfuls of bean sprouts
2 handfuls spring onion
Fresh chilis or Chinese pickled chilis (optional, to taste)
To garnish: coriander leaves, fried onions, 1 lime
Soup directions:
Add spice paste to broth, as well as lemon grass and 4-5 lime leaves and boil for half hour for all the flavours to blend into the broth.
In a separate frying pan, fry the sliced cabbage, bean sprouts and spring onion. You can also fry some fresh chills if you like at this stage. This soup is also really good with Chinese pickled green chilies. Keep the vegetables crunchy and add to the soup. Also add the cooked chicken.
Assemble the soup by adding the broth-chicken-vegetables mixture into a bowl. Add coriander leaves and fried onions. Squeeze lime juice and enjoy!