Here's a great bath tea recipe (and Christmas is coming ) that makes a beautiful gift too! At the end, I give some suggestions for herbs to use along with their different properties – hope you like it!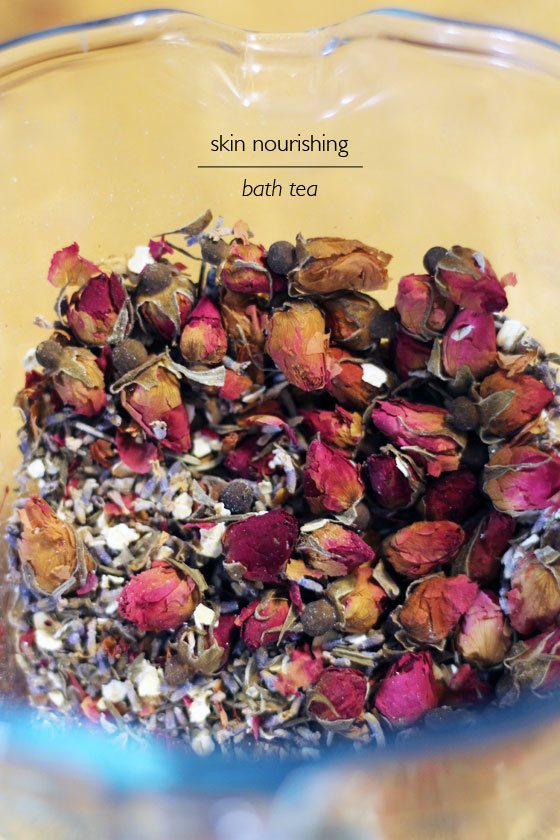 We make this bath tea recipe at home – it's a favorite around here for two very specific reasons:
it makes my girls instantly co-operate during bath time, and that means no tantrums, everyone is happy!
it takes minutes to make, is really inexpensive – yet feels so luxurious! Make a big batch and it will lasts for months!
Now, this tea is perfect for anyone, of all ages. I make it mostly for my girls, but I also enjoy a soak for myself – It really helps to soothe tired muscles and worries away. I love how it leaves my skin soft, and smelling of flowers…
Parents: On those days when the girls are less than excited about bath time, I'll ask them "who wants to make a bath tea?" That turns a mood around real quick! Try it!!
Sometimes I'll pour the bath tea into a toy tea kettle, and the girls will play tea time in the bath.
If this is for you – maybe skip the toy kettle and opt for a candle or book instead 🙂 The scent is beautiful and your skin will love you for it!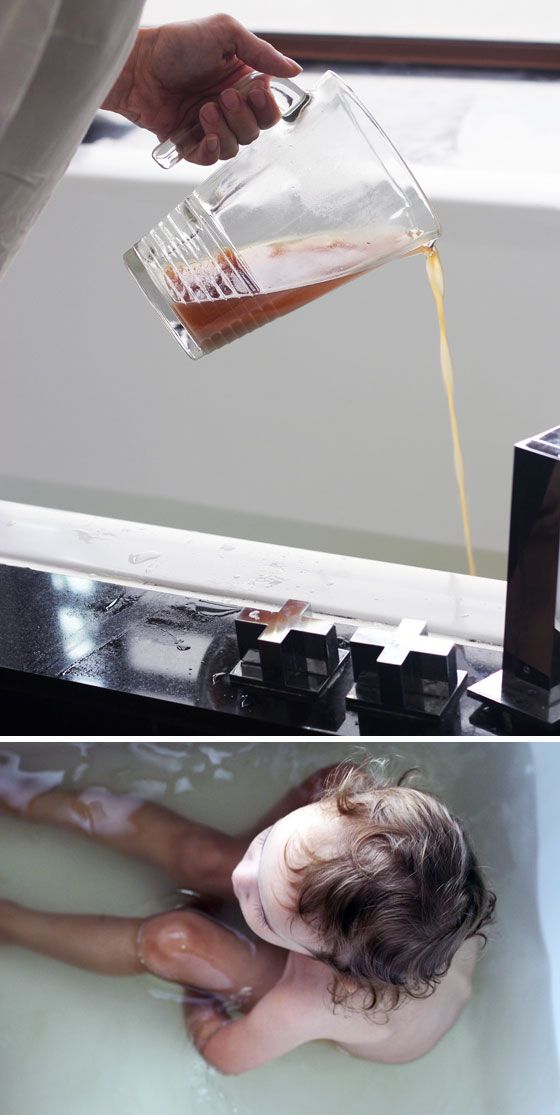 Here's a list of herbs that you can try – each one offering different properties. You can use loose herbs, or even tea packets! Whatever is easiest for you:
Chamomile – relaxing and skin nourishing, it has a softening effecting on the skin. It's Also anti-inflammatory and anti-fungal, great for skin irritations like insect bites, nappy rashes, skin rashes, eczema…
Lavender – calming to the senses, it's great for relaxation. Lavender is antibacterial, great for cleansing the skin
Rose – beautiful, happy scent, it helps to soothe away stress and headaches. Rose contains vitamin C, the beauty vitamin, which helps to build collagen and maintain youthful skin. It also has astringent properties, helping to clean and tighten pores.
Green Tea/White Tea – helps to detoxify and replenish. It's packed with antioxidants, great for ageing skin. It does contain caffeine, so you may not want to use it for kids!
Skin Nourishing Bath Tea Recipe
(I only run the bath half-way, if you run a full bath, double the ingredients)
1/2 cup loose herb or 3-4 tea bags
1 cup boiling water
fill a heat proof container with the herbs, and pour in boiling water
allow to steep for 10-15 minutes
strain and pour tea into the bath
Singapore Shopping Guide
---
I hope you're getting as excited about whole food skincare as I am. Just get started, and you could have your first natural skincare product in just 5 minutes!
And if you want more, join 17,000+ subscribers who receive a new recipe in their inbox every Tuesday by signing up for my newsletter below.