This recipe is about ditching obnoxious, chemical fragrances and keeping it simple. If like me, you love the scent of vanilla and want to freshen up your home – try this super easy spritzer. It smells like freshly baked cookies – and is so natural, that you can even spray it on your body! Don't you love a good two-in-one product?! There's two ways to make it, both equally easy. Check out the recipe below.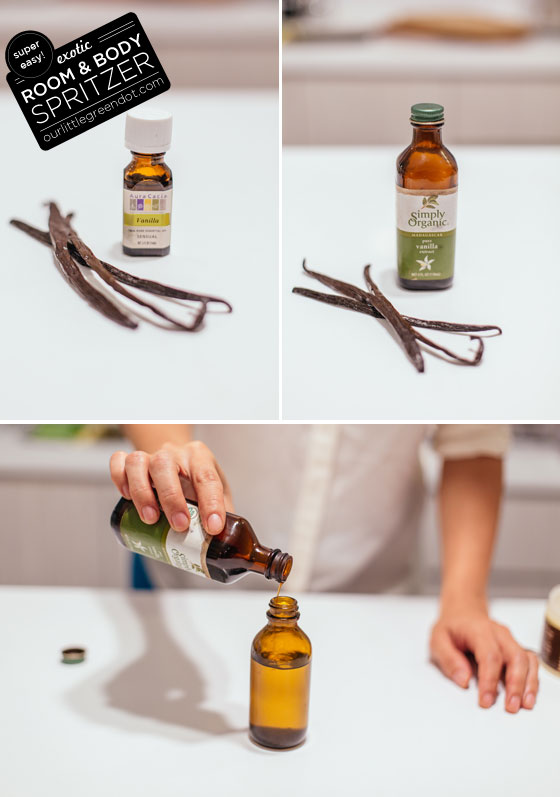 How to make Vanilla Room & Body Spritzer
Take your pick: Vanilla Essential Oil: much more potent scent than vanilla extract. Vanilla has a calming effect on the brain and promotes happiness and relaxation. Breathing it in always makes me smile! I find vanilla to be a welcoming scent, so spray this when you have guest coming over. Vanilla Extract: you can buy it or make your own. It has an alcohol base and the scent is beautiful, but you'll need to use more to make it come through. Did you know that many women use vanilla extract as an inexpensive perfume, dabbing a little directly onto their neck and wrists… give it a try and see if it works for you! ingredients:
directions:
fill a spray bottle with water (only enough to make what you'll use up in the week)
add drops of vanilla essential oil or extract until you reach a scent you like.
spray in the air or on your body
keeps for 1 week, but it's so easy, just make it up as you need.
[ribbon title="Singapore Shopping Guide"][/ribbon]
photography by: Fellow Fellow for Little Green Dot