It's my birthday – I've just turned 38 years old!
With each year, I feel more and more lucky and grateful for time, family, friends and life's adventures
So I wanted to create something really fun – a recipe to share and celebrate with you!
It's the newest scrub in the SIMPLIFY Skin range:
Strawberry Ice-cream… Body Scrub.
You cannot believe how delicious this thing smells! It reminds me of fresh strawberry ice-cream, and it has those beautiful swirls of fresh fruit running throughout… bursting with natural fruit acids that will brighten up your skin.
This scrub is natural skincare at it's best and it's in your kitchen right now!
Just once per week, scrub your body – and it will transform your skin. You will naturally glow without the extra lotions and potions that only serve to add clutter to your body and your life.
A little time and self care is all you need – and it's the very best gift you can give yourself!
So, celebrate life with me and treat yourself to something good and beautiful! You know what – I think this scrub is going to rock your birthday suit!!

Let me tell you what it's doing for your skin:
Strawberry: The natural fruit acids help to clear up acne and pimples and reduce excess oils, it has a brightening effect great for stretch marks and scars.
Sea Salt is a natural skin cleanser and detoxifier. It also acts as an exfoliant that sloughs away at dead skin cells. Always use a fine grain and if your salt is too coarse, just blitz in for a few seconds to break it down. If your skin is on the dry side, use sugar instead, which will help to draw in moisture from the air and keep your skin hydrated.
Coconut oil is a light moisturiser that soaks right in – it's going to nourish and protect your skin so that it's supple and healhty.
Lemon juice – optional, if you have it handy – just a squeeze will brighten up the aroma and your skin!
Ginger essential oil – again, totally optional but this gives a beautiful scent and warming effect that I just love. You can also add in a bit of fresh ginger instead.
---
Strawberry Ice-cream Body Scrub
---
A food processor makes life easy. If you don't have it, a bowl and a spoon has the same effect.
Pour in 3/4 cups of fine sea-salt or sugar. Whatever you have more of in your pantry right now.
You can also combine the two – for a detoxifying and hydrating double whammy!
Fresh strawberry up next! Cut up three of them and leave the tops on – it's all extra goodness for your skin!
Now pour in your coconut oil, 1/4 cup for a thick, creamy scrub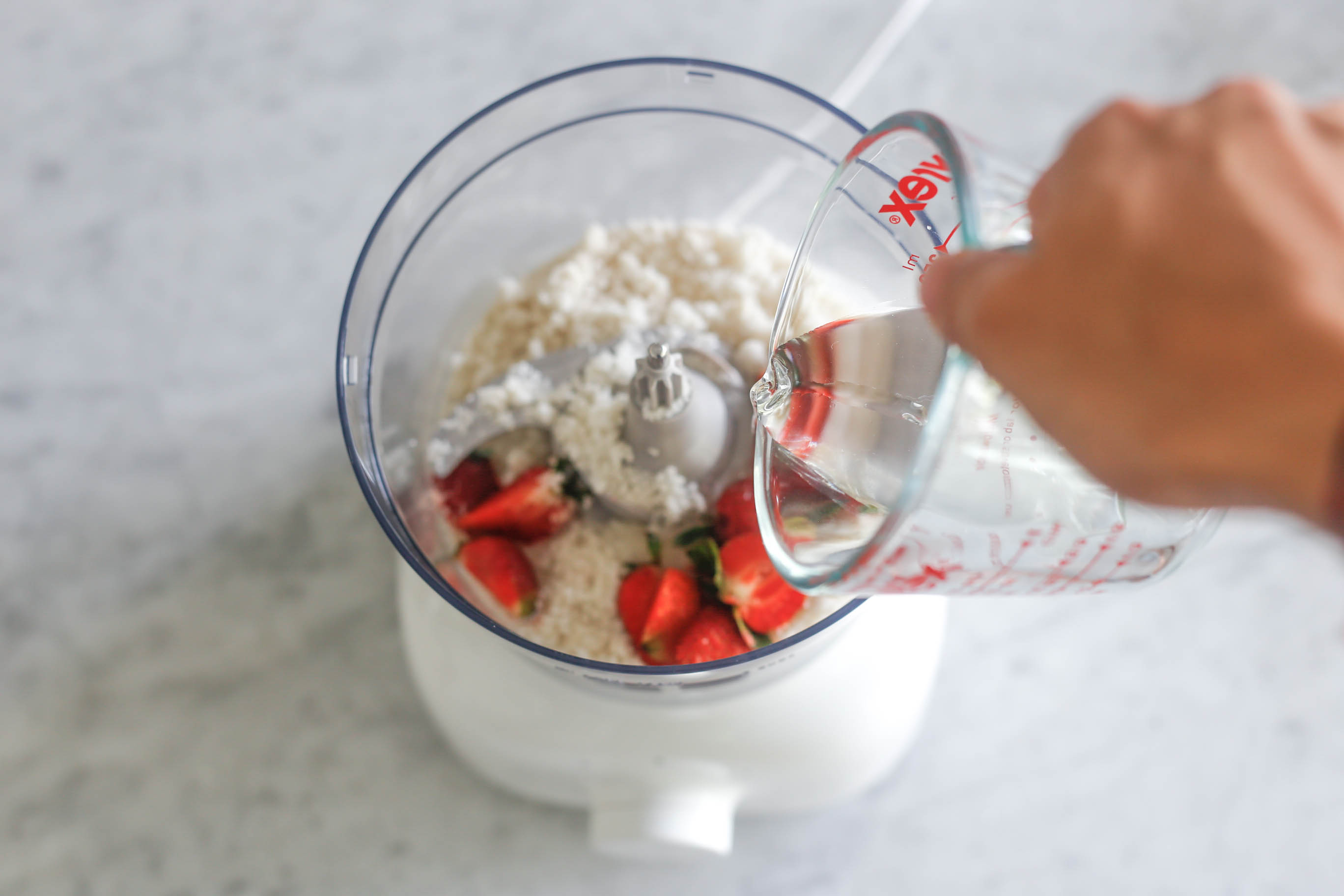 Just a squeeze of lemon juice – about two teaspoons. If you don't have a lemon around, you can leave it out

And if you have it – five drops of ginger essential oil. If you don't, go for fresh ginger (1 tablespoon grated)  – or leave it out. It's just a little something extra that gives your scrub a warming, stimulating effect. It's really good for promoting circulation.
Pop the lid on and blend – only a few seconds will do – to puree the strawberries and combine everything together.

Because it's fresh – it will last up to three days in the fridge. I suggest that you make a small batch like this, and treat yourself head-to-toe. You can also split it and gift it to a friend.
On my birthday, my daughter's and I used up the entire batch, playing in the shower. They kept breathing in the scent, feeling their skin and smiling… it was perfect.
I hope this scrub makes you smile too.
Strawberry Ice-cream Body Scrub
3/4 cup fine sea salt or sugar
1/4 cup coconut oil
2-3 pieces fresh strawberries
2 teaspoons lemon juice
5 drops ginger essential oil
In a food processor or bowl and mixer – blend all the ingredients together
store it in the fridge, the coconut oil will harden and make the scrub thick and creamy
it melts right onto your skin!
If you enjoyed this article, please share it with your friends on Facebook, Pinterest or Twitter!
And if you want more, join 17,000+ subscribers who receive a new skincare recipe in their inbox every Tuesday by signing up for my newsletter below.