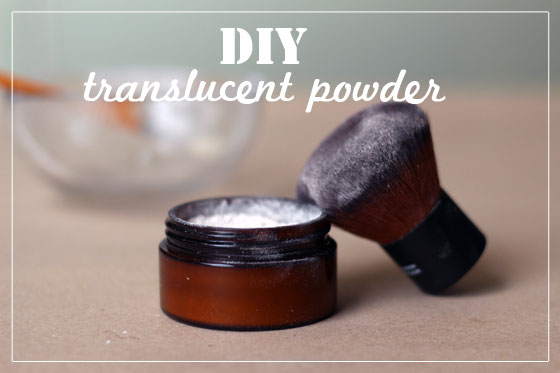 I'm so excited to show you this recipe for translucent face powder! Not only is it fun to make, but it also gives your skin a break from all the toxins and chemicals found in store-bought makeup! And the ingredients are items that you probably have in your kitchen already.
This powder is very effective at mattifying the skin and setting your makeup, but the really beautiful thing is that because it's made with skin-loving ingredients, it will also nourish your skin, too! Makeup that actually makes your skin better? You'll love it; here's how you make it:
DIY Translucent Face Powder
arrowroot powder (this powder is made from dehydrated and ground arrowroot, which is known to have skin-smoothing effects. You can skip it if you can't find it, but it does give your skin a more velvety feel)
cornstarch (absorbs excess oil, helping to give your skin a matte finish)
cocoa powder (has anti-oxidant and anti-inflammatory properties, which help to firm and renew your skin)
Combine 1/2 cup of arrowroot powder and 1/4 cup of cornstarch in a mixing bowl
Add in the cocoa powder one tablespoon at a time until it reaches a shade similar to your own natural skin tone. This is a translucent powder, so try not to go too dark (use between 1 and 3 tablespoons)
Mix thoroughly, breaking up any large pieces with the back of a spoon
You may keep your powder for up to six months in sealable containers; remember to shake the mixture well each time you use it.
Here's the thing: when you see just how easy it is to make your own skincare products and how well they work, you'll be less impressed the next time you walk into a shop and are bombarded with a million face powders to buy and clutter up your home.
With the money you save, you can invest in the brands that are doing really great things, that you're happy to support!
In the meantime, have fun making your own products at home. It's my favorite way to unwind and spend time doing something that is positive, healthy and good.