Today we're talking about microfiber cloths – and why you should put one in every room of your house! Hint: because it will simplify your life!
What's great about microfiber is that unlike normal cotton cloths, microfiber has a static cling that attracts and lifts away dirt. That's because of the shape of the fibers – they trap and retain even the smallest particles of dust and dirt. So what does this mean?
You don't need to use cleaning sprays. Which means less chemicals and less money! All you need is water and your cloth! You'll see, it picks up dirt, buffs and shines!
You don't need to use paper towels or disposable wipes. Microfiber cloth soaks up liquids like a sponge. Then with a good squeeze, it's pretty much dry again ready for the next job.
A dry cloth will buff and clean your mirrors and stainless steel fixtures – no sprays, no fuss.
Caring for Your Microfiber Cloths
It's a good idea to buy a multi-pack – so that everyday, or as you need, you can change it out for a fresh one to clean with. When it gets used, toss it in a bucket to either hand wash in soapy water or toss them in the laundry – but be careful you don't mix them with anything that sheds lint or use fabric softener, which will reduce its static ability.
I have three ideas for you to use microfiber cloths around the house – they're going to help you simplify your life and reduce your clean up time!
Bathroom Buddy
You know the way our sink builds up with stains of toothpaste, water, soap…. you're left with a big clean-up at the end of the week. You can avoid this by wiping up every time you use the sink. It takes seconds to save so much time in the end! Plus you're not worried about pop-in guests 🙂
Fridge Cleanup
When you use a jar of jam or sauce – give the bottom and the lid a wipe with your cloth before putting it back in. You'll avoid that sticky mess that likes to build up.
On The Go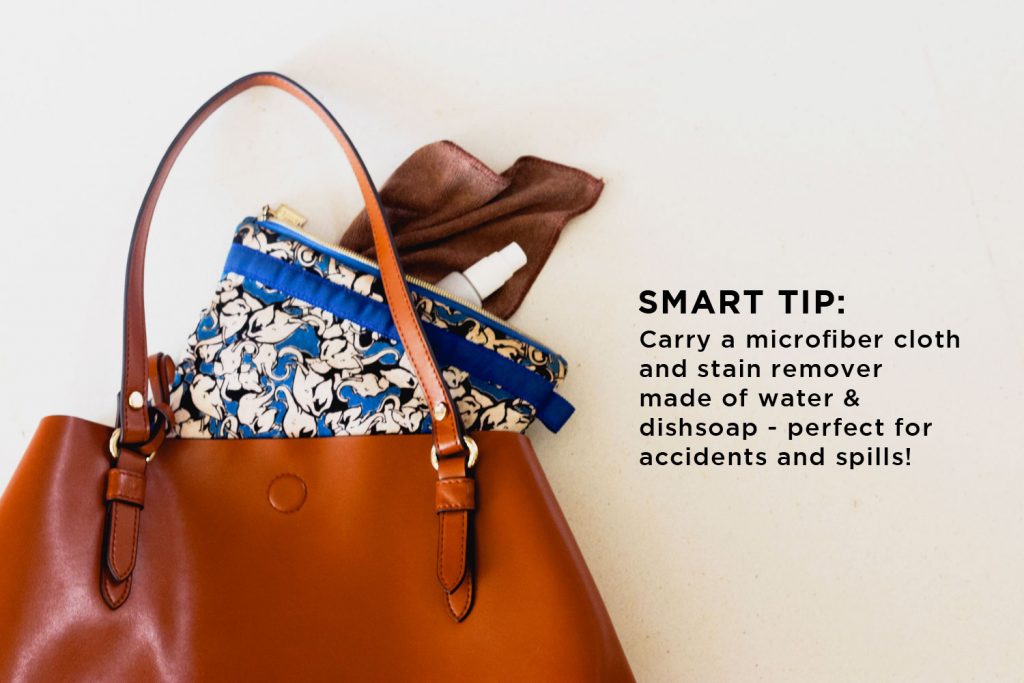 Microfiber cloth is so great at lifting stains – you can use it on carpet and upholstery spills, but also for your clothing. The sooner you get to the stain, the easier it will be to remove, so that you don't need to use the heavy duty chemicals!
ps – soapy water cleans everything!
Which microfiber cloth should you buy?
Not all are equal. I've had a few bad ones that don't soak up liquid… the ones I use now are generic, they're sold everywhere, about $1 each – I got lucky they work great. The internet seems to love ecocloths – they work well, but are a bit more pricey.
I haven't tried this brand, but they're getting great reviews on Amazon and are priced more reasonably: Magic Fiber
Hope this gives you some good ideas to make your life a little easier and a little shinier too!
If you liked this tip, click the share button below! And you can also subscribe to my free weekly newsletter to get more tips and tricks in your inbox.
_________________
Questions for the comments: what's your favorite brand of microfiber cloths? And let us know if you have found more smart uses for them!