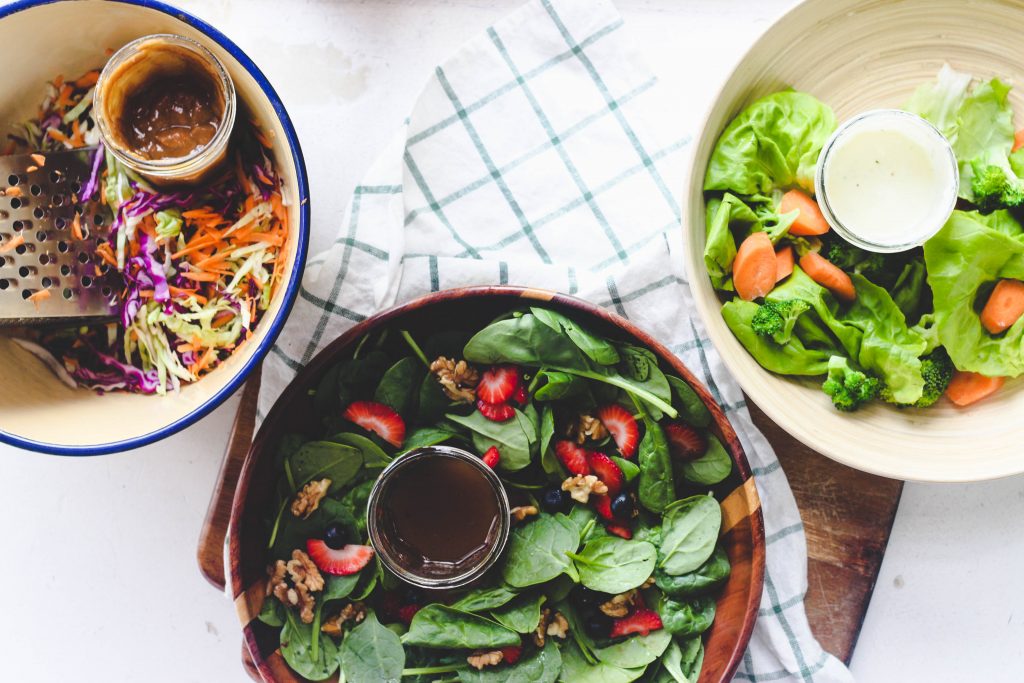 If you like salad recipes, I have three great ones for you below! But first, I'd like to share a story about the reasons you shouldn't eat them. 
I've been learning about wellness for years now – and I've experienced both the good side and the bad side. When I first grew more conscious about what I ate, my food journey was one of self-empowerment and positivity. But over time, it somehow became more about fear and judgement. 
It wasn't immediately obvious to me, but there came a point where I felt that I was eating – what other people ate to avoid getting get sick, old… or fat. And while those might seem like appropriate goals to attach yourself to, danger lurks there.
You may have felt this, you get really inspired by a person or a new idea and get completely engrossed. That's exactly what happened to me – I was learning so much about raw food, vegan food, gluten-free foods… there's so much passion and sense of urgency in their message, and – because it's the internet – some misinformation and a little fear-mongering. It all starts to get a bit blurry…
This is when it hit me
I remember reading a recipe for a carrot cake, the author excitedly loving the fact that it had a vegetable in it. These judgmental thoughts popped in to my mind – "Yeah, but what about the sugar and the flour…"
In that moment, I caught myself… What happened to me? I used to be able to enjoy a simple slice of cake without beating myself up over it.
I'd been spending so much time in the world of people that, because of health conditions, live restricted diets – I started to lose perspective. Their stories of resilience and creativity with food inspired me – but I ended up acting like a (self-diagnosed) gluten-intolerant, lactose-intolerant diabetic – when actually I'm not. 
It's great that there's so much information and inspiration out there – but it's how you filter it, internalize it and what you do with it that matters.
The dark side to being self-motivated

The fact that you read wellness blogs tells me you are self-motivated. But often, the type of person who is self-motivated and takes responsibility can also have the tendency to feel like: you're never doing good enough. From the outside, people think you're doing great – but all you see are the things you could be doing better.
Have you felt like this?
Somehow I went from feeling really good about eating well – to feeling like that wasn't enough. It was no longer just eating more vegetables, the way I cooked them matters more. Soon, that's not enough, and what matters is how they're grown… it becomes this endless strive for perfection, where you can barely enjoy the moment for thinking about how it could be better. 
Food matters
Food matters and your choices matter. But the state in which you make them matters equally.
I realized that when I was eating what I thought was healthy – I wasn't actually feeling healthy. I got myself caught in a spiral of seeking health – and it can be toxic. 
Theres a chapter in the book, Man's Search for Meaning (you should read it!), where Victor Frankl talks about this human condition, which is a bit cruel actually – when it comes to money, health, happiness, what ever it is you want – "the more you aim at a target, the more likely you'll miss it." His example is the female orgasm – if you're only focused on the end, you won't enjoy the moment enough to reach it. Makes sense right?
But, let me bring this back – this post is not about cake or orgasms. ha!
How does salad comes into the story?
For me, when it comes to my health and eating well – I try to focus more on finding the moments that I enjoy, the foods that make me feel good and being aware of them.  I try to focus less on what I hope they'll achieve.
Don't eat this salad because you want to have health. Eat it because the good choices that you make, the good food that you feed your body, makes you feel your best at that moment. Health isn't a destination, it's a life-long journey to be enjoyed.
So here's a little inspiration for making one of my favorite dishes. Absolutely delicious, a breeze to make and looks good on the table. If you like it, and your body likes it – then eat it! And if you finish it with a slice of homemade carrot cake, it's no big deal 🙂
Spinach Salad with Strawberry Balsamic Dressing

Salad ingredients: 
baby spinach
sliced strawberries
blueberries
walnuts
Strawberry Balsamic dressing: 
1/4 cup olive oil
3 tbsp balsamic vinegar
2 tsp lime juice (or lemon)
1 tbsp strawberry jam
salt & pepper
Steamed Veggie Salad with Creamy Feta Dressing
Salad ingredients: 
steamed and cooled carrots and broccoli
butter head lettuce, or leaf of choice
Creamy Feta dressing: 
1/4 cup olive oil
1/4 cup greek yogurt
2 tbsp lemon juice
crumbled feta cheese
dried oregano
salt & pepper
Asian Coleslaw with Spicy Peanut Dressing
Salad ingredients: 
shredded cabbage, white and red
shredded carrots
Spicy Peanut Dressing: 
2 tbsp peanut butter
1 tsp sesame oil or grape seed (neutral flavour) oil
2 tbsp rice wine vinegar
1 tsp soy sauce
1 tsp honey
1/2 tsp Sriracha
optional: 1 tsp grated ginger
optional: 2 tsp water for thinning
Dressing Jar Tip
Use an old glass jar to make-and-shake your dressing in. They'll keep all week in the fridge for quick salads!
I'd love to know, how do you keep yourself in check? How do you keep a healthy perspective on health?
Have you felt yourself going off-course and losing the plot? I think a lot of us have felt this way, but perhaps don't admit it enough and it may be something we need to hear.
Tell us about it in the comments below!