If you have exactly 25 seconds to get yourself ready for the day – I have the perfect skincare routine for you!
In this article, I'm going to show you how to create a Morning Rush Skincare Routine
It's all-natural, effective and completely no-fuss, so that even on those days where you feel you barely have enough energy to get dressed – you can still step out the door feeling and looking your best!
To create this collection – you'll need three spray bottles and a few natural ingredients. I've included a shopping list for you. This a great thing to make on a Sunday, so that you are ready to go all week. It's like a meal prepping, but for your skincare! 
When you wake up, all you need to do is follow the routine. And the results are that you look refreshed and well – with a boost of energy to take on the day! Here's the plan:
---
Shopping List
First things first, get yourself set up and make sure you have all the ingredients – you can find everything in your kitchen pantry or supermarket:
If you have a home diffuser, you can also diffuse the essential oils in the mornings to help yourself feel more alert, clear headed and positive as you start the day.
Here below are the recipes you need:
---
ONE: Cleansing Face Wipe
In the mornings you won't need to wash your face, but it's so nice to splash and freshen your skin. What I love about these wipes, is that you'll find it picks up excess oil that accumulates over night – and even a little dirt or makeup, that sometimes gets missed!
Step 1: Freshening Toner
A toner is often called a "second cleanse" this toner is incredibly hydrating, cleansing and helps prep your skin for the day ahead.
1/2 cup aloe water  (this is a hydrosol)
1 1/2 tsp apple cider vinegar
10 drops rosemary essential oil, which is a natural cleanser (with added anti-aging benefits!)
4 oz spray bottle
Cotton pads
Start by spritzing a cotton pad with our Freshening Toner
Wipe all along your face – you can use this safely around your eyes
The shelf life is 1 month
Tip: Cleansing wipes are good for your pre-teens who don't like to wash their face!
---
TWO:  Spray On Lotion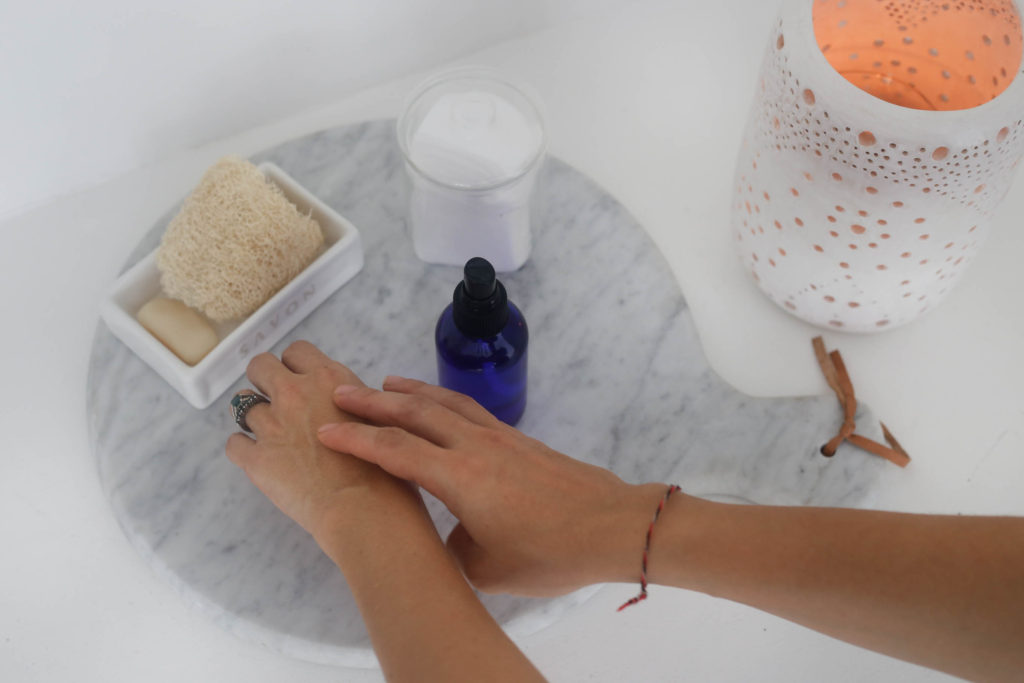 If you're in a rush in the morning, you might skip your moisturiser. You might skip a lot of things, let alone rubbing lotion all over your legs and body. But with a spray on moisturiser, you just need to spritz and go!
Step 2: Spray on Lotion
A spray on moisturizer has all the components of a lotion, water and oil. Water hydrates your skin, the oil locks in that hydration and keeps your skin supple.
1/2 cup aloe water
1 tablespoon your favorite oil: almond or coconut. This season, I'm loving sunflower oil for skincare.
optional, Fresh Energy EO Blend: 10 drops lime, 6 drops rosemary, 8 drops eucalyptus
Spray bottle
Cotton pads
Shake the bottle first to combine the oil and aloe water
Spritz all over your skin, face and body
Let it air dry – the oils will soak right in
Spray on throughout the day to keep your skin hydrated if needed
---
3. Fresh Energy Natural Perfume Spray
I asked my friend to design a happy, energising blend for us. She's a very talented aromatherapist – and this smells absolutley amazing! No matter how rushed or tired or stressed you're feeling in the morning, this natural perfume will make you feel happy and ready-to-go.
Step 3: Fresh Energy Natural Perfume
A natural perfume not only has a beautiful scent, but also nourishing properties for your skin. Keep this in your bag and spritz on your face and body throughout the day – to freshen up, hydrate your skin and to give yourself a little boost of energy!
1/2 cup distilled water
20 drops lime essential oil
15 drops rosemary essential oil
20 drops eucalyptus essential oil
4 oz spray bottle
Any time you want to freshen up or get a burst of energy, simply spritz all over and breathe in
Here below are the oils you'll need for this blend:
Shopping list:
3 spray bottles
Aloe Hydrosol
Apple Cider Vinegar
Sunflower Oil