Summer is calling! Well, soon – we're a little early, but that's means we have just enough time to make an infused body oil! Your skin will be soft, and glowing and beach-ready – just in time for summer!
By the way, when I say beach-ready – my vibe is more sunset, kids playing… husband, friends, fresh coconut on one side, cocktail on the other. Ah, that's so perfect!
Inspired by that vision – let me show you how to make an infused body oil that you can use as an after shower moisturizer. It will get you in the mood to slip on a light dress, and go outside to enjoy those summer nights!
What is an infused oil?
An infusion is a process that uses heat, or time – to extract the beneficial properties, flavors and aromatic compounds out from the plant and into a liquid, in this case oil.
Basically – if you've made a cup of herbal tea, you've made an infusion! We can infuse water, vinegar, alcohol, glycerine, honey and oil!
Now, you can make an infusion out of almost anything: herbs, cinnamon sticks, citrus peels, spices… but when infusing oil – I always prefer to use dried ingredients rather than fresh to avoid water getting into the oil.
What's amazing, is that you get all the nourishment from the plant – but also the scent, so you can get creative and combine ingredients for a naturally perfumed oil. If you have an herbal tea that you love the scent of – go infuse it in some oil!
What do you do with an infused oil? You massage it onto your skin, smell amazing and get that glow!
Summer Nights Body Oil ingredients
Vanilla is an aphrodisiac, it's warm and rich and so intoxicating. The scent is said to awaken passion and uplift the mind.
Vanilla is also really good for your skin, it's an anti-inflammatory that calms irritated skin.
Lavender is sweet and floral and balances really well with the vanilla scent.
It's also excellent for your skin, lavender is a natural skin cleanser and healer. Really good for after a day out in the sun, to soothe your skin.
Coconut oil has that natural summer beach scent, it's coconuty – it's delicious. It also makes a really good body oil because it has a very long shelf life. This body oil will last you all season long.
But, if you're not a fan of coconut oil – you can use a neutral oil like sunflower or rice bran oil. They work really well too!
Either way, by using a natural plant oil – you'll get a body oil that not only smells good, but also nourishes and moisturises your skin.
How to bottle your infused oil
Once you've infused the oil – you'll want to label and bottle it. Here are some ideas:
If you're making a larger amount, a pump bottle is really great. I got mine from Ikea in the bathroom section.
I love pumping oil into a bath, or into the palm of my hand to massage onto my skin after a shower.
Or, you can use a small pour bottle – which is more portable for on to go or travelling.
Add a few lavender flowers into the bottle too – it looks pretty and will continue infusing and intensifying the oil over time.
Summer Nights Body Oil | Vanilla + Lavender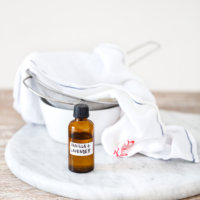 1/4 cup coconut oil, or sunflower, rice bran oil – for neutral scent
2 tbsp dried lavender
2 vanilla pods
Add the dried lavender and vanilla into a clean mason jar.
You might want to cut the vanilla in quarters, so that it lays flat in the jar.
Pour in the oil, 1 inch above the ingredients.
Seal the lid and set the jar in a warm sunny spot for 3 weeks.
Yes, it takes time. Every day shake the jar and check that both the lavender and vanilla are fully covered with oil.
After 3 weeks – strain the oil using a coffee filter or a cotton cloth. You don't want teeny bits of vanilla seeds sticking to your skin! A coffee filter is the best option.
Bottle the oil. If you want to intensify the scent – you can add a few drops of lavender essential oil.
Shelf life: 3-4 months
If you make this over the weekend, it will be ready for you before summer!
I hope this inspires you to try making an infusion – it's a small thing that makes you feel really good! It does for me!
PS: If you don't want to wait for your oil to infuse, check out my Spring skincare guide.
Besides the fourteen yummy, natural skincare recipes, I've also included a video workshop that shows you how to make a hot oil infusion, which only takes a couple of hours!
The recipes are inspired by Spring, but you can enjoy them all year long! Check out this link to see what's inside.