I've been on this recent kick of bringing in a new ingredient into my pantry to play with, most recently: sweet brown rice!
I've also been on a rice pudding kick – so when I saw it in the supermarket – I had to try it out.
Today, I'll show how to cook sweet brown rice and how to use it!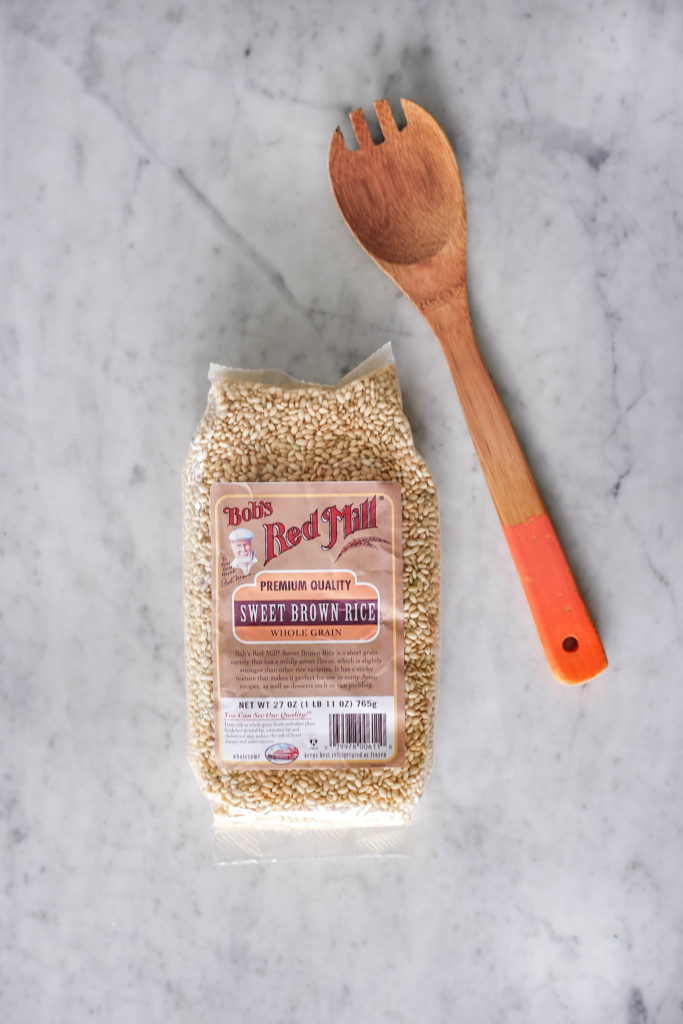 If you haven't tried cooking with it yet, pick up a packet on your next supermarket run! It's a great pantry item that adds something new to your everyday cooking. It's a really neat ingredient and there's so many ways to use it.
I don't see myself using sweet brown rice as a replacement for regular brown rice – it's kind of it's own thing.
You'll reach for sweet brown rice for it's unique consistency – to give your recipe warmth, chewiness and creaminess!
What is sweet brown rice?
Sweet brown rice is a short grain variety of whole grain brown rice. Like all rice, it's gluten free and a nutritious whole grain to add to your diet. It's thick and short and cooks up completely different from normal rice….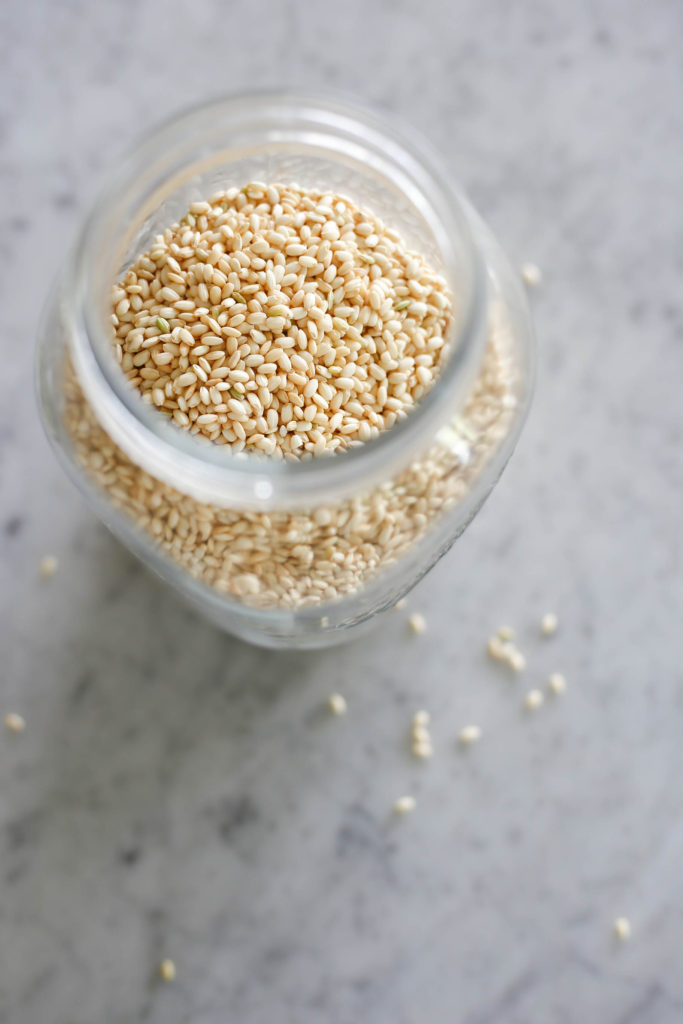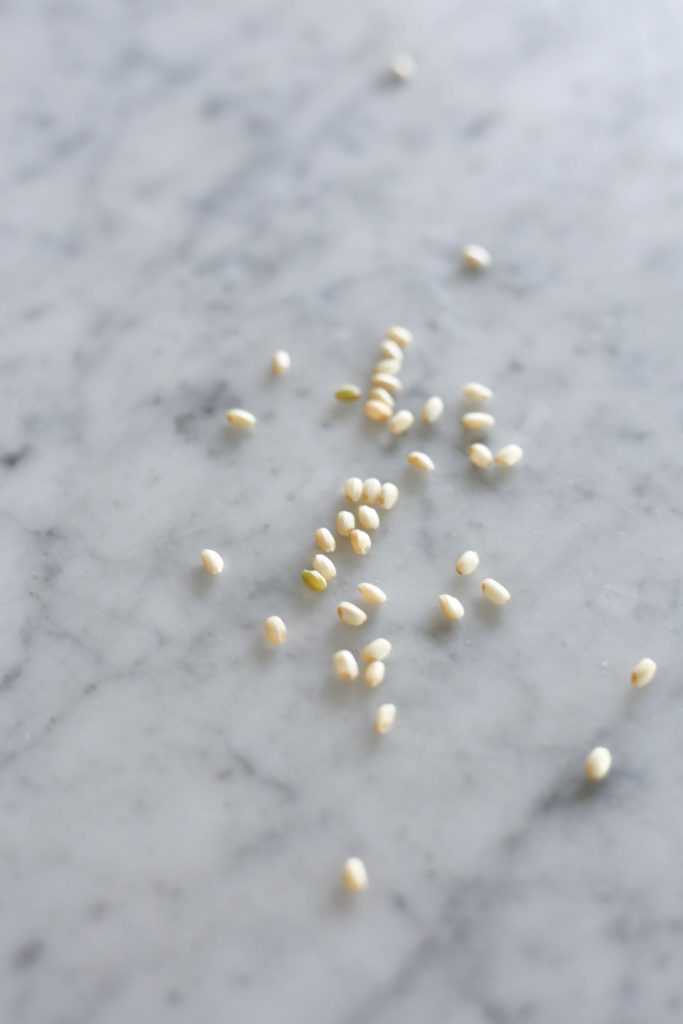 It's also called sticky or glutinous rice, which has nothing to with gluten… it describes the texture.
Once it's cooked, the rice grains will hold their shape, but when they break open – the inside is thick and creamy. It's really lovely!
What does sweet brown taste like?
It has a mild nutty flavour, like regular brown rice, but because of its texture it gives it an almost creamy flavour.
Despite the name, I don't find that it's sweet on its own, but the mild flavour of the rice does work really well in both sweet and savoury recipes.
How do you store sweet brown rice?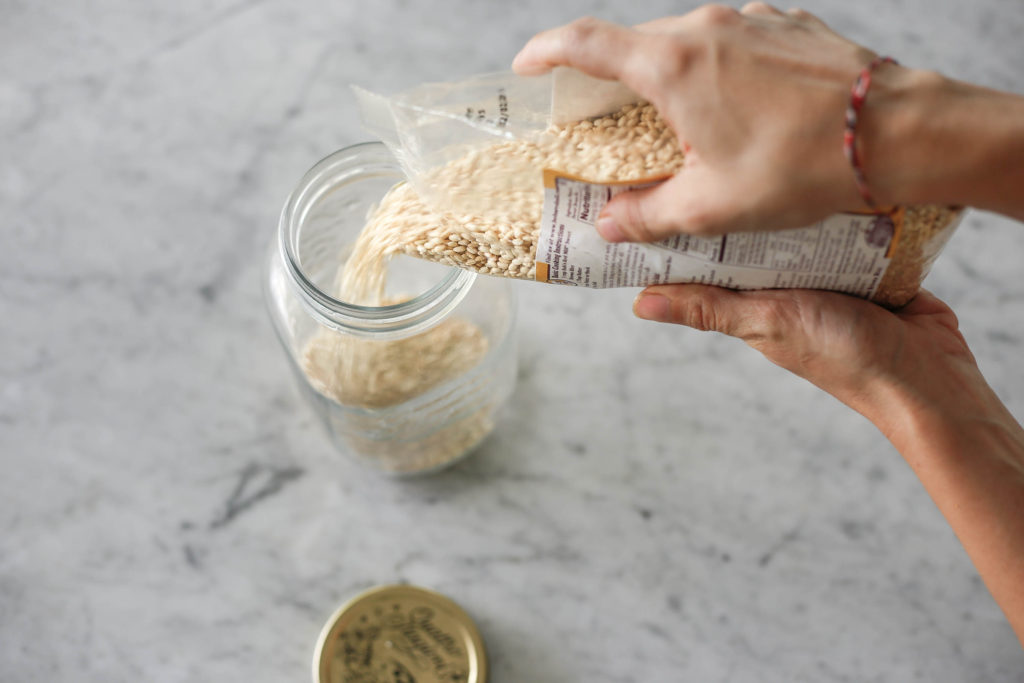 I like to have large mason jars to pour an entire packet of grains out all at once… that way you see what you have and it keeps weevils and moths out of your rice!
Brown rice has a shelf life of 6 months (the natural oils can go rancid and effect the flavour) If you want it to last longer, stash it in the freezer.
How do you use sweet brown rice?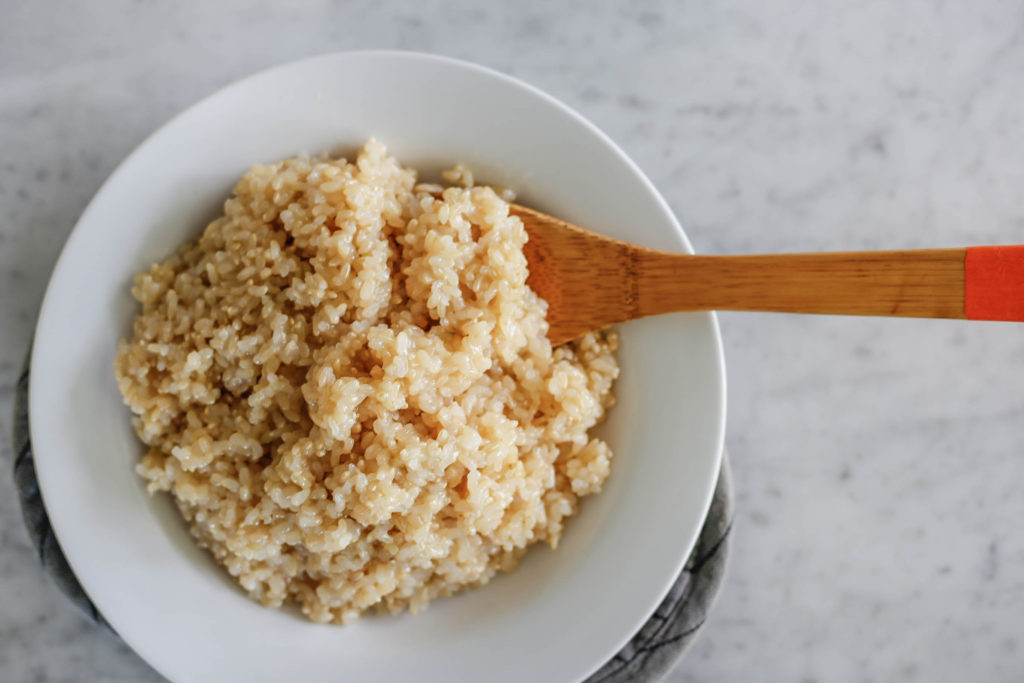 Sticky rice is really popular in Asia, and it's used in many ways. I've gotten a lot of inspiration from restaurants here in Bali and played around with different ideas.
Here are five uses that you might like to try at home:
Sushi Rice:

Sweet brown rice is just like sushi rice, in that it's soft and sticky.Simply lay out a sheet of seaweed paper.. and on one side only add brown rice and thinly sliced veggies, avocado, mango or tuna fish and then roll tight.

Slice in pieces – it's a great portable lunch snack!

Sweet Breakfast Bowls:

If you love oatmeal, you'll love a sweet brown rice bowl. Pre-cook a bowl of sticky brown rice, it will last in the fridge for 3-5 days.

In the morning scoop out 1/4 cup of rice, and pour in your favorite milk (I love coconut milk for this!) , some sliced bananas, maple syrup and a tablespoon of nut butter. It's delicious and fills you up. You can warm up the milk or serve it cold.

Get inspiration here: Quinoa Breakfasts Bowls, Oatmeal Bowls – just substitute in the sweet brown rice. 

Soup filler:

A great way to add bulk and creaminess to your soup. Try making a pot of veggie or chicken soup and add a couple handfuls of sweet brown rice. The flavour works well with sweet veggies like carrot, corn and sweet potato as well as coconut milk and spicier curried soups.

You might also serve a scoop of sweet brown rice alongside a bowl of soup

Rice Pudding:

Sweet brown rice pudding is so comforting and delicious! It's very popular here in Bali, and made with coconut milk – which, with the creaminess of sweet brown rice – it taste so decadent. I love it!

To make it: 1/3 cups uncooked sweet brown rice, 3 cups water (or milk), 1 can coconut milk, 2-4 tablespoons honey or maple syrup. Add all the ingredient to a pot and bring to a boil and then simmer for 30-35 minutes. You might add cinnamon, raisins, chocolate chips, vanilla…

Risotto:

The creaminess of sweet brown rice makes the easiest, almost instant, risotto! I found that you can start a pot of sweet brown rice as normal, and just at the end add in a knob of butter, a splash of milk and grated parmesan. It's amazing!

You might want to start the rice with sautéed onions, and add in any veggies that you love too.
How do you cook sweet brown rice?
This is the same recipe that's on the packet, it works every time and is really simple to make. Let me show you a step-by-step:
Step One: The proportions are one part sweet brown rice, two parts water (or stock) Easy!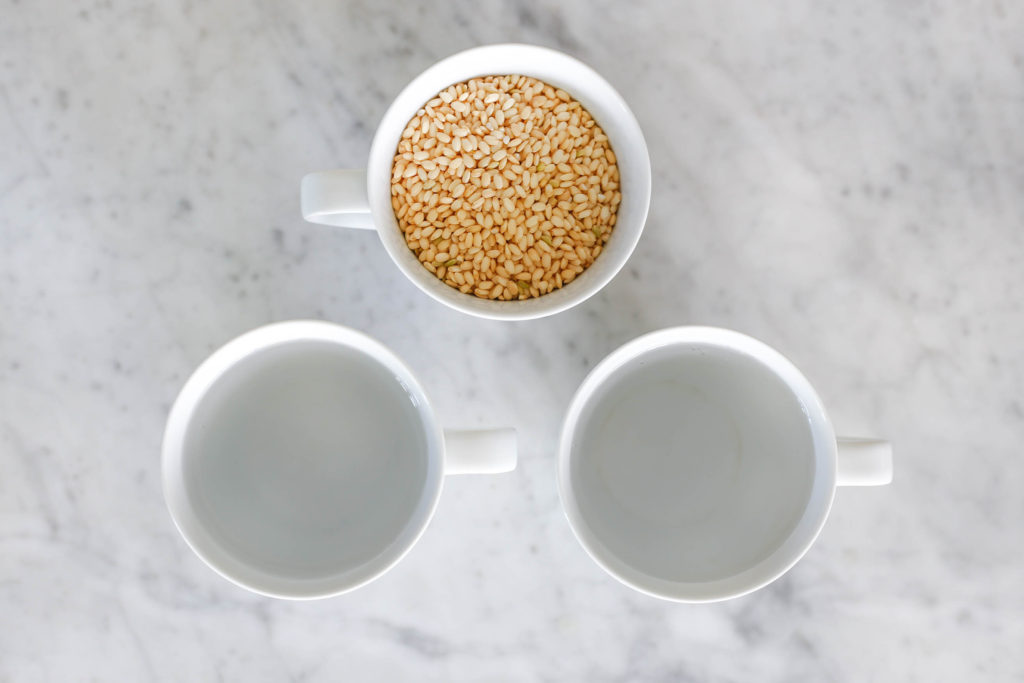 Step 2: First of all rinse your rice well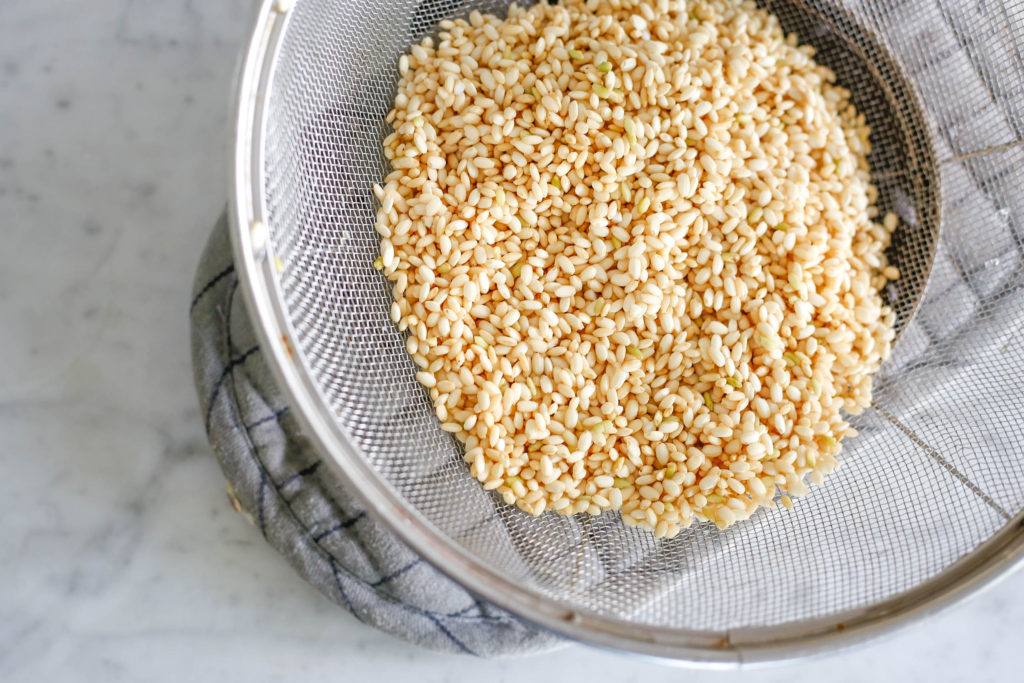 Step 3: Then pour it all in a pot and add 1/4 teaspoon of salt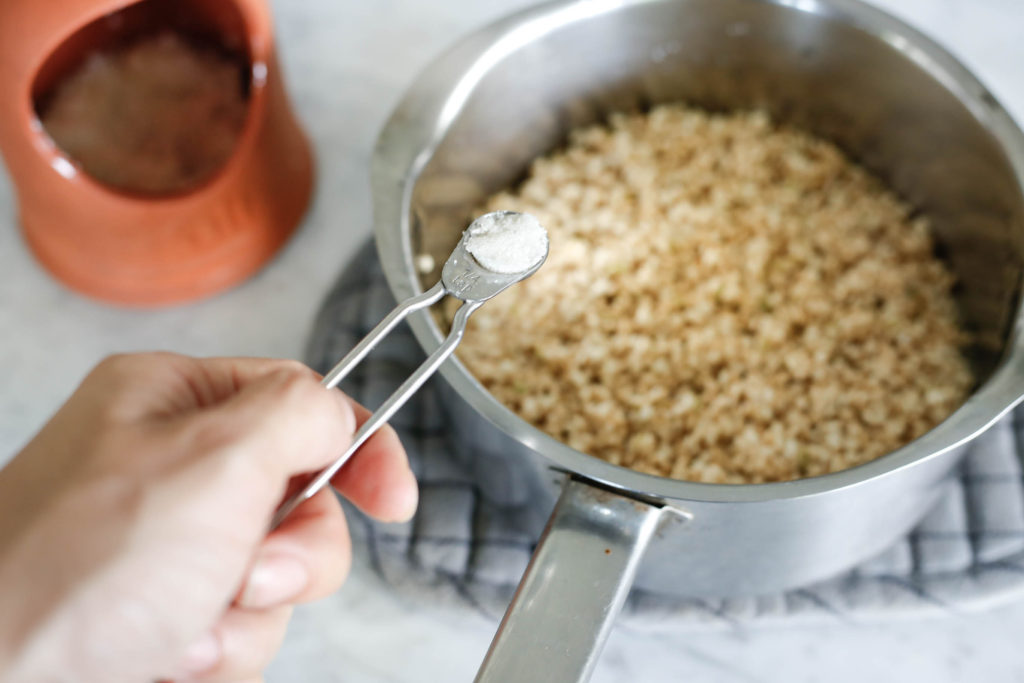 Step 4: Pour in the water. And we're ready to cook it up…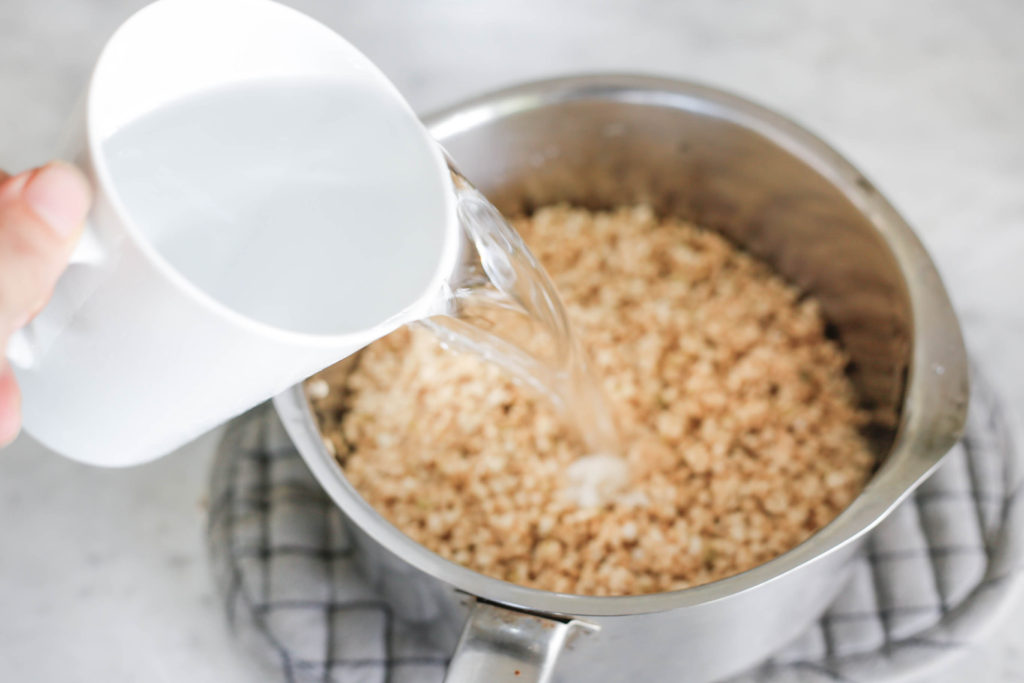 Step 5: Set it to boil, and then turn the heat down to a simmer and cook covered for 30 minutes.
After 30 minutes, shut off the heat but don't open the lid!
Let it sit for 10 minutes. No peeking! I peeked for you…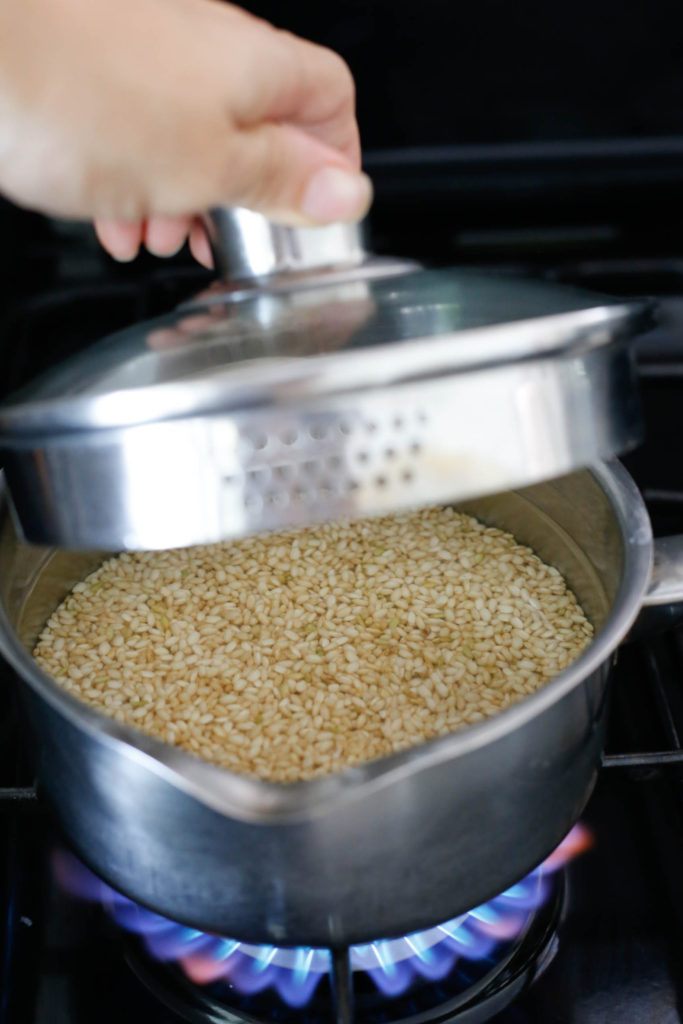 Now it's ready for you to use in any way you want! It's not light and fluffy – this rice is definitely chewy and creamy! Perfect for a warm, comforting bowl of something good!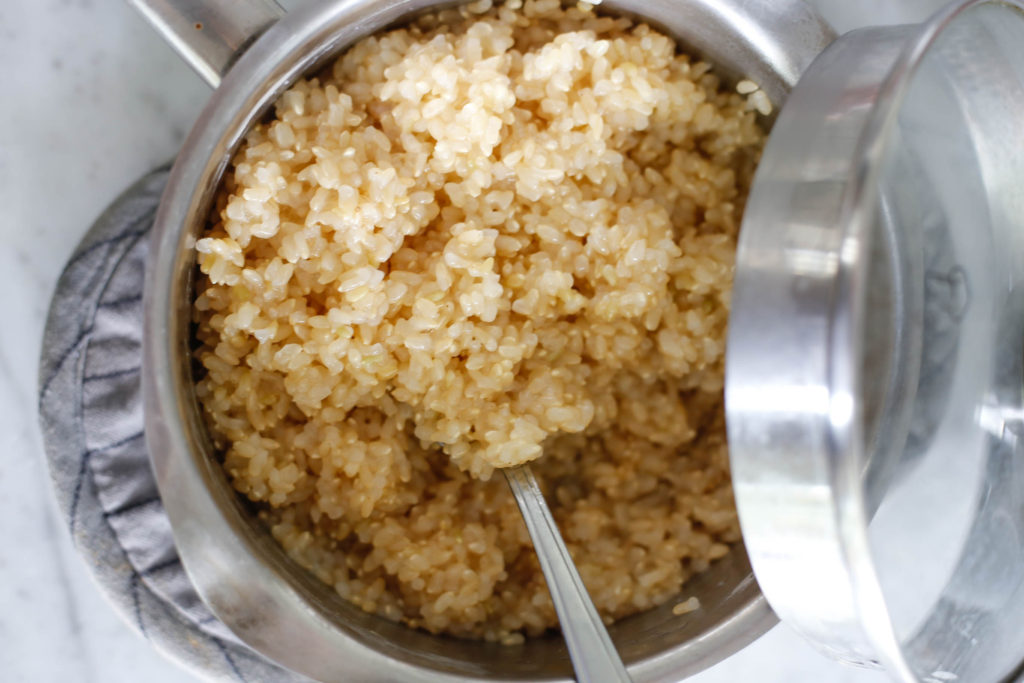 I'd love to know: have you cooked sweet brown rice before? What's your favorite way to eat it?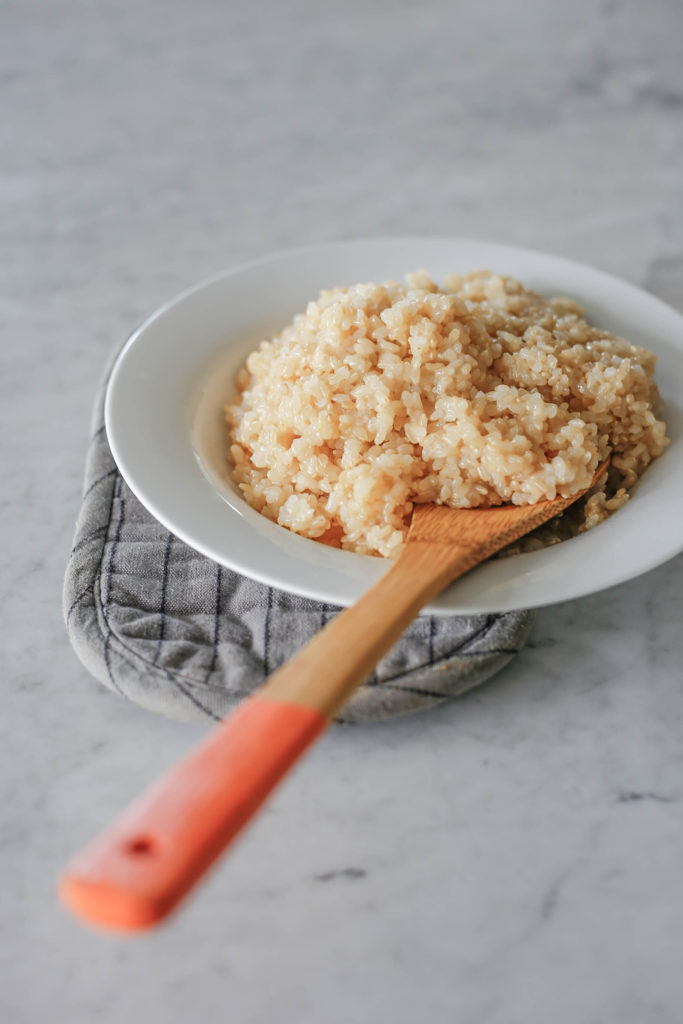 ---
Militza recommends: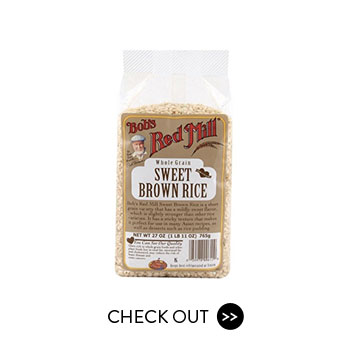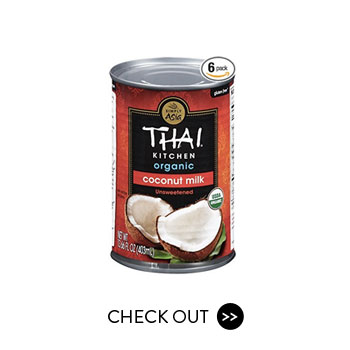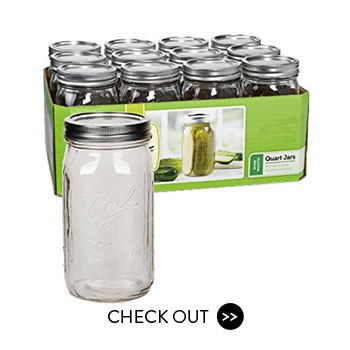 ---