Last month, I bought a monster bag of vanilla beans (the picture below is only half of the bag and it's super cheap too!) I've been busy playing and have discovered tons of uses for them to have your kitchen, hair and skin smelling (and tasting)… delicious!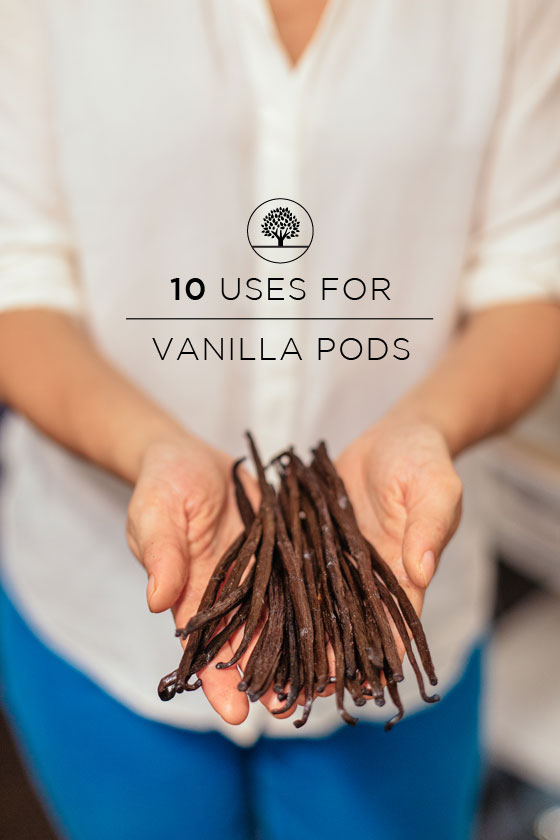 In the past whenever I had a vanilla pod in the house, I would store it away like a squirrel, waiting for a special occasion. It was so precious that I hesitated using it – and more than once – would end up later finding it dry and shrivelled – wasting away. Has this happened to you? Please don't let your vanilla pods sit in your pantry waiting for that "perfect" recipe. Just like your good crystal glasses and fancy plates – make use of them! There's no better, or more precious time than this very moment!
Slice open a vanilla pod lengthwise. Inside you'll find thousands of tiny, fragrant seeds. A good vanilla pod should be flexible and slightly moist. For any recipe that calls for vanilla extract, you can replace it with fresh vanilla pod seeds.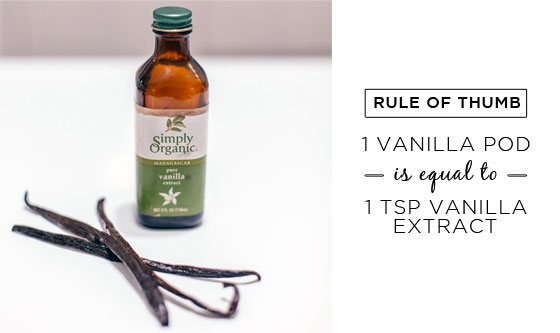 What ever you do, never throw away the outer shell! After you've scraped the seeds out, there's still great use for the pods!
1. Vanilla "Ice Cream"
scoop out the seeds and grab two frozen bananas. Place the seeds and bananas in a blender or a food processor is best if you have one. Blend them up and you'l have an ice-cream that you can serve for dessert, or eat for breakfast! I like to add a scoop of peanut butter, or mix in chocolate chips or cacao nibs after blending. Keep the outer pod for any of the ideas below.
this is pure heaven, pour it over pancakes, crepes, waffles… also good for dipping fingers 🙂
5. Make a Flavoured Powdered Sugar
dry the used pods and then grind them up with sugar to make a vanilla powdered sugar. Try it with coconut sugar and sprinkle over "raw" brownies!
3. Make Vanilla Extract
in a glass bottle, add 8 vanilla pods to 1 cup of vodka. Let it sit in your pantry for 6 weeks, shaking regularly. You'll then have an extract which you can use like the store bought kind for cooking – but also – as a fragrance! Spritz it in the air, or add a splash to your body butter recipe or even in a bath.
4. Make Infused Salt
fill a glass jar with coarse sea salt. Bury in a few pods (use the ones that you scraped out the seeds from) Every time you use a new pod, add it to your jar of vanilla salt. Here's how you can use it:
Use it for any baking recipe that calls for a pinch of salt
sprinkle a little over homemade chocolate treats
with roasted sweet potato, pumpkin or carrots
to make roasted cashews or nuts
in a tomato soup to enhance the flavour
to use as a body scrub. If the salt is too coarse, grind it with the pods for a few seconds.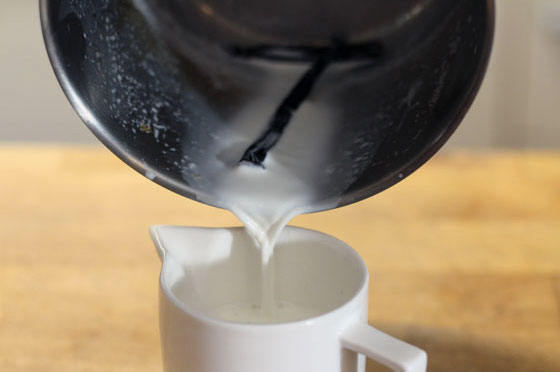 6. Make Vanilla Flavoured Coffee
gently warm sliced vanilla pods in milk to flavour your coffee. Tip: afterwards, rinse the pods in water and let them dry out, you can still use them!
7. Make a Vanilla Sugar Body Scrub
dry out your used vanilla pods and in a blender with just enough sugar to get your blender going. Then mix what you blended with fine sugar (if you blend all of the sugar, your scrub will be too powdery and will melt away in the oil) Place the sugar in a nice container and slowly add oil (check out my favorite oils for skin) until it forms a wet sand consistency.
8. Make vanilla body powder
dry out your used pods completely, then grind them with arrowroot powder. You can use this all over as scented body powder.
9. Make vanilla dry shampoo
dry out your used pods completely, then grind them with a mixture of 2 parts rice powder, 1 part baking soda. If you have dark hair, add in a bit of coco powder. Sprinkle this scented powder on your scalp and brush out to remove excess oils.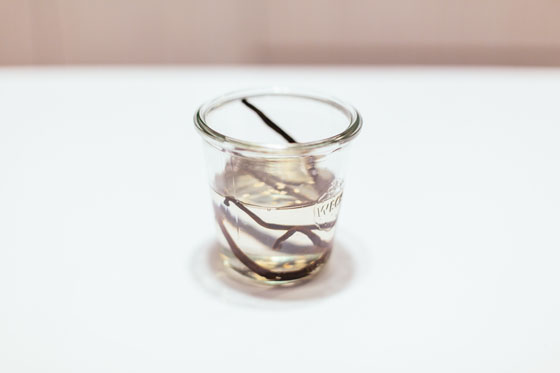 use this oil straight on the body as a moisturizer, for the hair to blend into your other skincare recipes like a body cream or body butter! If you have tiny seeds in your oil that you don't want on your skin, strain them out with a coffee filter.
***********
Top two and bottom photos by Fellow Fellow for Little Green Dot.