illustration by Cloudy Thurstag
One of the most common requests I get is for more hair care tips. Like How do I get my hair to behave, and act nice in public?!  I've learned some really good natural tips from my expert friends, and I'm going to share them here…
But real talk, you guys – I've had a strained relationship with my hair since I can remember.
It's thin, it's wavy and sometimes I'll catch my reflection and, oh my goodness, the frizz has created an actual halo effect around my head!
But do you know what's always bothered me the most? I don't have that kind of hair that falls…
You know when you see someone take down their pony tail, and it cascades… that's never happened to me. My hair stays in a ponytail shape.
And so to change this situation – I've used all of the products. Heat, chemical treatments – anything to get my hair to look and act… different. Which only made it more frizzy, so I'd buy more products…  it's endless, right?
But here's what's putting a stop to that cycle: My little girl, she's growing up and she's forming into herself – and wouldn't you know – she has my same exact hair type. Thin, wavy – a little confused about which direction it wants to go in. And I think it's beautiful. So why in the world am I over here giving myself such a hard time?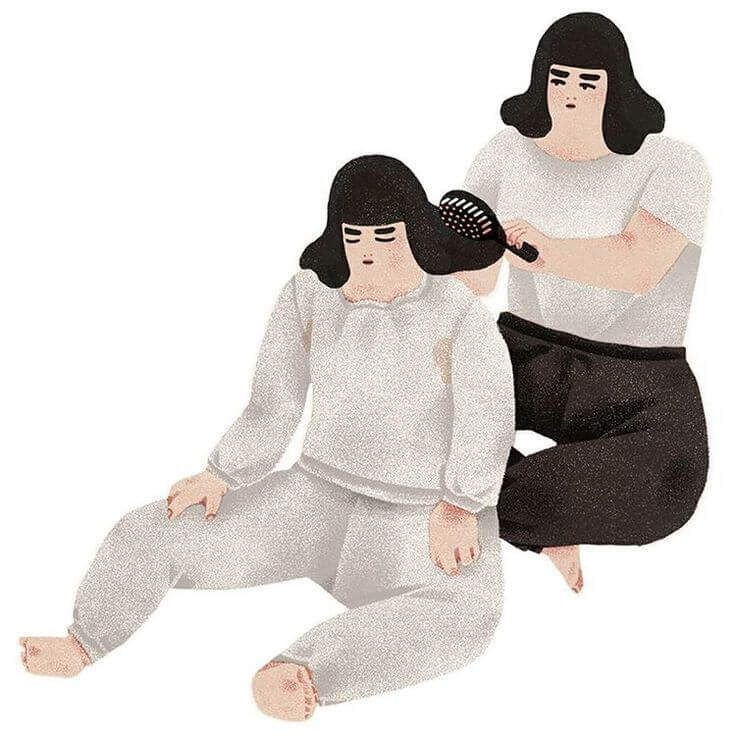 That's where I am now with this. When it comes to the hair on my head – I'm spending less time fussing over what I don't have – and more time learning how to care for what I do have.  I'm learning how to love myself well – and to create a space where my children can see that.
---
Want to create a healthier relationship with your hair? Here are 3 ways…
#1: Out with the bad
First things first: De-clutter and detox your haircare products. Your shampoo can be doing a lot more harm than good!
I was speaking recently to my friend, Wendee. She runs her family business, Biconi, and they make natural shampoos that are designed to promote hair growth. She told me something that I want to share with you.
Listen to this…
Most commercial hair (and skin) products out there have a specific ingredient called Silicone (look at your products ingredients list for Methicone or Dimethicone, or anything ending in 'cone)
What they do is coat your hair to give the illusion of sleeked-out hair. But just like acrylic nails, that plastic-like coating can do real damage to your strands underneath.
A bad shampoo makes your hair more brittle over time – which only sends you out for "split-end, anti-break, anti-frizz" products!
#2: Buy better
When it comes to shampoo and conditioners,  I support Biconi because I'm excited about people who are making better products that focus on creating truly healthy hair.
Their haircare is so effective because its designed to nourish your scalp – so when you use it, give yourself a good massage – it makes a big difference. Check them out, and fall in love too! 🙂
#3: Make more
And you can make haircare treatments from home too – open up your kitchen pantry!
With healthy hair (and hair loss prevention) – it's all about the scalp. And that makes everything simpler – because there's nothing better for your skin (aka: your body) than whole foods.
Here are four natural ingredients that will make your hair healthy, happy and – as long as it's not too humid out – a little more cooperative too!
---
Four Natural Pantry Ingredients that Care for your Hair
---
1. Essential Oils
Admittedly not a standard kitchen pantry item, but we can't go without mentioning the holy grail of natural skincare! Essential oils are incredibly potent and therapeutic. Just a few drops can elevate your DIY hair care is to create something that is both beautiful to use and also incredibly effective.
When it comes to hair care, here are my top go-to's. You might just choose one, or you can combine them to make your own blend.
Lavender: very cleansing, creates a healthy scalp. The aroma is relaxing.
Rosemary: promotes hair growth. The aroma is stimulating.
Grapefruit: very stimulating, promotes circulation. The aroma is uplifting.
Peppermint: relieves itchy scalp and rejuvenates hair follicles. The aroma is energizing.
How to use essential oils for your hair:
Add drops of essential oils to your haircare treatments.
The quality of the oil really matters. From how it's sourced to how it's processed – buy from brands that care about quality and sustainability. Two of my favorite brands are Aura Cacia and Floracopeia.  Spend a little time on their websites, get to know them, compare their prices and choose what's right for you.
Use essential oils safely. To create a safe, therapeutic recipe – you want to know exactly how many drops oil to add in. Do your research online – but also this is something that we cover in my online skincare workshop, SIMPLIFY Skin.
---
2. Yogurt
This is probably my most popular hair recipe of all time – people really like the way that yogurt makes their hair feel. What's great is that you can use yogurt as a deep conditioning treatment – but unlike oil, you don't get that heavy, greasy feel!
The natural lactic acids eats away at dead skin cells, unblocking pores so that your hair grows well. And the natural fat moisturizes and protects your hair.
Not a fan of the smell of yogurt? You can add four drops of essential oil.
How to use Yogurt for your hair: 
Like a deep conditioning treatment, simply work in about 2 tablespoons all over your hair and scalp.
Let it sit for 15 minutes and then rinse off.
Shampoo well and condition as normal.
---
3. Vegetable Oils
If you have thin hair, like me – the idea of applying oil to your hair is downright terrifying. You spend days trying to wash it out!
But I've realized that it's not about saturating your hair in oil – it's all about massaging your scalp.
Choose a very lightweight oil, like jojoba or sweet almond oil. This is the carrier for the essential oils which will help to nourish your scalp, stimulate your blood flow and create healthy hair growth.
How to use oils for your hair:
Create a hair oil blend:
1/4 cup jojoba or sweet almond oil  + 24 drops essential oils (lavender, grapefruit, rosemary and/or peppermint)
Store it in a bottle, will last for 6 months!
Drop one teaspoon of oil into the palm of your hands and spread the oil onto the tips of your fingers.
Perform a scalp massage, for three minutes. Simply rub and massage all round your head, intuitively where and how it feels good.
---
4. Apple Cider Vinegar
You may of heard of this tip before – but let's be honest – the idea of smelling of vinegar puts a lot of people off from trying it. But we can fix that – because it really is worth trying!
There are two things that vinegar does really well for hair: clarifies + balances. The vinegar helps to remove product build-up so that your hair feels… not to sound cliche… bouncier. And it's going to restore your scalp to its natural, slightly acidic pH.
How to use apple cider vinegar for your hair:
Start off by making a Scented Vinegar, it's going to smell a lot better!
Mix 1/2 cup apple cider vinegar + 48 drops (lavender, grapefruit, rosemary and/or peppermint)
Store it in a glass container, into a dark cabinet of your bathroom. Will last for 6 months!
Once a week, prepare a vinegar rinse for your hair.
Mix 1 cup of water with 2 tablespoon of scented vinegar. I do this in an old condiment bottle.
Shampoo your hair as normal and rinse.
Pour the Vinegar Rinse very slowly over your scalp, allowing it to fall and drip down the strands of your hair
Rinse with clean water
If you need to, condition just the tips of your hair
---
I hope these tips help – I really believe that caring for yourself well with simple ingredients – will create beautiful results. Mind, body, soul and hair.
Militza xx