I've been drinking a green smoothie regularly for the last year and I have to say it's something just makes me feel better. Like everyone, I have ups and downs – but when I break my morning smoothie routine – I miss it – and always get right back into it. Green smoothies give me more energy, I feel full longer and I get in fruit and greens that I wouldn't otherwise! And, when you get the recipe right – it's delicious! This is one of those recipes 🙂
Peaches – it's peach season – so you've no doubt seen them in your supermarket! Not only are they insanely delicious – but they're also a low calorie treat that's packed with vitamins and antioxidants. Bring home some peaches – use a few in this smoothie and the rest to make this cobbler!
Raspberries – low glycemic, (which I think is important for smoothies – you don't want to load up on too much sugar!) berries are also nutritionally dense! You'll get a boost of antioxidants and anti inflammatory benefits. Their health properties are highest when the fruit is ripe – which makes frozen a good idea since they are picked at their peak and flash frozen – keeping all those great benefits intact.
Lime – gives your smoothie a burst of freshness. My favourite is the Tahitian lime, which if you can find it – is sweeter and less sharp than other varieties. You'll also get a good dose of Vit C which is our beauty vitamin.
Coconut – the water makes the base of our smoothie – a great way to hydrate the body with electrolytes. The meat will give your body some healthy fats, that it needs to function well and it gives our smoothie a smooth richness.
Pea Sprouts – the young plants contain huge amounts of nutrients with disease-fighting properties. They have powerful sources of antioxidants, minerals, vitamins and enzymes that support and protect our body. Grab a big handful of them!
Drink Pink
Peach & Rasperry Green Shake Recipe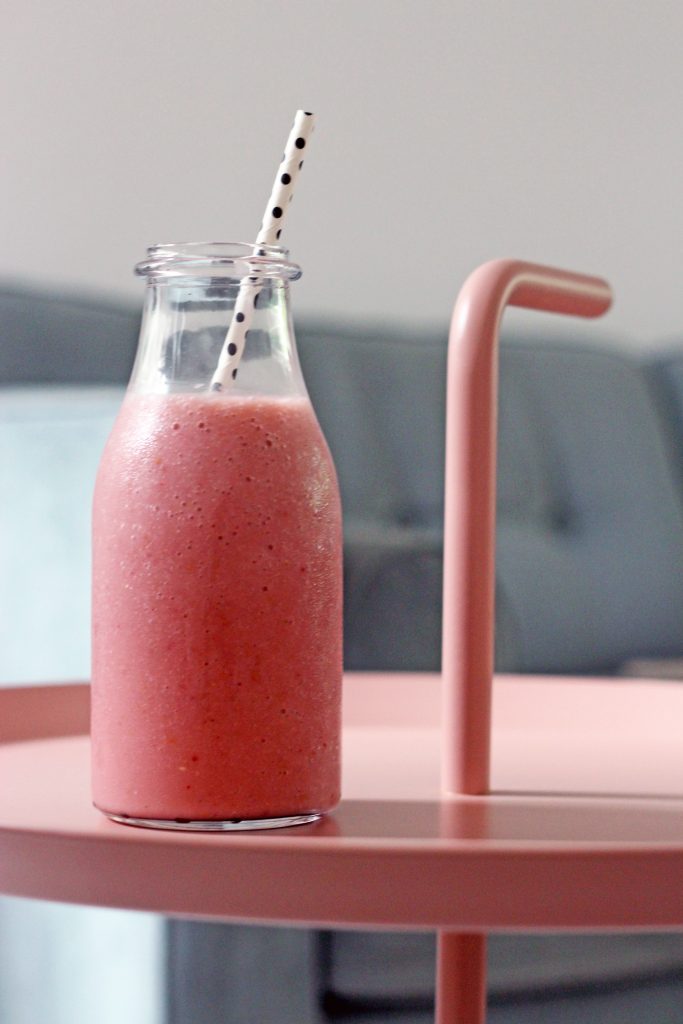 Ingredients (makes 2 servings):
1 ripe peach (make sure it's ripe so that it's sweet!)
8 raspberries or about 1/4cup (fresh or frozen)
the water and meat from one coconut
one small lime ( if you can find Tahitian limes – they're nice and sweet!)
a handful of sprouts (I used pea sprouts)
optional: honey to sweeten
Directions:
In a blender, pour in the water from a coconut and the meat (this will give it a nice creaminess)
add in the rest of the ingredients – hold the honey to see if you need it.
blend for 20 seconds
taste and add honey if you like it sweet!
drink and feel amazing
PS: