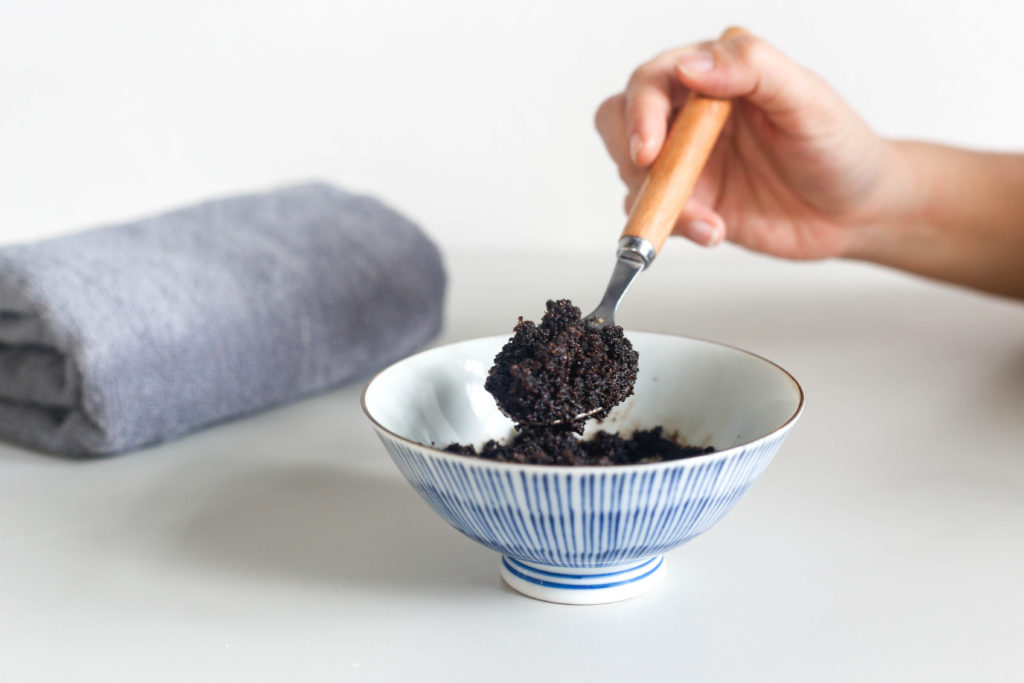 I'm in a trendy area in Singapore, window shopping, when I see this beautiful body scrub. My first instinct is to read the ingredients – it's all natural, made with coffee and sea salt, coconut oil… mmmmm!
And then I see the price. It costs $60…
ouch!
When I think back to what got me started into this wellness journey – it was out of pure frustration. I'd just learned that the trusted skincare brand I'd been using on my three-year-old daughter was full of weird and unnerving ingredients.
I was upset at myself for not knowing sooner. I was nervous about making more mistakes.
So, I hit the stores, determined to buy all-natural skin care. But the reality of how difficult that was soon hit me. I lived on a tight budget, in an already expensive city. Natural products were sold as a luxury, and even though I desperately wanted to use safe products for my family – I couldn't afford them, not as an everyday option.
It seemed completely unfair that we should have to choose between using toxic commercial products, or breaking the bank going natural. I was thinking, "How can that these be our only options?" Honestly, at that point – I wasn't just frustrated, I was angry!
They say that necessity is the mother of invention and it must be true.
I took my frustration and poured it into learning. I spent years figuring out how to make natural living a reality for our family. Soon, the frustration turned into passion and a happy obsession. And I haven't stopped since.
For a long time, I only bought natural products as a treat. Today, I'm proud to say that natural beauty is not just reserved for special occasions. Everyday, I use the finest oils infused with nourishing herbs to moisturise our skin and hair. My children bathe in herbal baths… they smell of real flowers!
It feels luxurious, but it's completely accessible and I'm driven to show everyone how to do the same.
I know so many parents who struggle to provide their families with safe skincare. I've heard people say over and over again that they'd love to use more natural products, but can't afford them. And I get it, because I was there.
I want you to know that the most empowering thing that I ever did was to not accept this as my reality – and to take action.
Take matters into your own hands
I've learned that making your own skin care is a real, practical and simple solution. Even though the idea of finding skincare in your kitchen or the produce aisle of the supermarket seems playful – don't underestimate it! When you begin to learn the process, you'll see you can create better skin care than most of what you find out there on the shelves.
It changes everything.
You'll never again walk into a store and feel like you need to buy toxic skincare or struggle to afford natural – because you know how to care for yourself.
Stop skimping on the self-love!
Have you noticed that when you buy an expensive natural skincare product, you're precious with it. The bottle says to use two pumps, but you use one. Maybe skip days just to get the most out of it! We've all done that right?
With your homemade product, you enjoy the same quality – but you're lavish with yourself! You're treating your full body, everyday. Every single inch of you deserves the best oils and nourishing ingredients. You walk out of your house with your head up, and when you start the day that way – watch out!
Back to that $60 scrub. One day, standing there in your naturally glowing skin – you may very well discover a natural brand that you just fall in love with. Their process, the ingredients, their story. It's happened to me, many times!
If you choose to buy this product and bring it home – it's not because it's your only choice…it's only because you WANT to.
As a maker, you know the effort that goes into making whole-food skincare. You understand the ingredients and can immediately spot an authentic brand who love what they do. It's beautiful to support these amazing makers who are aligned with your values. You're making an empowered choice – and that feels very different.
So, if you're struggling to bring natural beauty into your life – start by making one recipe!
Check out this video (and don't forget to subscribe to my channel) to see how to make your own beautiful body scrub – with my secret blend that creates a richness that I know you'll love!
When you try it, leave me a comment and tell me what you think. And if you need advice or want help getting started, email me, I read every message.